That Was Then. This Is Now.
Today, the Labor Department
announced a plan
to modernize outdated guidelines on sex discrimination. The proposal addresses a myriad of issues from sexual harassment, pay discrimination and pregnancy accommodations to safeguards for transgender workers and combating hostile work environments. Donna Lenhoff, a civil rights specialist at the Department of Labor, discusses the need for these new rules.
In 1970, less than 0ne-third of married women with children under the age of six participated in the labor force. Today, that figure has more than doubled. In 1970, some states had "protective laws" that explicitly barred women from certain jobs or, for example, prohibited women from continuing to work once they became pregnant. Employers would advertise jobs in sex-segregated newspaper columns – women's work separate from men's work. And it was not uncommon for employers to make their female employees retire at earlier ages than their male counterparts. In 1970, the Supreme Court had not yet recognized that sex stereotyping and sexually hostile work environments could constitute unlawful sex discrimination. Congress had not yet enacted the
Pregnancy Discrimination Act
, requiring employers to treat pregnancy the same as other conditions that similarly affect a person's ability to work. And in 1970, the Department of Labor's
Office of Federal Contract Compliance Programs
adopted its Sex Discrimination Guidelines under
Executive Order 11246
, which prohibits sex discrimination in employment by federal contractors and subcontractors. Those guidelines have not been substantially updated since 1970.
Click on the image to view the full-size timeline of laws about sex discrimination in the workplace. For an accessible version of this infographic, click here.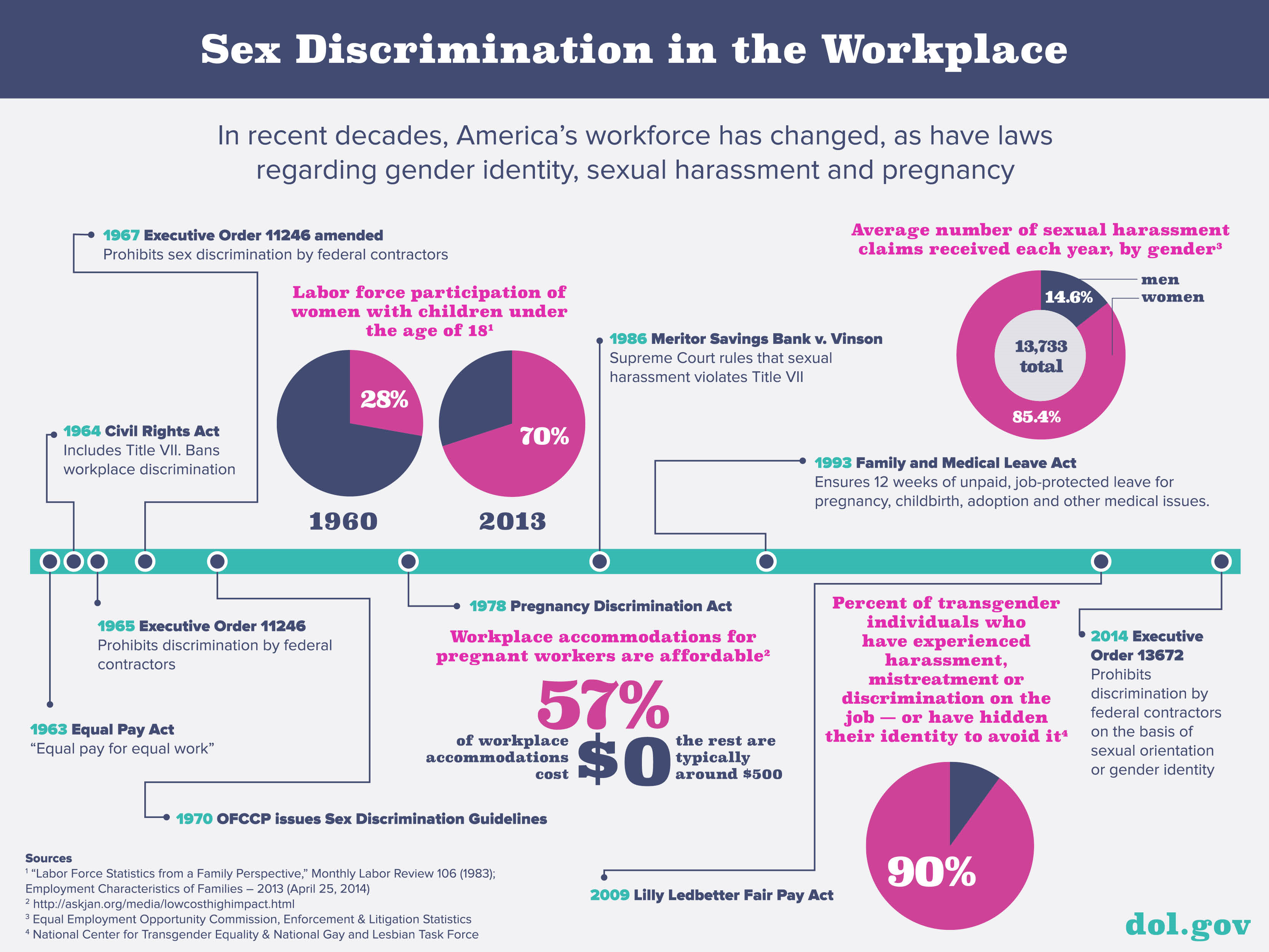 OFCCP's guidelines were designed to address laws and employment practices as they existed 45 years ago. They read almost like a history textbook, a relic of our past. They certainly do not address the changes to the law that have occurred since they were written, nor the barriers to equal opportunity and fair pay that women continue to face in the workplace today. Today, women who work full-time earn only 78 cents on the dollar compared to men. Sex segregation remains widespread; women are underrepresented in higher-level and more senior jobs. Women still report that they have been discriminated against because of pregnancy. Assumptions that family caregiving responsibilities will interfere with work performance still limit opportunities. Sexual harassment remains pervasive, especially in jobs that are not considered traditional for women. Progress has been happening on all these fronts – in courtrooms and city halls and state legislative chambers across the country. In the past year alone, Illinois, Delaware, Maryland, Minnesota, New Jersey and West Virginia have enacted legislation requiring employers to provide accommodations, such as stools to sit on or light-duty assignments, to pregnant workers. Now, it's time – past time, really – for us to do our part. Today, we announced a proposal to finally revise OFCCP's Sex Discrimination Guidelines so that they reflect changes in the law and in the workplace that have taken place since 1970. Our Notice of Proposed Rulemaking will be published in the
Federal Register
this Friday, and we invite you to share your feedback on it by going to
www.dol.gov/ofccp/SDNPRM
. The comment period closes on March 31. Our revisions of these guidelines are about good government. They're about ensuring that both women and men are treated fairly in the workplace. And they will provide employers with much needed clarity in understanding their obligations under the law.
Donna Lenhoff is the senior civil rights advisor in the department's Office of Federal Contract Compliance Programs.