My State has Paid Leave. It Meant Everything to My Family.
Editor's Note: After the launch of the Labor Department's "Lead On Leave" initiative, the author of this post shared her story on how paid leave would benefit her and her family. Submit your own story at dol.gov/PaidLeave.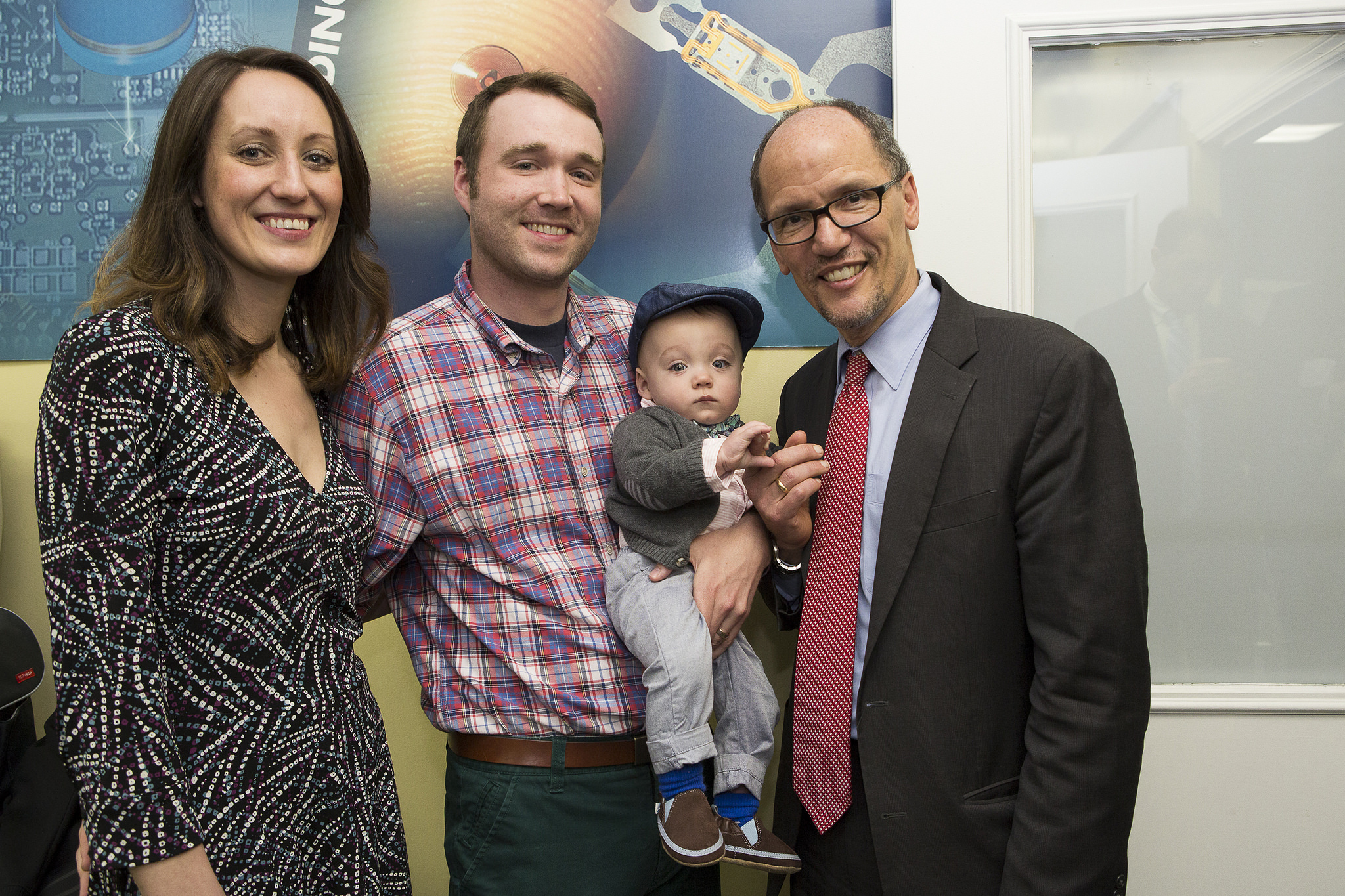 The Quirk family with Secretary Perez during a #LeadOnLeave roundtable in Rhode Island.
I'll admit it. When interviewing for a job in my past, I focused on just two things: the salary and the vacation time. Babies were not on the brain yet and, truthfully, I assumed we all got some time off to care for a newborn if we wanted. Because we live in the United States and we are a super advanced and family-focused country, right? Don't all companies have some sort of magical maternity or paternity policy they tell you about when you announce you're expecting? Isn't that what FMLA is for? Stop right there! I, along with many expectant parents, quickly learned that the Family Medical Leave Act, while important and necessary, only guarantees up to 12 weeks of job protection — all unpaid, only if you have been at your employer for a full year and only if your company employs more than 50 people. A huge number of you reading this do not even qualify for job protection if you needed to care for a baby or another family member.
As a country, we can do better than this — the rest of the world is doing better than this.
We are one of a handful of countries (and the only industrialized one) that do not have a paid family leave program. I'd like to share why it's so important to me (and why it should be to you, too) and why I am so fortunate to live in Rhode Island, currently one of 4 states providing paid family leave. At 27 weeks pregnant, I went into premature labor. I had planned on working up until my due date, which was then a whopping 13 weeks away. I was immediately put on bed rest. After I used up my few sick and vacation days, there were no more paychecks to help with the mortgage or the bills. At 31 weeks pregnant, I gave birth to a baby boy who would require a month in the NICU. Once we got him home we would have daily appointments with homecare nurses, the NICU follow-up clinic, ophthalmologists, audiologists, physical therapists, etc. Our son had quite the social calendar. By the time my 12 weeks of "job protection" were over (remember, no income), we hadn't even reached my son's due date! There was no way I could drop off a 6-pound baby who wasn't even supposed to be out of the womb to day care and hightail it back to work. Developmentally, he wasn't ready … and mentally, I sure wasn't.
Here is what made the difference: Rhode Island has a Temporary Caregiver Insurance program and a Temporary Disability Insurance program. Between the two, my husband and I were able to supplement our income to help make up for the huge loss in pay due to my work absence. Less stress about how to pay the bills meant everything to us during a time we needed to focus on family.
I also hit the "boss jackpot." She was understanding and flexible, and knew I needed more time than we had originally planned. Because of her support I came back to work when I was ready with a renewed commitment to my job and to the company. But we shouldn't need to have an exceptional boss in order to get the support we need. We should have it from our government and our employers because it's the right thing to do and because it has proven beneficial to both employees and employers in the states that already have paid leave policies in place. In an op-ed published in 
The Wall Street Journal
, Susan Wojcicki, the CEO of YouTube (owned by Google), shared how paid maternity leave is not just good for families — it's also good for business. When Google increased paid maternity leave from 12 to 18 weeks in 2007, they found that the rate at which new moms left the company fell by 50 percent. She wrote, "It's much better for Google's bottom line — to avoid costly turnover, and to retain the valued expertise, skills and perspective of our employees who are mothers."
If we know paid leave works for employers and it is what employees want, what are we waiting for? It's time we start to Lead on Leave.
Anne Quirk is a working mom from Providence, RI.