Siemens: An ApprenticeshipUSA LEADER in STEM Fields
Editor's Note:
The following guest blog post is authored by Mike Panigel, senior vice president and chief human resources office for Siemens USA. Siemens is part of ApprenticeshipUSA's LEADER program. Learn more about the program at 
www.dol.gov/apprenticeship
.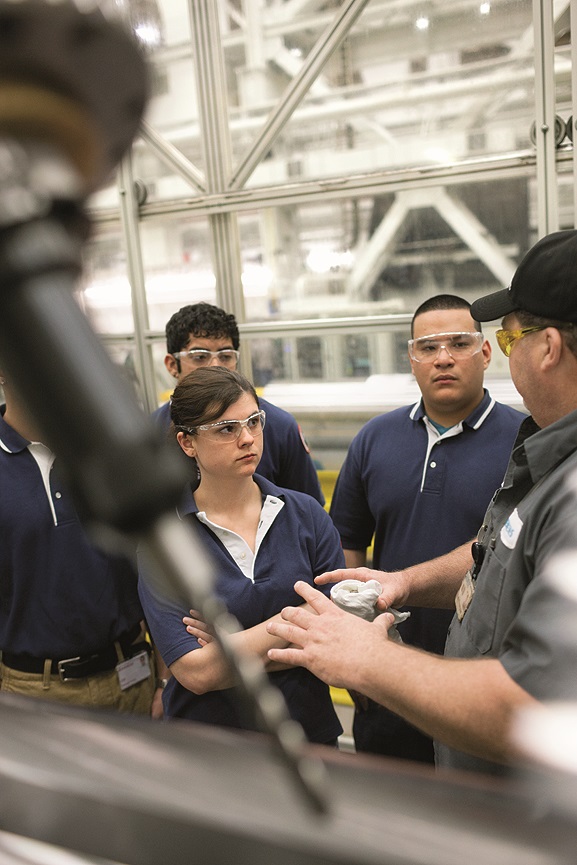 Apprentices at Siemens' gas turbine manufacturing facility in Charlotte, North Carolina.
The Business Roundtable recently conducted a survey of member companies to determine where the biggest gaps are in skills. The survey found that 97 percent of member CEOs see the skills shortage as a problem, and that job vacancies in science, technology, engineering and math fields often attract far fewer applicants. Of the nearly 2,000 job openings at Siemens, almost two-thirds are for STEM jobs and nearly half of our 50,000 employees here in the U.S. require some STEM education. Yet we still find that the functions we have the hardest time filling are all STEM related. According to the Department of Education,
only 16%
of American high school seniors are proficient in mathematics and interested in a STEM career – at a time when STEM jobs are growing
three times faster
than non-STEM jobs. At Siemens, we've made a concerted effort to address this gap by using the
German apprenticeship model
as a guide. The dual system in German high schools allows for both a university track and a vocational track, with around 60 percent of young people choosing the vocational training track. With an unemployment rate
below 8 percent
for workers under age 25 in Germany – compared to 21.9 percent in the rest of the European Union – it's clear the German model is doing something right. So we've started to import this model here to the U.S. and have begun to create public, academic and corporate partnerships around the country to train workers for the highly skilled, well-paying manufacturing jobs that need to be filled. For example, a few years ago when Siemens built a gas turbine factory in Charlotte, North Carolina, we gave applicants a test to evaluate their basic skills in math, reading, and applied technology. Only about 1/3 of the applicants met the minimum qualifications that we were seeking. So to develop a trained labor force to operate this new plant, we worked with Central Piedmont Community College to develop a mechatronics apprenticeship program. Students participate in a 3 ½ year program in which they get paid while going to work part time and going to school part time. There are currently 18 participants in the program and the first class will graduate later this summer. We're creating similar programs around the country:
In Fort Payne, Alabama, we recently began an apprenticeship program for machinists at our electrical component manufacturing plant.
Just outside of Atlanta, we started an apprenticeship program in testing technology at our drives manufacturing facility.
And in Sacramento, we've partnered with multiple local community colleges to help upskill our workforce there from ferrous metal welding to stainless steel welding.
We have been taking a systematic approach to the workforce development of our manufacturing sites to ensure a consistent build up of our manufacturing talent pipeline driven primarily by business demand. We recognize the value that
apprenticeships
provide in developing that pipeline. We believe this is a smart investment in the long-term success of our company – and our country. The investment we make pays off in a workforce of highly dedicated, highly skilled employees.