Seizing the Opportunities of Employment First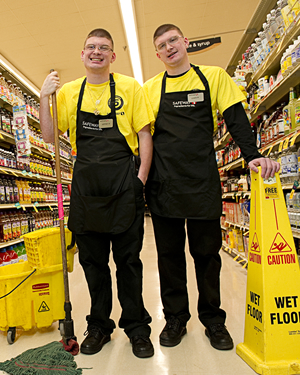 Identical twins Edwin and Jeffrey Willie, who have intellectual disabilities, work at a grocery store in Maryland. They're just one of many examples of "integrated" employment, where people with disabilities work alongside those without.
When I was a young man in graduate school, I, and a fellow student, Tom, were asked to help a transitioning student with a disability find a job. His name was Tracy and he was about to leave high school. At that time, Tom and I knew little about workforce development, job supports or vocational rehabilitation. However, we did know that in order to assist Tracy in his job search, we needed to get to know him, his likes and what he might be good at doing in a workplace. We also realized we would need to talk with employers about Tracy's potential and possibilities, and then do whatever we needed to do to support his success. This strategy worked, and within a few weeks, Tracy began working in a business where he was responsible for polishing hardware for pieces of furniture. He learned the duties of the job and got to know his coworkers. He opened a bank account and learned how to ride the bus to work. And he earned a competitive wage working alongside others without disabilities. We did not have the phrase then, but Tracy had succeeded in securing competitive,
integrated employment
. Tracy's is a familiar story to us now, as we witness the successes of people with disabilities in typical workplaces, large and small, in communities across the United States. His story, however, created a sense of dissonance as I later learned that the vast majority of people with Tracy's labels were far more likely to spend years in segregated work or a segregated day program. So as I learned more about the issue, I began to ask this question:
if Tracy can work successfully in a typical job in the community, what about everybody else with a disability who wants a job?
Little did I know then that I'd be closely examining that question later in my career, both as the director of
Indiana University's Institute on Disability and Community
, and as the chairperson of the
Advisory Committee on Increasing Competitive Integrated Employment for Individuals with Disabilities
. Formed as a key provision of the 2014 Workforce Innovation and Opportunity Act (known as WIOA), our committee is charged with preparing findings, conclusions and recommendations for the secretary of labor on ways to increase employment opportunities for individuals with significant disabilities in competitive integrated employment. And by "integrated," we mean jobs like Tracy's — typical employment settings where most people do not have disabilities, and where people with disabilities earn wages consistent with those without disabilities doing the same or similar work, make at least minimum wage and are paid directly by the employer. Today, this priority reflects the growing support for a national movement called 
Employment First
, a framework for systems change that is centered on the premise that all citizens, including individuals with significant disabilities, are capable of fully participating in integrated employment and community life. The foundation for this philosophy stems from the "Olmstead Decision" — the 1999 Supreme Court ruling that affirmed that people with disabilities have the right to live and receive services in our communities. And today, we have a new and important opportunity to improve the employment rate of people with disabilities by building upon the spirit of Olmstead and WIOA. Despite the effects of the great recession, energy and urgency have emerged again across the country to improve the employment rate of people with disabilities. Refreshingly, a number of states have developed Employment First policies and legislation, and self-advocates are quite clear about the importance of real jobs for good pay in typical workplaces. Employers large and small have emerged as leaders in promoting employment of people with disabilities. And the 25
th
anniversary of the Americans with Disabilities Act reminds us that much is needed in the months and years ahead in the interest of full community membership, and good jobs for people with disabilities.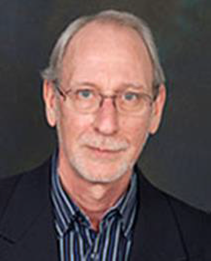 David Mank
One thing we can all agree on is this: we must seize this opportunity to create new possibilities of competitive integrated employment for every person with a disability who wants a job, along with the resources, relationships and meaning that come with working.
For more information on integrated employment, access the Office of Disability Employment Policy's Integrated Employment Toolkit.
David Mank is the director of Indiana University's Institute on Disability and Community, and  the chairperson of the Advisory Committee on Increasing Competitive Integrated Employment for Individuals with Disabilities.