Julie From Myanmar Dreamed of Becoming a Nurse. Here's How We Helped Her.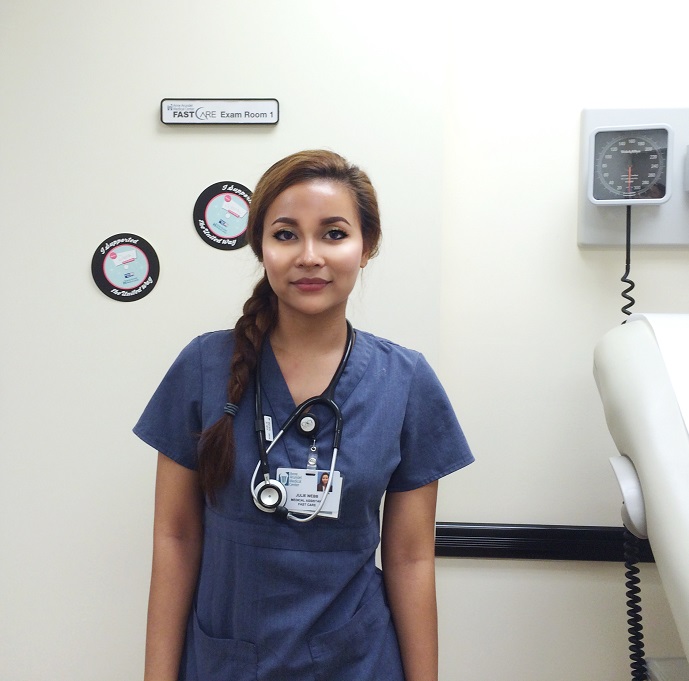 Meet Julie Webb. Her parents lived under a strict dictatorship in Myanmar (formerly Burma) for decades, and yearned for a better life for their two children. In 2004, then 15-year-old Julie and her family moved to Gaithersburg, Maryland, excited to leave the past behind and start a new life in the land of opportunity. The family adapted well; Julie loved the freedom America offered as well as the diversity of people and cultures. After graduating high school, Julie attended Frostburg State University from 2008 to 2010. She took a hiatus from college, but returned in 2013 by taking online courses through the American Public University System, earning an associate degree in general studies in 2014. Julie had always dreamed of becoming a registered nurse, but was not sure about her next move. A friend who'd secured a job after graduating from the Woodstock Job Corps Center in Maryland encouraged her to apply.
Job Corps
is a free education and training program that helps young people learn a career and find a good job. "When she told me about it I didn't believe her at first," admitted Webb. "I couldn't believe something so amazing existed. And it was free!" Julie was days away from turning 25 when she walked through Woodstock's doors, knowing there was no time to waste. The center was able to quickly enroll her before she reached the program cut-off age, and she began the clinical medical assistant training program in August 2014. Although she had always been fearful of blood and needles, she quickly got over this after drawing blood from a live person for the first time. Phlebotomy even ended up being her favorite part of the program! She learned everything from taking patient medical histories and vital signs to giving injections and conducting other testing procedures. In February 2015, she graduated from the program with four certifications. Shortly after, she interviewed for a clinical medical assistant position with Anne Arundel Medical Center's FastCare walk-in clinic. Her thorough training and education from Job Corps helped her get the job, and now she earns $13.25 an hour. "Job Corps was a life-changing experience that prepared me for the real world," said Julie. "It was a great stepping-stone that led me closer to reaching my dream." Her dream is almost a reality: Julie starts nursing school at Anne Arundel Community College this fall, and aims to become a registered nurse in two years. If you (or someone you know) would like more information on how Job Corps can provide the education and training you need to succeed in today's workforce, visit 
http://recruiting.jobcorps.gov 
or call 800-733-JOBS.
Editor's note: The "DOL Working for You" series highlights the Labor Department's programs in action. View other blog posts in the series here.
Joanna Hawkins is a regional public affairs specialist for the department in Philadelphia.