Back Wages: They Belong to You
In the
Wage and Hour Division
, we feel a particular pride and satisfaction knowing that workers who have suffered labor violations end up receiving their entitled back wages. During our investigations we meet workers and ask them questions about their work, their hours and their pay so that we can determine if they have been shortchanged. However, we do not always have the chance to meet these workers when the back wage checks are distributed.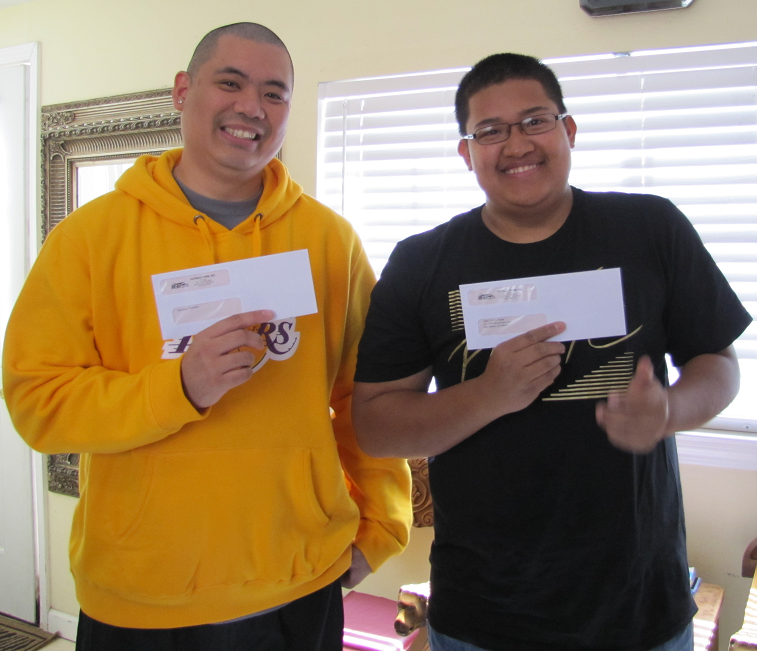 Giovanni E. Tolentino (left) and Allan Butay are two of the residential care workers who received back wages.
That was the case when a wage distribution gathering took place near San Francisco. At the meeting, dozens of Filipino residential care workers from several facilities owned by a single employer in the Bay area arrived to get their checks. In all, an investigation we conducted found that seven residential care facilities in San Mateo, Burlingame and South San Francisco owned by Adora Ancheta failed to pay minimum wage and overtime to 53 workers. As a result, Ancheta had to pay $101,791 in back wages and an additional $101,791 in liquidated damages to the workers. With the workers gathered, the employer's accountant discussed the investigation and advised the workers that if they had any questions regarding their checks that we were there to assist. We were able to see our work come to full fruition. The back wage distribution went smoothly. We also met Ms. Ancheta's daughters, Kersten and Kelly Ancheta. They are both proud of their active role in the business now as her mother's personal labor compliance team, and expressed a great deal of enthusiasm on behalf of Ms. Ancheta. Even though this case resulted in the payment of a substantial amount of back wages along with liquidated damages, it's an example of one in which the employer had a positive attitude toward the investigation and the work that we do at the Wage and Hour Division. Most importantly, Ms. Ancheta now understands the need to be in compliance.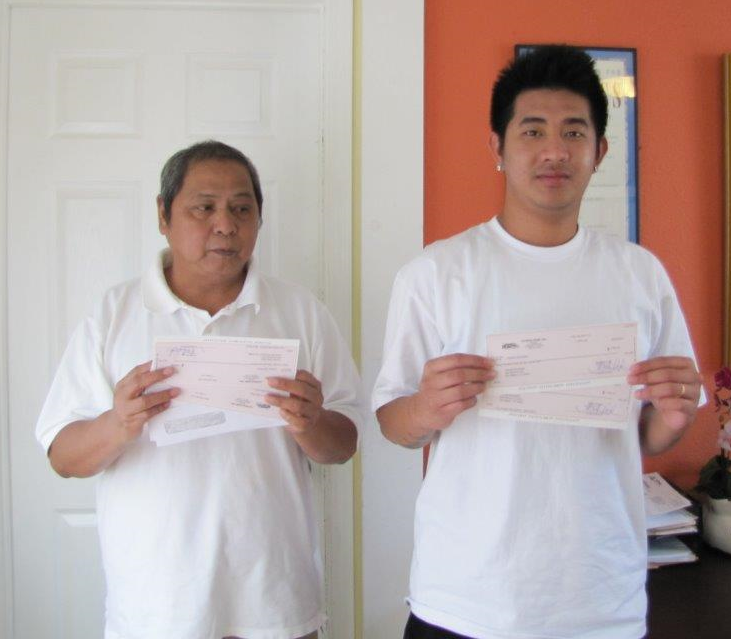 Residential care worker Teodulo E. De La Rosa (left) said the money is already helping him pay the bills and support his family. Rodney Bundalian (right) also received back wages.
Most of the caregivers in this case have now received their checks. They will be better able to pay for their childrens' schooling, medical expenses, groceries and rent. Teodulo E. De La Rosa is one of these workers. He was impressed that the U.S. government helped him recover more than $700 in unpaid back wages. "It is not only that I got the check in such a short time, he said, but the fact that from now on my employer is going to pay me what I am supposed to get, not less. This money I received is already helping me pay the bills I need to pay and also is helping me to continue to assist the members of my family here with me." De La Rosa was very fortunate that we were able to find him and others like him. For a variety of reasons, however, sometimes it is hard to locate low-wage workers. In California alone, there are approximately $14 million dollars waiting to be collected by some 21,000 workers. And there are many millions of dollars in back wages still waiting to be collected by workers nationwide. At the division, we remain committed to find them. One of those efforts is our 
Workers Owed Wages
system, which allows workers to search an online database to determine if they are owed back wages as the result of investigations that have already taken place. One of our top priorities is to ensure that the money we collect is rightfully and expeditiously paid to the workers who earned it.
Michael Eastwood is the Wage and Hour Division's assistant district director in San Francisco. He is based in the San Jose area office.