For Bricklayers, Partnership With OSHA Leads to Fewer Injuries
Editor's note: The "DOL Working for You" series highlights the Labor Department's programs in action. View other blog posts in the series here.
As one of the nation's oldest construction industry trade associations, the Mason Contractors Association of St. Louis is keenly aware of the hazards that bricklayers face each day. In a proactive effort to prevent injuries and reduce loss workdays, the association entered into a partnership agreement with the
Occupational Safety and Health Administration
in 2003. The partnership is comprised of 10 contractors that employ more than 500 workers in the masonry industry. And it has proved to make a meaningful difference—a more than 50 percent reduction in the total recordable injury rate of its members. Last year, the contractors association renewed the partnership and strive to meet new safety goals.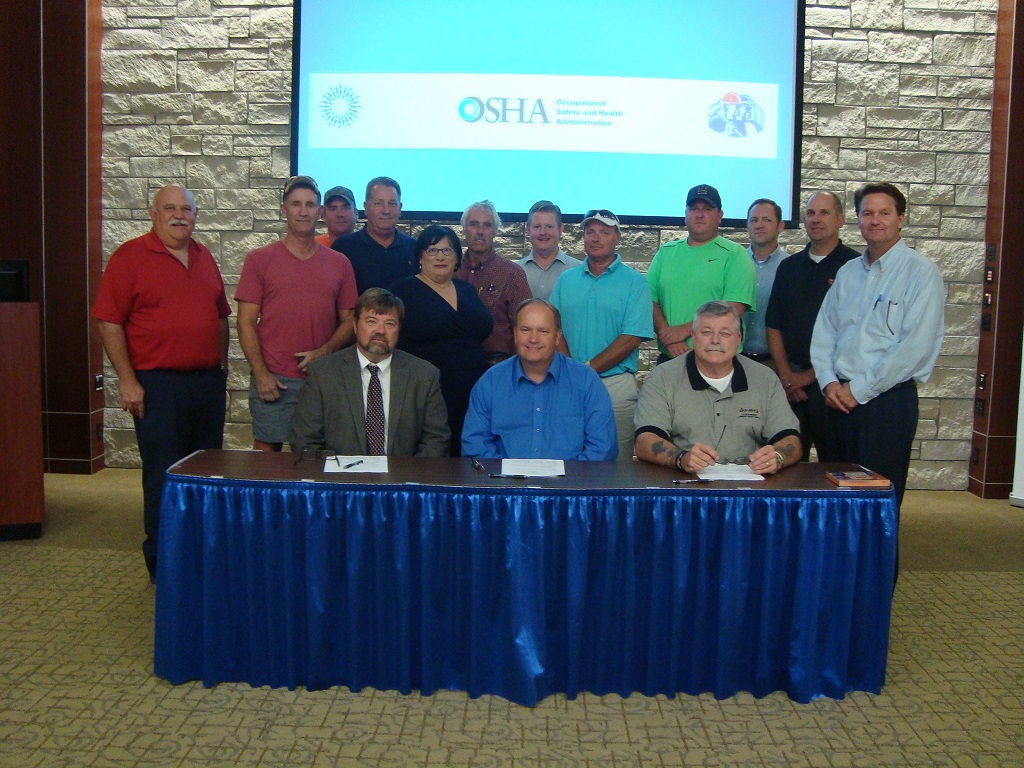 Seated from left: Bill McDonald, OSHA's area director in St. Louis, Tom McDonnell, president of the Mason Contractors' Association of St. Louis; and Gary Elliott, business manager of the Eastern Missouri Laborers' District Council with representatives from the contract members. Executive Director Dave Gillick is standing on the far right.
"We made a decision to engage with OSHA, creating a culture of awareness," said Dave Gillick, executive director for the association. "We have been involved in the partnership for more than a dozen years, and each year we have seen our injury rates drop. We have a goal to reduce employee injuries by 10 percent each year; last quarter we had no recordable injuries. Our numbers have declined each year of the partnership." Partnering with OSHA is fitting for the many companies who want to strengthen worker safety and health at their work sites. Within the partnership agreement, management, labor, and OSHA collaborate as allies committed to cooperative solutions to the problems of worker safety and health. "Several of our contractors are small companies, they don't have the safety resources that we can bring with the partnership," Gillick said. Each quarter the partnership members meet with local OSHA representatives to share best practices and review the data on injury rates. "Training and discipline matter on the job site," Gillick said. "We are changing the safety culture of our entire industry and that is good for all of our members—both from a personnel standpoint and a financial savings through lower insurance rates. This industry is a family and by self-policing and self-complying with safety standards we are doing the right thing for our people. Everyone wants to work safe." The partnership is currently focusing its educational resources and training on four hazards most frequently faced by masons: fall hazards, caught-between and struck-by injuries, trenching and excavation operations, and electrical hazards. The Mason Contractors Association of St. Louis has also become an advocate for the partnership program, encouraging other companies and organizations to get involved.
Learn how OSHA's Partnership Program can help your business.
Rhonda Burke is a public affairs specialist for the department in Chicago.