Employers: Putting Internships to Work for You
The end of summer is here and many interns are making decisions about their future employment and so are the employers who recruited them. Given that 92% of employers
surveyed
this year hosted internship programs, and two out of three interns received full-time offers last year, it's clear that employers view internships as a value-added proposition. Here at the U.S. Department of Labor, we're passionate about supporting the principles of equal access and inclusion and creating opportunities so that everyone can showcase and contribute their skills. As a person with a disability, I've seen these principles of inclusion in action. My internship experience led to a job in the
Office of Disability Employment Policy
, where I've worked with my colleagues to promote inclusive internship opportunities for all young adults, including those with disabilities.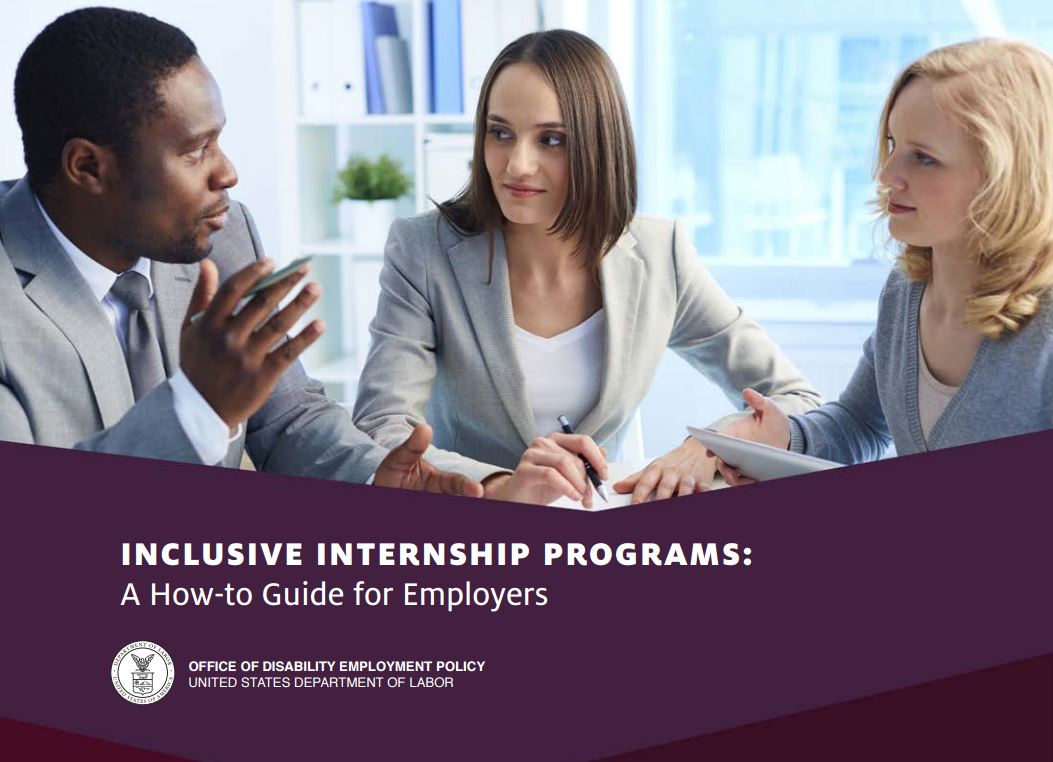 As an employer, you may already have an internship program, or you may be thinking about starting one for the very first time. The following three resources can help you in ensuring that the internship programs you sponsor are inclusive of people with disabilities.
1. Inclusive Internship Programs: A How-to Guide for Employers
This guide details the benefits that inclusive internship programs bring to employers. For example, internships allow businesses to tap into a diverse pool of talent that brings fresh thinking and innovation, to develop a recruitment pipeline, and to provide leadership opportunities for existing staff with management potential. This resource also lays out steps that employers should consider when designing, implementing, and evaluating inclusive internship programs of any size and discusses how having a diverse workforce can differentiate them from their competitors, help them capture new clients, and increase their market share.
2. Workforce Recruitment Program (WRP)
This recruitment and referral database connects federal and private sector employers nationwide with over 1,800 highly motivated pre-screened college students and recent graduates with disabilities who are eager to prove their abilities in the workplace through summer or permanent employment. Federal employers may register with their email address and browse the WRP pool of candidates. Private employers can take advantage of the WRP by
posting permanent and temporary positions
on
www.WRP.jobs
, which WRP participants can then respond to directly.
3. Resources for Federal Contractors on Section 503
Inclusive internships can also provide a way for employers who are Federal contractors and subcontractors to recruit employees to help meet their 7% utilization goal for hiring qualified individuals with disabilities under the recently amended regulations to Section 503 of the Rehabilitation Act. The regulations prohibit employment discrimination and require employers to take affirmative action in recruiting, hiring, promoting, and retaining individuals with disabilities. Although internships typically occur over the summer and last 2-3 months, they can also occur during spring or fall semesters on a full- or part-time basis. In many cases internships can be the door to long-term employment. Wherever and whenever they occur, ensuring your internship programs are inclusive of all aspects of diversity, including disability is an important strategy for business success in today's competitive labor market.
Nathan Cunningham is a policy adviser in the department's Office of Disability Employment Policy, where he focuses on youth issues.