After Unemployment, a Good Transition

Edward James Cannon, James to his friends, knows firsthand the power of a good attitude. At 53, he has seen highs and many lows in his life – the lows including unemployment, serious medical problems and difficulty supporting his four children − yet through all of his challenges he has remained positive and focused.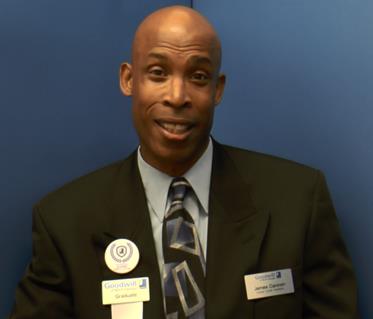 James had more difficulty than he anticipated finding a civilian job after serving more than 20 years in the Army as a telecommunications specialist. With many years of leadership experience, a college degree and an indomitable spirit, he began working for a hotel cleaning service
.
Underemployed but unable to find work elsewhere, his situation worsened when he became seriously sick and had to have a cardioversion procedure to save his life. The illness and recovery time resulted in a stretch of unemployment, which meant providing for his children was a challenge, sometimes impossible. Determined to get back on his feet, in October 2013 James sought out the
GoodTransitions
program in Atlanta, operated by
Goodwill of North Georgia
. Funded by a grant from the Labor Department, the program gives noncustodial parents the training and support they need to gain employment and support their families. This includes short-term paid transitional jobs, occupational skills training, case management, and job placement and retention services. Not long after enrolling, program staff recognized his skills and asked him if he'd be willing to be a peer mentor for others in the program. And because of his previous work experience, he was tapped to teach classes in the program. He taught his peers how to dress for success, helped them operate computers and taught them how to search for jobs online. James was more than happy to take on these roles, and other graduates recall his infectious optimism and motivation. Whatever they were working to achieve, James would remind them to "keep hoping, stay positive − it will not happen overnight but it will happen." James' own words rang true for him when – thanks to his professionalism, dedication and enthusiasm − he was hired in late 2014 by Goodwill's South Dekalb Career Center in Atlanta. As a career center facilitator, he handles intakes and provides information to people enrolling in the center's programs, along with other administrative duties. His positive impact on others in the program along with his indefatigable drive to excel resulted in him receiving the Spirit Award, an annual award given to honor Goodwill employees for their unwavering commitment to the organizations' 
values
 and mission. Are you a veteran looking for employment? Visit your local
American Job Center or explore our online tools
to learn more about resources that are available in your community.
Editor's note: The "DOL Working for You" series highlights the Labor Department's programs in action. View other blog posts in the series here.
Lindsay Williams is a public affairs specialist for the department in Atlanta.