Why One Illinois Company Uses Apprenticeship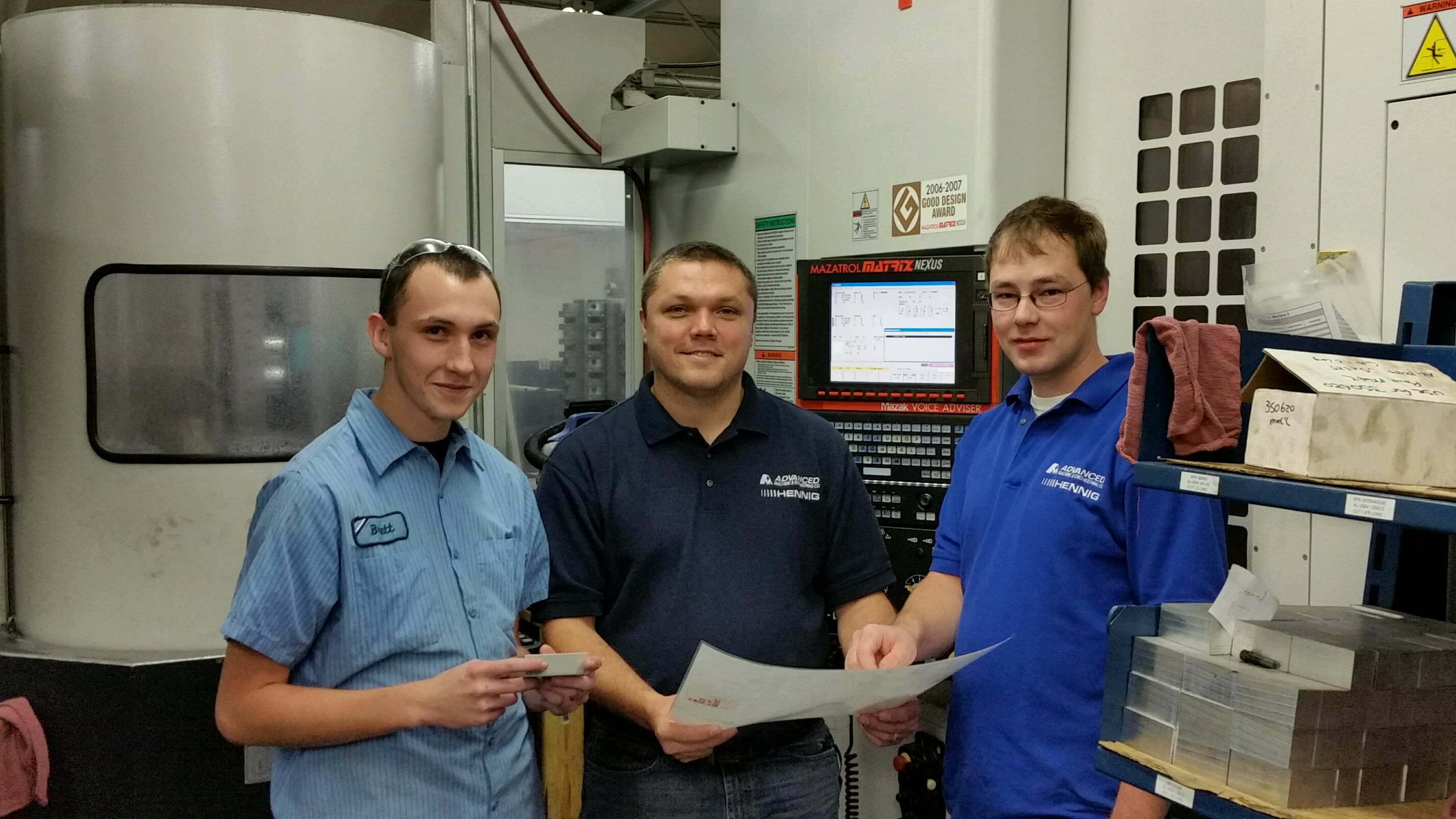 From left: Brett Tomkus, Chris Higgs and Zack Haugdahl examine a print and discuss the proper machine process for making the part Brett is holding.
Over the past few years, apprenticeship has been making national headlines as an age-old training model that can better prepare
today's
workers for skilled jobs. More and more employers are exploring how to use apprenticeships to train a quality workforce. But one Rockford, Illinois-based manufacturing company has had an apprenticeship program for several decades, with stellar results. Chris Higgs started his career path as a precision machinist at Advanced Machine and Engineering when he was just 16 and a high school senior. He graduated from the company's four-year precision machinist apprenticeship program in 1998, and today the CNC (computer numerically controlled) programmer now serves as the coordinator for the apprenticeship program. Right now there are 10 active participants as well as six recent graduates who serve as mentors. "We, like all manufacturers, are looking for skilled young people that can compete in a global workforce," Higgs said. "Apprenticeship is the best way we have found to fill our need for skilled labor." Each year the company interviews several candidates that have a good record of school and job attendance, solid academic skills and who perform well on an aptitude test. Two apprentices are then typically accepted into the four-year program, which is registered through the Labor Department's
Office of Apprenticeship
. Apprentices who complete 8,000 hours of on-the-job training and 64 credit hours of instructional learning at Rock Valley Community College receive a certificate of completion as well as an industry-issued, nationally recognized certificate from the
Rock River Valley Tooling and Machining Association
. RRVTMA, a local chapter of the National Tooling and Machining Association, is a group of tool machine shops and custom manufacturers in the Northern Illinois and Southern Wisconsin area. "One of the advantages of the program is that apprentices have an opportunity to see and experience different parts of the company's manufacturing process and understand how each job affects the other," Higgs said. "Apprentices also start working from Day One with incremental wage increases as they become more proficient so they see the impact their skill level has on the earning potential." The opportunity to "earn while you learn" is a huge draw for many students, especially those wary of starting a career burdened by college loans. Zack Haugdahl gradated as a precision apprentice in 2012: "The apprentice program was the best choice for me to continue my education in a field I was interested in after high school," he said. "It has given me a solid base on which to build a long-term career." Haugdahl is currently mentoring Brett Tomkus, who entered the apprenticeship program earlier this year and is focusing on milling as a way to pathway to what he sees as a viable career.
National Apprenticeship Week
kicks off Nov. 1 and is an opportunity for business and industry, educators, career seekers, community-based organizations, students and workers to learn about the real-world advantages of apprenticeship. Join the conversation online using the hashtag #ApprenticeshipWorks. The Labor Department's Registered Apprenticeship system has been meeting the needs of America's skilled workforce for over 75 years. Registered apprenticeships have an important role in traditional industries such as construction and manufacturing, but they are also instrumental in training skilled workers for emerging fields in industries such as information technology, energy, health care and homeland security.
Editor's note:
The "DOL Working for You" series highlights the Labor Department's programs in action. View other blog posts in the series 
here
.
Rhonda Burke is a public affairs specialist for the department in Chicago.