Gas Station Attendant Pumped After Wage and Hour Investigation

Gundemaro Rodas has endured a lot as a gas station attendant. During the 10 years he has worked for a chain of gas stations in New Jersey – one of only two states where drivers aren't allowed to pump their own gas – the 54-year-old Guatemala native has regularly faced long hours and bad weather. In 2007, he was the victim of an armed robbery while at work and, despite several surgeries, a gunshot wound left him unable to fully extend his arm and lasting trouble with his grip. He also was among 31 attendants working for the chain who were denied their rightful wages by the owner. An investigation by the Southern New Jersey District Office of the Wage and Hour Division found violations of the Fair Labor Standards Act. Gundemaro was denied overtime pay (time and one-half) for hours he worked over 40 in a workweek. During the investigation, Gundemaro worked closely with investigators to provide vital information and help them track down other workers who had been impacted. In the end, the division found that he was owed more than $10,000.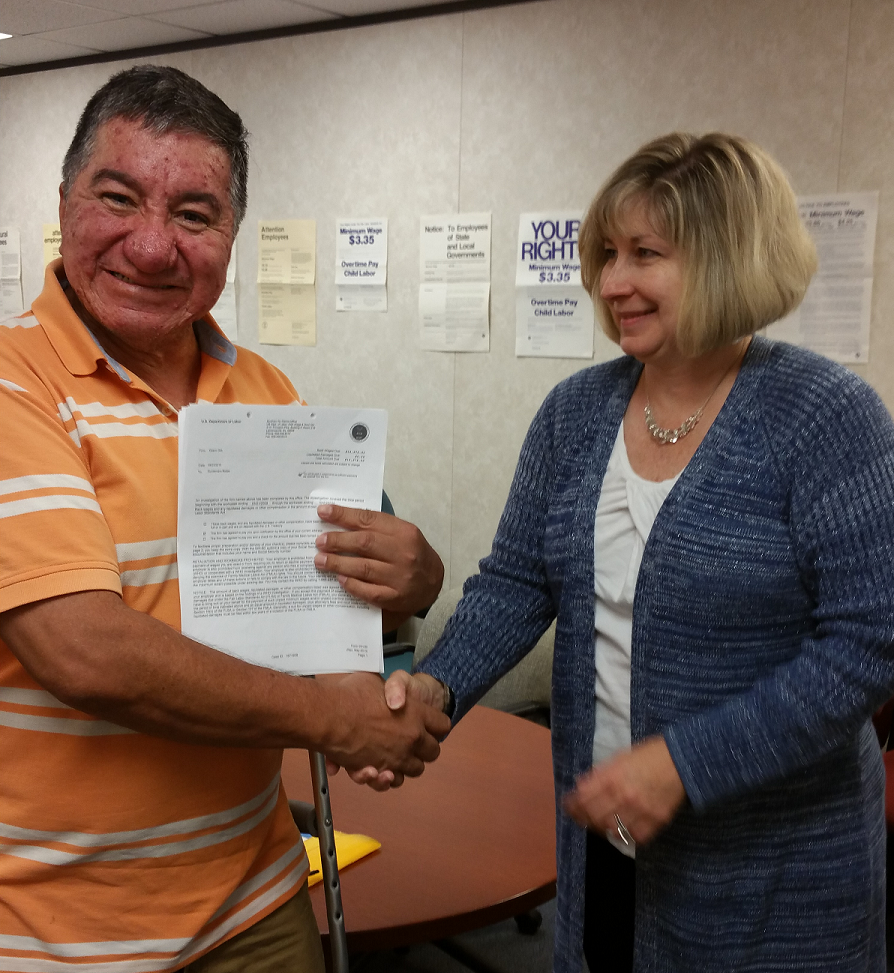 Gundemaro Rodas thanks Charlene Rachor, director of the Southern New Jersey District Office.
The financial lift couldn't have come at a better time. During the summer, while enjoying a day at the beach with his son and granddaughter, he was playing in the surf when a wave knocked him down, breaking his ankle. Unable to work due to the injury, he used the back wages check to pay his rent and car insurance, as well as to pay back money he had borrowed from others so he could cover his medical bills and daily living expenses. During a visit to the Wage and Hour Division office, Gundemaro said he sees the back wages as a gift from God because he felt like he was drowning, metaphorically, and can finally get some air. If you are concerned about your company's pay practices, or you are an employer who wants to be sure you are complying with the law, learn more on the Wage and Hour Division's 
website
 or by calling 1-866-4-US-WAGE (1-866-487-9243). You also can check to see if back wages are being held for you as the result of an investigation using the online tool, 
Workers Owed Wages
.
Editor's note: The "DOL Working for You" series highlights the Labor Department's programs in action. View other blog posts in the series here.
Leni Uddyback-Fortson is the regional director of public affairs for the department in Philadelphia.