How #ApprenticeshipWorks for Today's Tool and Die Makers

For decades, the skilled trades have led the way in developing and refining
apprenticeships
in America and providing businesses a strategy to train for the skills they need. Since its founding in 1976, Rockford Toolcraft Inc. in Illinois has used apprenticeship as a pathway to its tool and die maker positions. "It's the only way to find skilled tool and die makers," Tom Busse said of his company's philosophy. "My grandfather was an apprentice, as were both my father and I; we have a duty to train to fill our shoes." Rockford Toolcraft was founded by Tom's father, Jerry, and has grown from a two-man tool and die shop to about 350 employees between its two Rockford, Illinois, facilities, which today produce heavy gauge stampings and high quality metal stamping dies for the agriculture, automotive, heavy trucking, recreational vehicle and electrical industries.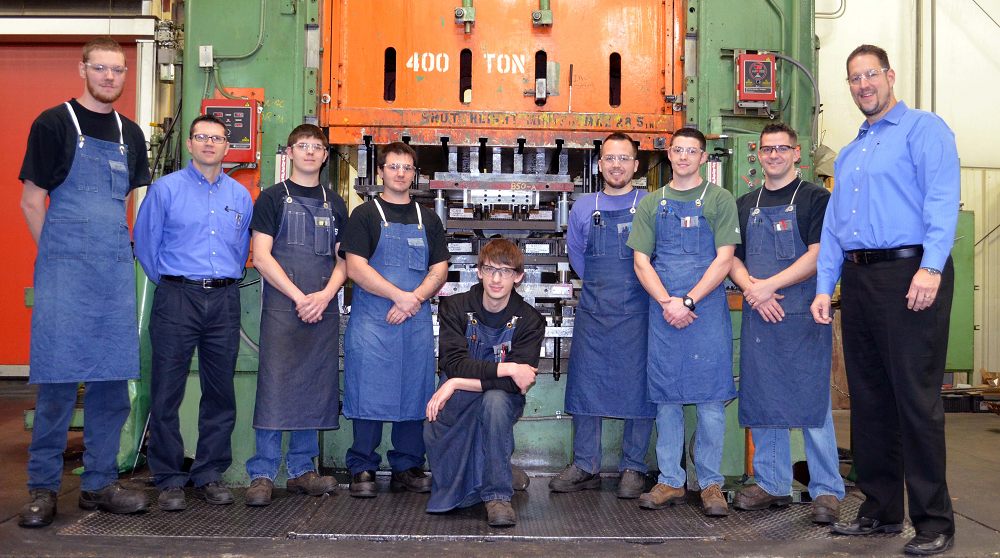 From left: Apprentice James Peterson; tool room manager John Watson; apprentices Trey Munson, Jory Dalsanto, Shayne Barnes, Steven McIlory, Nick Dietmeier, Paul Powers; and Rockford Toolcraft President Tom Busse.
Today, the company has seven active apprentices at its facility, working toward completion of the four-year program registered with the Labor Department. Most apprentices apply from within other areas of the company, Tom said. "Many are in production jobs and they get to know the company and the skilled work we produce and then apply to be an apprentice. We find this works very well because they know the business and we know their work habits." One current apprentice is Paul Powers, a 33-year-old former iron worker and brick layer who started in Rockford Toolcraft's production department after he had been laid off. Now in his second year as an apprentice, Paul says tool and die making is a great fit as a career and is helping him to provide well for his family. His sentiments were echoed by Steven McIlory, a former youth pastor who moved to Illinois from Georgia in search of a job that would provide a better future for his young family. Steven also started in the company's production department and is now a first-year apprentice.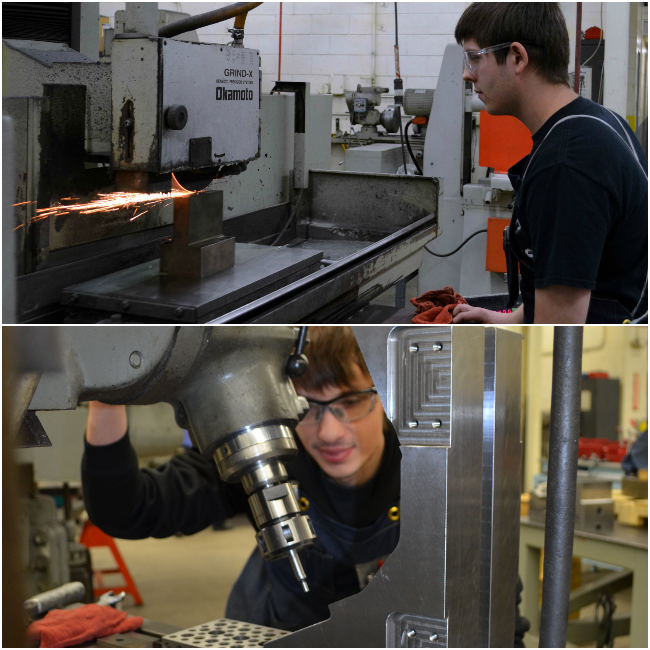 Top: Apprentice tool and die maker Trey Munson grinds a punch. Bottom: Shayne Barns works at a milling machine. He has recently completed all requirements and will soon receive his tool and die maker journeyman card.
Shayne Barnes started in the stamping department and worked on die repair when he decided to take the aptitude test and apply as a tool and die maker apprentice. He has recently completed all requirements and will soon receive his journeyman card. "I like the work and it is challenging. I feel I have a great future ahead of me," he said. Tool room manager John Watson completed his apprenticeship at the facility 21 years ago and has continued to grow with the company. "It is a specialized skill and I enjoy teaching others about the trade and watching them grow in the industry," he said. "It has been a great fit for me." The apprentices must complete 10,000 hours of on-the-job training and 68 credit hours of instructional learning at Rock Valley Community College in classes such as math, metallogy and computer design. They receive a certificate of completion as well as an industry-issued, nationally recognized certificate from the
Rock River Valley Tooling and Machining Association
. All of that training is worth it. "These apprentices will be earning a minimum of $50,000 a year and have no educational debt when they earn their journeyman card − which is a golden ticket for their future," Tom said, adding, "We have never laid off a tool and die maker in the company's history."
Editor's note:
Interested in more information about apprenticeship? Visit
dol.gov/apprenticeship
.
The "DOL Working for You" series highlights the Labor Department's programs in action. View other blog posts in the series 
here
.
Rhonda Burke is a public affairs specialist for the department in Chicago.