Work-Based Learning Pays Off

For three years after graduating from high school, Christopher Jordan worked a number of low-wage, part-time jobs as he searched for better paying work and a career. Intrigued by building construction, and encouraged by a father who was once enrolled in Job Corps, Christopher decided to pursue training at the
Potomac Job Corps Center
in Washington, D.C. There, he selected the Building Construction Technology trade taught by the Home Builders Institute,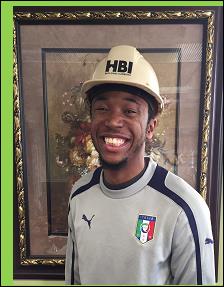 which includes training in safety principles, tool recognition, teamwork and construction techniques. Together with a team of Job Corps students, he received valuable on-the-job experience by helping renovate the Potomac facility's records office, pharmacy technician training lab and welcome center. Christopher's hard work caught the eye of his instructors, who recommended him to be a facilities maintenance intern in summer 2015 at the Labor Department. Through his newly acquired skills and training, Christopher was then selected to work as an intern with Equity Residential – a national company that builds, rehabs and manages apartment communities – in fall 2015, where he learned more about residential property management. His commitment and tenacity earned him a full-time job offer as a facility maintenance technician. Christopher happily accepted and started his new job in December, earning $17.51 per hour − a marked increase from his part-time jobs that paid $8.25 hourly. Asked about how he felt about starting a career, Christopher said, "I did it! Thank you, Potomac Job Corps and Home Builders. I love Job Corps!" Skills and technical training and apprenticeship opportunities provided through Job Corps help young people like Christopher become marketable in today's workforce. Roxanne Chin, the center director at Potomac Job Corps, said she is proud of Christopher's success: "Job Corps does this all over the country and what an amazing accomplishment right here in Washington, D.C., at Potomac Job Corps."
Editor's note:
Job Corps trains more than 60,000 students at 126 centers in all 50 states. Interested in more information? Visit jobcorps.gov or call 800-733-5627. 
Bennett Gamble is a public affairs specialist for the department in Washington, D.C.