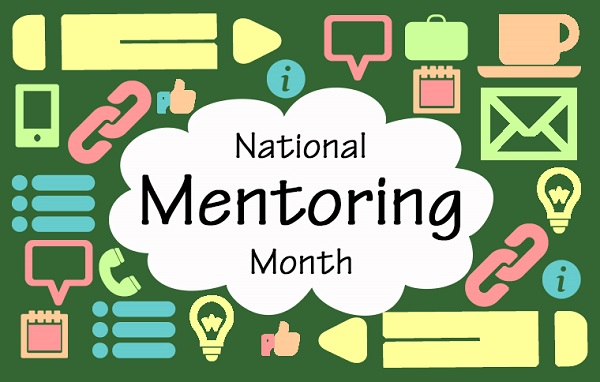 Mentoring guarantees young people that there is someone who cares about them, assures them they are not alone in dealing with day-to-day challenges and helps them feel like they matter. Research confirms that quality mentoring relationships have powerful positive effects on young people in a variety of personal, academic and professional situations. Ultimately, mentoring connects a young person to personal growth and development, and social and economic opportunity. Yet
one in three young people
will grow up without a mentor, and youth with disabilities are even less likely to have had a mentor. To affirm the importance of mentoring, every president since 1990 has proclaimed January to be National Mentoring Month. This January, the Labor Department's
Office of Disability Employment Policy
and
MENTOR: The National Mentoring Partnership
are collaborating on this blog to help ensure the inclusion of people with disabilities in the movement to expand mentoring opportunities for
all
. ODEP recognizes the value of policies and programs that effectively increase mentoring for youth and adults with disabilities, and which build bridges to the workplace. To develop and influence disability employment-related policies and practices, ODEP sponsors five policy and technical assistance centers. One of these is the 
National Collaborative on Workforce and Disability for Youth
 – a partnership to promote success for youth with disabilities entering the world of work. The partnership's website includes numerous youth-focused resources developed in collaboration with ODEP, such as the "
Guideposts for Success
," as well as extensive information related to career development, professional development, and youth development and leadership. The guidance includes mentoring activities designed to establish strong relationships with adults, peer-to-peering mentoring programs, exposure to role models, self-advocacy training, as well as promote awareness of disability history, culture and public policy issues. To reach a new network of people looking to get involved in their communities, MENTOR is launching, "
In Real Life
," a campaign that seeks to build public awareness of the real-life benefits of mentoring and highlights opportunities to increase and deepen the impact mentoring can have. Because
in real life
, we live in a diverse society where all young people should have the opportunity to experience the benefits of having a mentor and where our common humanity and connection is our greatest asset. Across the nation, disability mentoring programs are making a difference through a number of different models, including one-on-one matches, group mentoring, peer mentoring and e-platforms. Many of the organizations sponsoring mentor programs – including MENTOR and its network of affiliates – are now collaborating as part of the
National Disability Mentoring Coalition
to strengthen the quantity, quality and impact of disability mentoring on employment, community inclusion and quality of life. There are a number of circumstances that can result in isolation and disconnection and living with a disability is one of them. The essence of mentoring is to break down these barriers, to turn isolation into connection. Ultimately, the goal of the mentoring movement is to increase access to quality relationships, as they have been available to far too few young people. But the movement can only reach its full potential, just as we can only reach our full potential as a society, when it is inclusive. ODEP and MENTOR look forward to improving mentoring outcomes for youth and adults with disabilities this month and throughout the year. As we do so, we ask the disability and mentoring communities to share their thoughts, hopes and stories via social media using the hashtags #MentorIRL and #DisabilityMentors.
Editor's note:
A version of this blog post can also be found at
disability.gov
.
In October 2015, Jennifer Sheehy was named as one of 25 outstanding leaders as the first inductees into the
Susan M. Daniels Disability Mentoring Hall of Fame
. The inductees were selected by the NDMC for their demonstrated commitment to mentoring and for the impact of their contributions on improving the lives of people with disabilities.
Jennifer Sheehy is the deputy assistant secretary for disability employment policy and David Shapiro is the president and CEO of
MENTOR: The National Mentoring Partnership
.