The Ice Cream (or 'Paletero') Man Deserves Fair Pay, Too
Lee este artículo en español.

During the dog days of summer in Texas and across the southwest, the "paletero" – kind of like an ice cream man – is a staple in most Hispanic neighborhoods. Children and adults alike anxiously wait for the familiar tiny bells or bicycle ringer to signal a frozen piece of happiness is on its way. A
paletero
will walk for miles under the sun pushing around a heavy cart to sell tasty frozen
paletas
and ice cream treats. It's a hard job. Some
paleteros
are brought to the U.S. by companies who promise them work through the
H-2B temporary foreign nonagricultural worker program
.* But an all-too-common occurrence is that these workers aren't paid what they earned. Orialli Daniel Jimenez left his wife and two young daughters behind in Hidalgo, Mexico, to make money as an H-2B worker in the United States as a
paletero
. Unfortunately, he also was one of 73 workers who were cheated out of wages by his employer, Oasis Paleteria in Austin, Texas.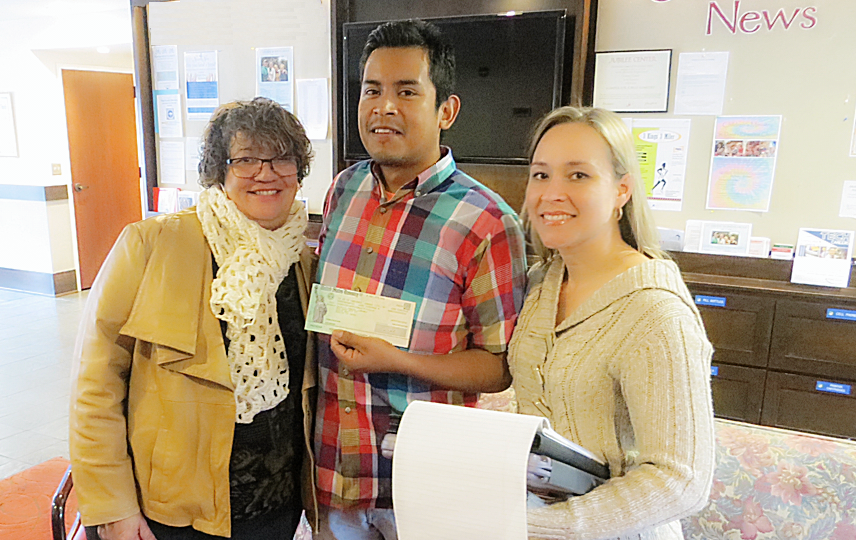 Orialli with Wage and Hour Division staff Glenda Gonzalez (left) and Brenda Hernandez.
An investigation by the Labor Department's Wage and Hour Division found Orialli and the other employees were paid an average of $6 an hour, below the federal minimum wage and significantly less than the rate agreed to through the H-2B program ($11.14 an hour). Oasis Paleteria also falsified payroll records to make it appear the workers were being paid what they had been offered, and would provide paychecks at the $11.14 an hour rate but then force the workers to return the money after they had cashed the checks. After being indicted on multiple counts of visa and mail fraud, the employer jumped bail − but not before the Labor Department was able to secure a cashier's check for $325,000 to partially cover the back wages owed to his workers. Orialli received more than $3,000. When Orialli stopped by the division's Austin District Office to pick up his check, he was thrilled. He said he would use that money to help his family and fix his car, and he was so excited he called his wife to give her the great news. These days, the only bell-ringing sounds Orialli may make come from opening the doors to his home in Hidalgo, Mexico. And the only children who look forward to his arrival are his two beautiful girls, ages 6 and 9. He hopes to now start his own business making school uniforms. If you are concerned about your company's pay practices, or you are an employer who wants to be sure you are complying with the law, learn more on the Wage and Hour Division's 
website
 or by calling 1-866-4-US-WAGE (1-866-487-9243). You also can check to see if back wages are being held for you as the result of an investigation using the online tool, 
Workers Owed Wages
.
Editor's note:
The DOL Working for You series highlights the Labor Department's programs in action. View other posts in the series
here
.
Juan Rodriguez is a public affairs specialist for the department in Dallas.
*The H-2B nonimmigrant program permits employers to temporarily hire nonimmigrants to perform nonagricultural labor or services in the United States. The employment must be of a temporary nature for a limited period of time such as a one-time occurrence, seasonal need, peakload need or intermittent need. On April 29, 2015, the departments of Labor and Homeland Security announced an interim final rule to reinstate and improve the program, and a final rule to establish the prevailing wage methodology.
Learn more
.
También al paletero se le debe pagar justamente
El paletero es un personaje habitual en la mayoría de los barrios hispanos de Texas y del suroeste de Estados Unidos, especialmente durante los días de verano cuando más fuerte pega el sol. Tanto niños como adultos lo esperan ansiosamente, sabiendo que ya está muy cerca un pedacito congelado de felicidad no más escuchar el familiar sonido de sus campanillas o del timbre de su bicicleta. Un paletero recorre muchas millas bajo el sol empujando una pesada carretilla para vender sabrosas paletas y otras delicias heladas. Es un trabajo duro. Algunos llegan a EE.UU. de la mano de empresas que les prometen trabajo por medio del
programa H-2B de trabajadores temporeros no inmigrantes en trabajos o servicios no agrícolas
,* pero con frecuencia no se les paga lo que por ley merecen. Orialli Daniel Jiménez dejó atrás a su familia y a sus dos pequeñas en Hidalgo, México, para venir a EE.UU. y poder ganar un sustento como paletero bajo el programa H-2B. Él es, lamentablemente, uno de los 73 trabajadores a los que engañó Oasis Peletería, su empleador en Austin, Texas.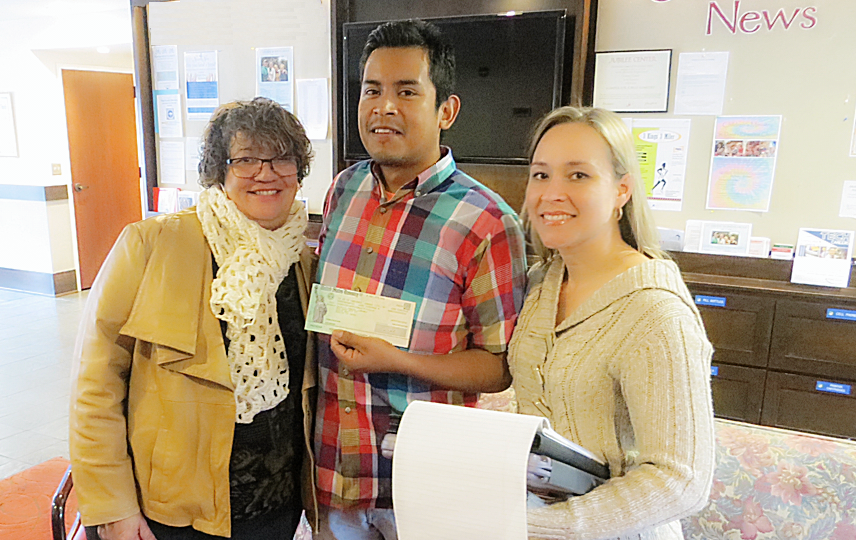 Orialli Daniel Jimenez posa junto con Glenda Gonzalez (izquierda) y Brenda Hernández, de la División de Horas y Salarios.
  Una investigación de la División de Horas y Salarios del Departamento de Trabajo descubrió que Orialli y a otros empleados recibían un promedio de $6 la hora, por debajo del salario mínimo federal, y significativamente menos que los $11.14 la hora acordados bajo el H-2B. Además, Oasis Peletería falsificó los registros de nóminas para con ello dar la impresión de que estaba pagando lo prometido. Los trabajadores recibían cheques por $11.14 la hora pero después de cobrar los cheques el empleador les obligaba a devolver el dinero. El Departamento de Trabajo logró asegurarse de un cheque de $325.000 para cubrir parte los salarios adeudados a los trabajadores justo antes de que el empleador escapara sin pagar la fianza al ser acusado de múltiples cargos por fraude de visados y correo. Orialli recibió más de $3.000. Orialli estaba emocionado el día que pasó por la oficina distrital de la División de Horas y Salarios en Austin para recoger su cheque. Entre otras cosas, dijo que le gustaría usar ese dinero para ayudar a su familia y para reparar su auto. Estaba tan contento que hasta llamó a su esposa para darle la gran noticia. Estos días, la única campanilla que Orialli hace sonar es la que se escucha cuando se abre la puerta de su casa en Hidalgo. Y los únicos niños que esperan ansiosos su llegada son sus dos preciosas hijas de 6 y 9 años. Él ahora quiere comenzar su propio negocio de confección de uniformes escolares. Si le inquietan las prácticas de pago de su compañía, o si usted es un empleador que quiere asegurarse de que está cumpliendo con la ley, obtenga más información en el
sitio web
 de la División de Horas y Salarios o llamando al 1-866-4-US-WAGE (1-866-487-9243). También puede verificar si tiene salarios retroactivos esperándole como resultado de investigaciones acudiendo a la herramienta en línea
Salarios adeudados a trabajadores
.
Nota del editor:
 La serie DOL Working for You (el Departamento de Trabajo trabajando por  usted) destaca los programas del Departamento de Trabajo en acción. Lea
aquí
otras publicaciones de la serie. 
Juan Rodriguez es especialista de información pública del departamento en Dallas.
*El
programa de trabajadores temporales extranjeros no agrícultores H-2B
permite a los empleadores contratar temporalmente a trabajadores no inmigrantes para realizar trabajos no agrícolas o servicios en los Estados Unidos. El empleo debe ser de naturaleza temporal por un período de tiempo limitado y de ocurrencia única,  cada vez que surja la necesidad, de forma estacional, en períodos de pico de trabajo, o de forma intermitente. El 29 de abril de 2015, los departamentos de Trabajo y de Seguridad anunciaron una norma final provisoria para reinstaurar y mejorar el programa, y una norma final para establecer la metodología del salario predominante.  
Más información
.
PIE DE FOTO: