Justice for Assistant Hotel Manager Illegally Demoted

Like all working parents, Brittany Miller occasionally needed to take time off to care for her family. A mom and assistant manager at a Best Western hotel in Forney, Texas, Brittany was a salaried employee who made $550 per week. She worked hard and took her responsibilities seriously. So when her paycheck repeatedly came up short because of several deductions over three months, she was dismayed. She tried to ask the general manager about the deductions, but after being ignored for weeks, Brittany brought it up with the hotel owner, Forney Joint Venture LLC. The owner immediately paid her back the money that had been deducted. Her troubles seemed to have ended − or so she thought.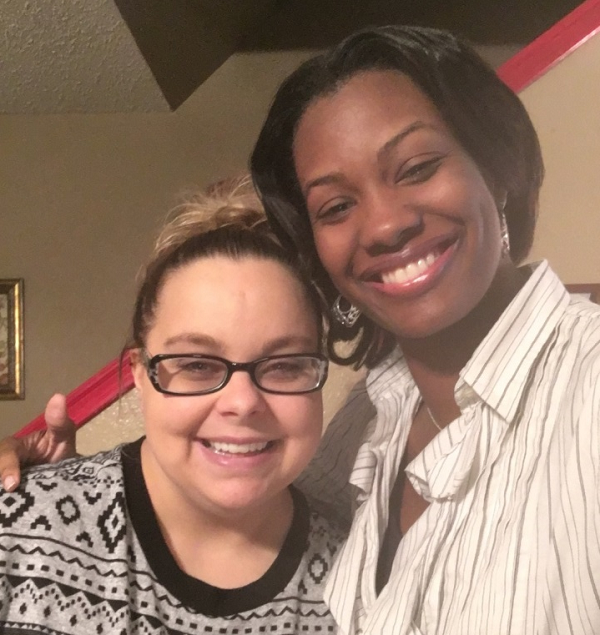 Brittany Miller (left) was helped by Wage and Hour Division Investigator Dana Manzella when her manager retaliated against her for exercising her rights under the Fair Labor Standards Act.
Unhappy that Brittany had taken her concern to the owner, the general manager reduced Brittany's salary from $550 per week to $9 per hour, claiming Brittany missed too many days, performed poorly, and did not meet the duties and responsibilities to be an assistant manager. It was a hard blow that essentially forced her to quit; she and her child could not afford to live on that amount,  and she knew she was being unjustly accused of not performing her duties. She also knew her rights, and reached out to the Labor Department's
Wage and Hour Division
. Brittany had kept good records and the general manager's claims were unfounded. After conducting an investigation, the division determined that the general manager had violated the
Fair Labor Standards Act
by unjustly docking Brittany's pay as a salaried employee and that she then retaliated against her by demoting Brittany to an hourly employee after she complained. The division was able to secure a settlement agreement with Forney Joint Venture to pay Brittany nearly $13,000 in back wages and liquidated damages. The employer also agreed to reinstate her to her old position as assistant manager. Brittany said she reached out to the division not only because of the money she was due, but because "It was about [the company] knowing what they did was wrong," adding, "it was a great feeling knowing that someone was on my side." Brittany encourages anyone else who feels they have been unjustly retaliated against to call the Wage and Hour Division for guidance.
Editor's note:
Visit the Wage and Hour Division's
website
or call 1-866-4-US-WAGE (1-866-487-9243) to learn more about federal labor laws.
The "DOL Working for You" series highlights the Labor Department's programs in action. View other blog posts in the series
here
.
Juan Rodriguez is a public affairs specialist for the department in Dallas.