To End Child Labor and Forced Labor, Knowledge is Power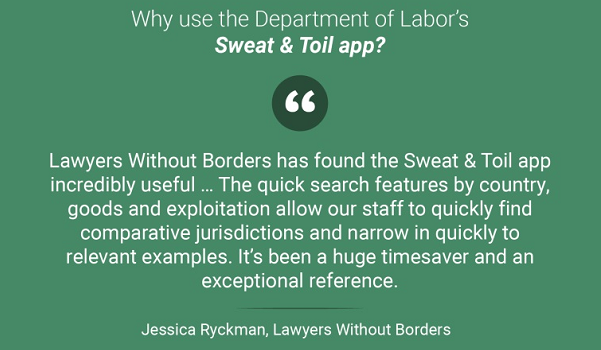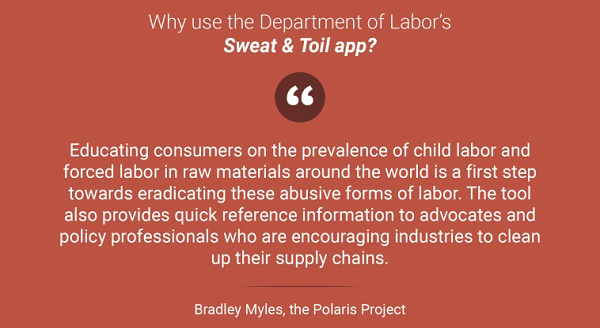 These are some of the things that human rights professionals are saying about the Bureau of International Labor Affairs' mobile app, "Sweat & Toil: Child Labor, Forced Labor, and Human Trafficking Around the World." Released in the iTunes store last September, the app is now available to download on Android devices at Google Play. The app makes it simple to access the wealth of research in ILAB's Findings on the Worst Forms of Child Labor, List of Goods Produced by Child Labor or Forced Labor and List of Products Produced by Forced or Indentured Child Labor. Researchers, advocates and policy professionals have already discovered how ILAB's reports, now easily accessible and searchable, can aid them in their work. It also can help companies understand where their supply chains might be at risk, and then take appropriate actions to address those risks. Students and academics can use the tool to help expand our collective understanding of child and forced labor. Not too long ago, while preparing for a trip to study how recent laws had affected trafficking and forced labor in the Philippines, I and my classmates would sit in Amer's Delicatessan in Ann Arbor, the table piled high with reports, spreadsheets and dictionary-sized volumes, digging through them to find the relevant data. How much easier an app like this would have been to us then. How much more space on the table for Amer's delectable hummus platters.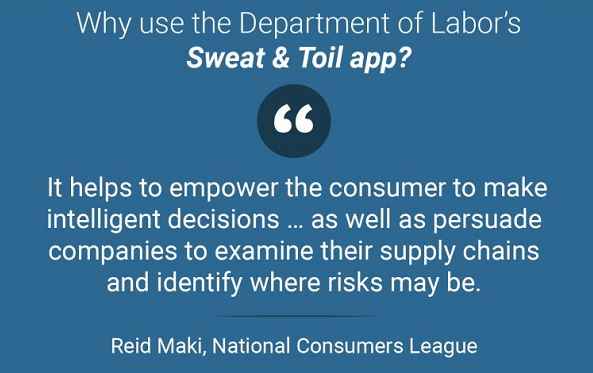 Consumers, too, can use it to make informed choices. While the reports don't identify individual commercial products, conscious consumers can use it to dig deeper, to learn more about the products they buy and ask questions of the companies from whom they purchase, such as, "How do you prevent child labor and forced labor from entering your supply chains? And how do you deal with labor abuses when they are found?" Data from the app is also available in an open format through the department's next-generation Application Programming Interface, fulfilling the promise of the Obama administration's Open Government Initiative to make more data readily available and useful to the public. Developers can use this data in their own apps, data visualizations and mashups with other data sets, while data scientists can use it to fuel further research. Eradicating child labor and forced labor is surely a massive undertaking, but it's exactly the type of big thing that the world can accomplish when it works together to find solutions. Knowing where this exploitation exists is one step in a global fight in which all of us should be playing a role. Download the app today. Ask Questions. Take Action. Demand Change.

Egan Reich is a public affairs specialist for the Labor Department.