Back Wages for Courier Driven to the Brink

Lee este artículo en español.
Jesus Mondragon's 16 years working as a courier for San Leandro, California-based National Consolidated Couriers Inc. were marked by constant  pressure, pay cuts, unattainable goals, hours sitting in traffic every day, accidents in his own vehicle and threats of being fired. He felt powerless when management assigned him jobs that would have him driving upwards of 18 hours a day on the Bay Area's congested freeways and highways with no benefits and using his own personal car insurance. "We were given our routes every day and the supervisor would tell us they would fire us if we didn't like it," Jesus said. Management eventually took away many of his routes and added stops with no additional pay. On several occasions, he said he checked into the hospital because of stress but would still receive nonstop calls on his cell phone from supervisors. It turns out Jesus was not alone, that hundreds of other couriers were experiencing similar conditions and that NCCI was indeed employing illegal labor practices. An investigation by the Labor Department's Wage and Hour Division found that the company was
 misclassifying its drivers as independent contractors
, instead of employees, to cut costs. During the course of the investigation, the employer tried to destroy records that would have indicated couriers were employees and not true independent contractors.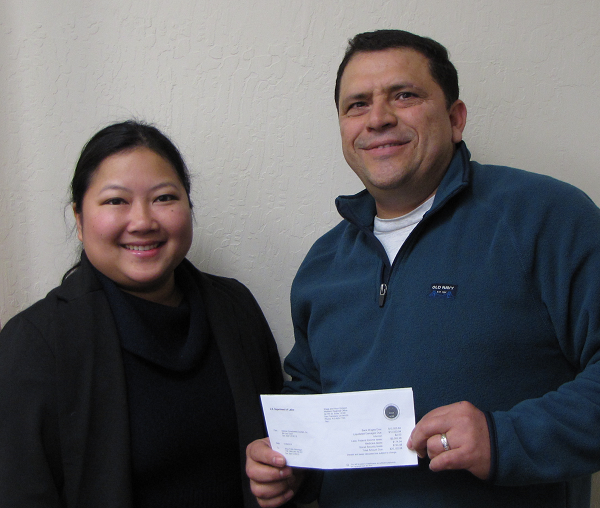 Jesus Mondragon with Wage and Hour Division Investigator Mary Pham.
In the end, we were able to obtain a
consent judgment
in favor of the workers: 600 drivers received a combined $5 million in back wages and damages, having been cheated out of the minimum wage and overtime pay they were legally owed. Jesus received $20,000 in back pay and damages. He says that he didn't understand why he and his fellow drivers were classified as independent contractors, and management never explained why they were working under such a system. Thousands in lost wages, three accidents and several hospital visits later, Jesus now has a new job driving with another company where he gets to pick the routes he drives every day.  He also receives minimum wage, and overtime.  He is planning to use his back wages to pay off bills and  to take his first vacation in eight years. "I'm happy about the justice the Department of Labor brought," he says. If you have questions about your company's pay practices, or you are an employer who wants to be sure you are complying with the law, learn more on the Wage and Hour Division's
website
or by calling 1-866-4-US-WAGE (1-866-487-9243). You also can check to see if back wages are being held for you as the result of an investigation using the online tool,
Workers Owed Wages
.
Editor's note:
The DOL Working for You series highlights the Labor Department's programs in action. View other posts in the series
here
.
Leo Kay is the regional director of public affairs for the department in San Francisco.
Justicia salarial para mensajero llevado al borde del precipicio
Los 16 años durante los que Jesús Mondragón trabajó como mensajero para la empresa National Consolidated Couriers Inc., de San Leandro, California, estuvieron marcados por una presión constante, reducciones salariales, interminables atascos, accidentes en su propio vehículo, y amenazas de despido. Jesús se sentía frecuentemente indefenso cuando los patronos le asignaban trabajos que le obligaban a manejar hasta 18 horas al día en las congestionadas autopistas y carreteras del Área de la Bahía de San Francisco. Y todo eso sin beneficios y usando además su seguro de carro personal. "Nos daban nuestras rutas a diario y el supervisor nos decía que nos iba a correr si no nos gustaban", comenta Jesús. Los patronos terminaron quitándole muchos de sus recorridos y poniéndole más paradas sin pago adicional. Él explica que en varias ocasiones tuvo que ingresar en el hospital por los nervios que tenía. Y a pesar de todo, sus supervisores le seguían llamando sin parar a su celular. Resulta que Jesús no era el único. Cientos de mensajeros estaban viviendo condiciones similares y, de hecho, la NCCI estaba usando prácticas ilegales de trabajo. Una investigación de la División de Horas y Salarios del Departamento de Trabajo de EE.UU. descubrió que la empresa estaba
mis-clasificando a sus conductores como contratistas independientes
, en lugar de como empleados, para de esa manera ahorrarse dinero. Durante la investigación, el empleador trató incluso de destruir registros que probaban que los mensajeros eran empleados y no verdaderos contratistas independientes.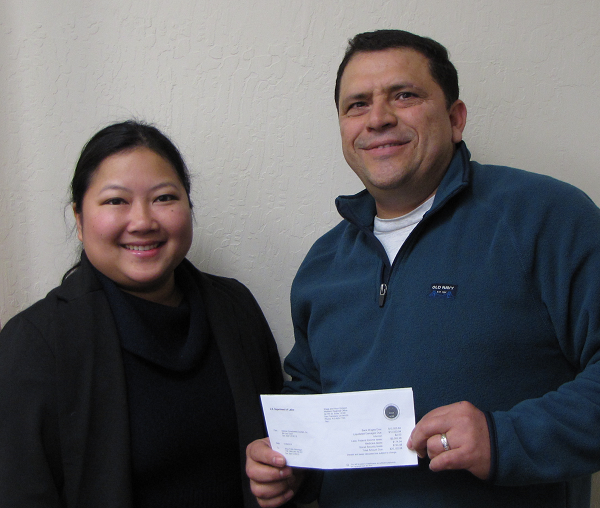 Jesus Mondragón, junto a la investigadora Mary Pham, de Horas y Salarios.
Al final de todo, logramos obtener un
dictamen judicial acordado entre las partes
a favor de los empleados: 600 trabajadores recibieron un total de $5 millones en salarios atrasados y compensación por daños por haber sido engañados del salario mínimo y sobretiempo que les habría correspondido recibir por ley. Jesus recibió $20,000 en salarios y compensación por daños. Jesús nos cuenta que no entiende porque él y sus compañeros fueron clasificados como contratistas independientes, y los patronos tampoco explicaron nunca porque estaban operando bajo ese sistema. Después de miles de dólares en salarios no recibidos, tres accidentes y varias visitas al hospital, Jesús tiene nuevo trabajo manejando para otra compañía en la que él mismo puede elegir las rutas que desea cada día. También le pagan su salario mínimo y sobretiempo. El piensa usar los salarios atrasados que ha recibido para pagar algunas cuentas pendientes y tomar sus primeras vacaciones en ocho años. "Estoy feliz con la justicia conseguida gracias al Departamento de Trabajo", dijo. Si tiene preguntas sobre las prácticas de pago de su empleador o es usted un patrono que necesita estar seguro que está cumpliendo con la ley, acuda a
la página
de la División de Horas y Salarios en internet o llame al 1-866-4-US-WAGE (1-866-487-9243). También puede chequear si se le tiene guardado dinero como resultado de una investigación, usando la herramienta en línea
Salarios Adeudados a Trabajadores
.
Nota del editor:
 La serie DOL Working for You (el Departamento de Trabajo trabajando por  usted) destaca los programas del Departamento de Trabajo en acción. Lea
aquí
otras publicaciones de la serie. 
Leo Kay es director regional de Información Pública del Departamento de Trabajo de EE.UU. en San Francisco.