10 Things You Didn't Know About the Labor Department
In honor of the Labor Department's 103rd birthday on March 4, here are some facts we bet you didn't know.
1. President William Howard Taft signed the Organic Act creating the U.S. Department of Labor literally during his last few hours in office on March 4, 1913. Taft signed reluctantly, figuring incoming President Woodrow Wilson would create the department anyway. Labor organizations and advocates had been pushing for a seat at the president's table for decades.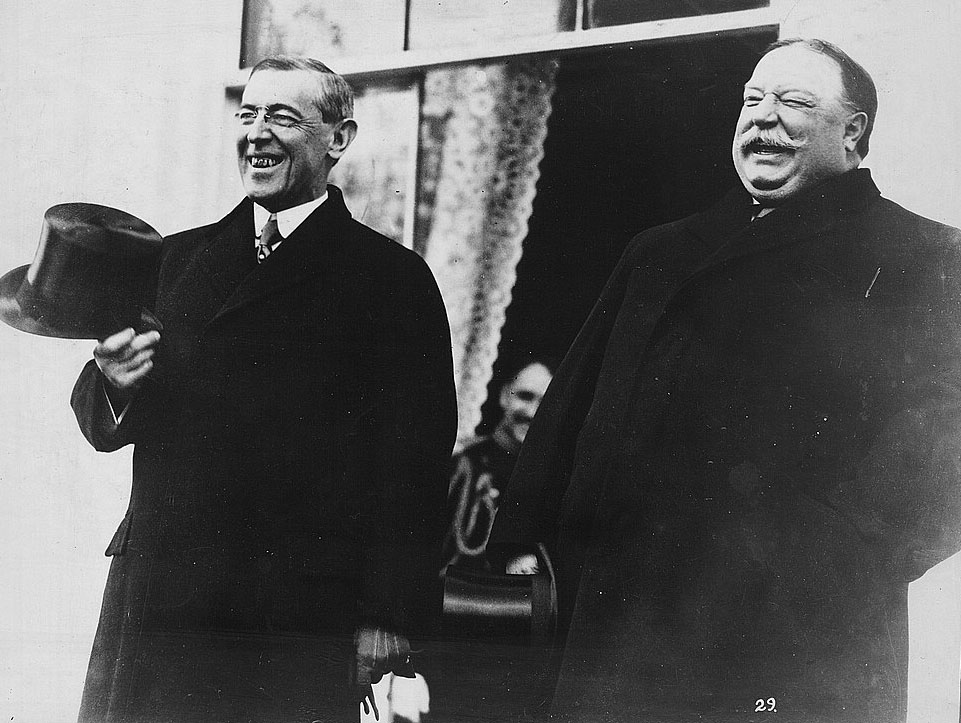 That same day, President-elect Wilson and President Taft were photographed at the White House just before Wilson's inauguration ceremony. We'd love to know what was so funny. Credit: Library of Congress.
2. During World War I, a War Labor Administration was created within the fledgling Labor Department to organize labor production. It was so effective that many New Deal programs and the World War II labor program were modeled after it.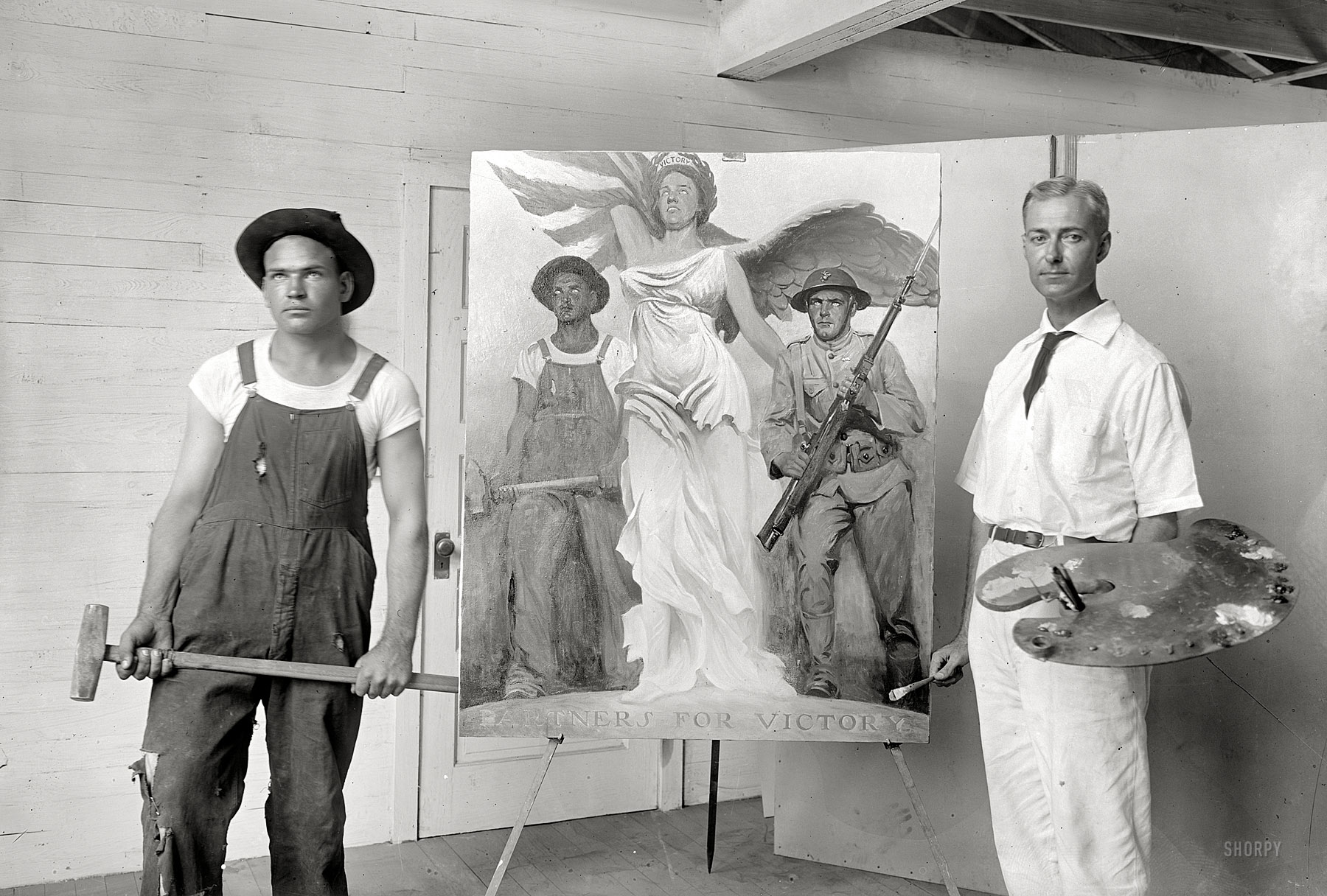 Patriotic art was commissioned to inspire workers to join wartime efforts, like this awesome painting by Gerrit A. Beneker – pictured here with his model.
3. The first woman in the president's Cabinet was Frances Perkins, Franklin Roosevelt's secretary of labor from 1933-1945. Among her accomplishments: the 40-hour workweek, Social Security and Unemployment Insurance.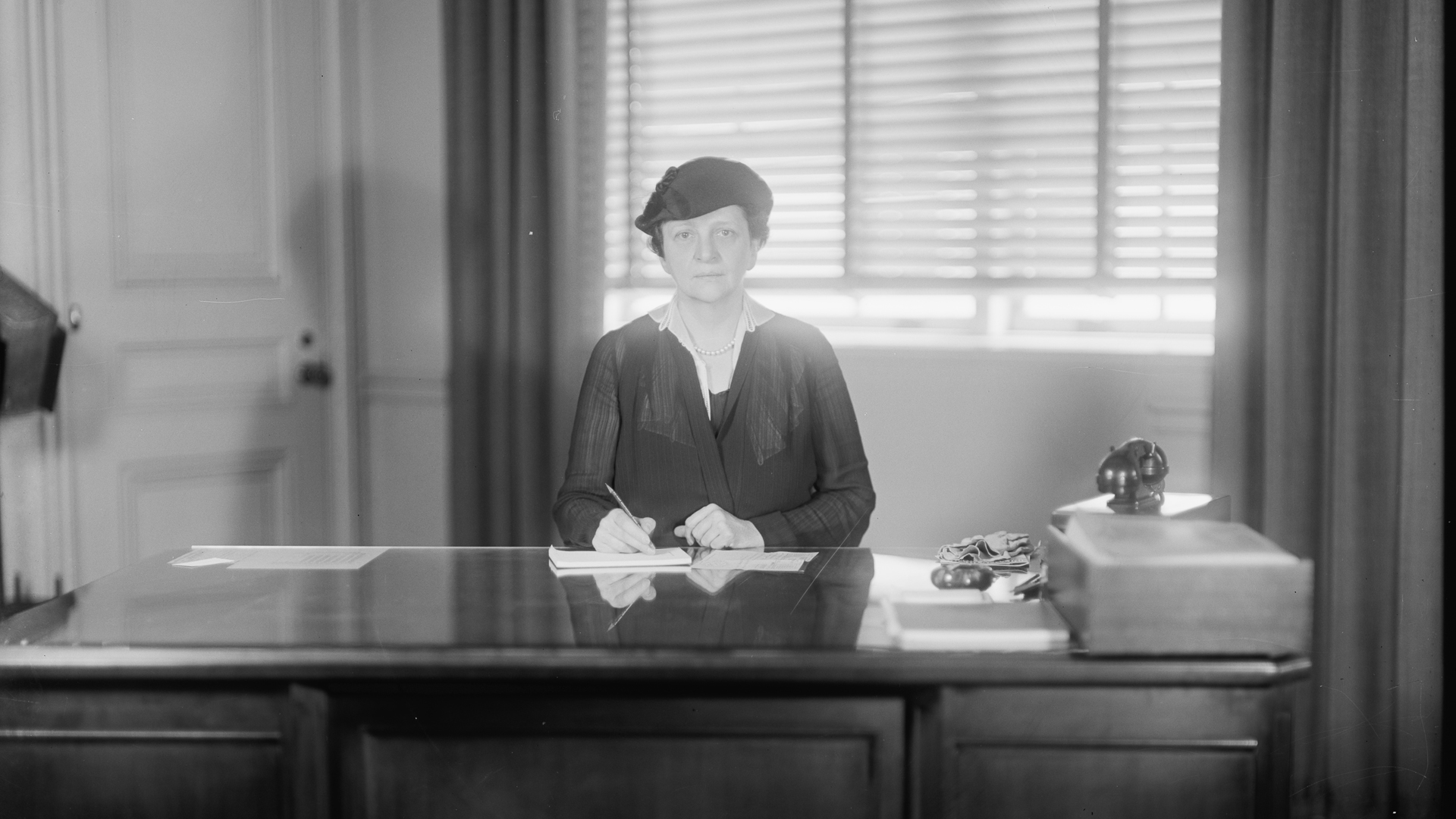 Perkins' signature look – a tricorn hat – was the result of this advice from her mother: "Never let yourself get a hat that is narrower than your cheekbones, because it makes you look ridiculous." (Ouch. Thanks, Mom!)
4. The first African-American to attend a Cabinet meeting was J. Ernest Wilkins, appointed by President Eisenhower as assistant secretary of labor for international labor affairs in 1954. If you're not impressed yet, try this: Wilkins graduated from the University of Chicago Law School at just 20 years old and was one of its first black graduates.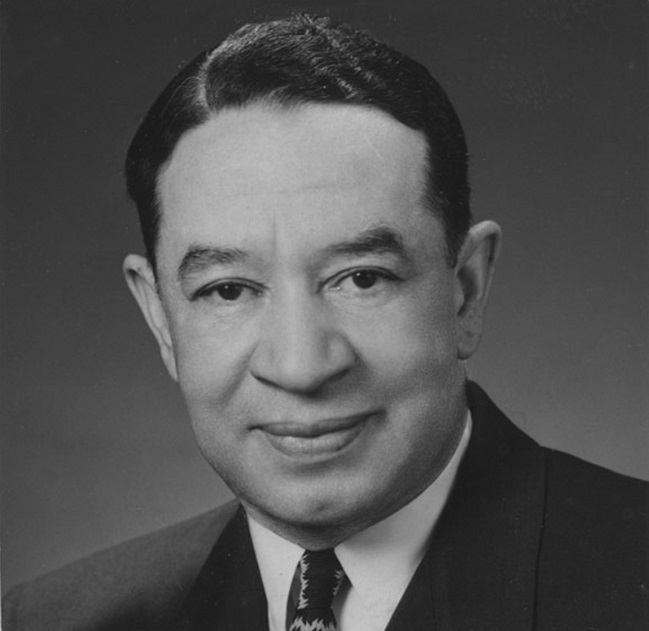 Wilkins also served on the Civil Rights Commission under President Kennedy. While investigating potential violations of black voting rights in Montgomery, Alabama, he was turned away by the hotel where the other commission members were staying.
5. Heavyweight champ and entrepreneur George Foreman credits Job Corps − a Labor Department program for disadvantaged young people created under President Johnson − with changing the direction of his life. It's also where he learned about boxing. Today Job Corps serves thousands of young people at 126 centers around the country.
#LBJ meets fellow Texan George Foreman! Foreman was in #LBJ's Job Corps before winning the gold at '68 Olympics. pic.twitter.com/ZFnbowWf

— LBJ Library (@LBJLibrary) February 16, 2012
6. The Labor Department was the first federal agency to have an on-site day care center, which opened in 1968 thanks to Women's Bureau Director Esther Peterson. Peterson was the highest ranking woman in the Kennedy administration and a mom of four who knew how to get things done.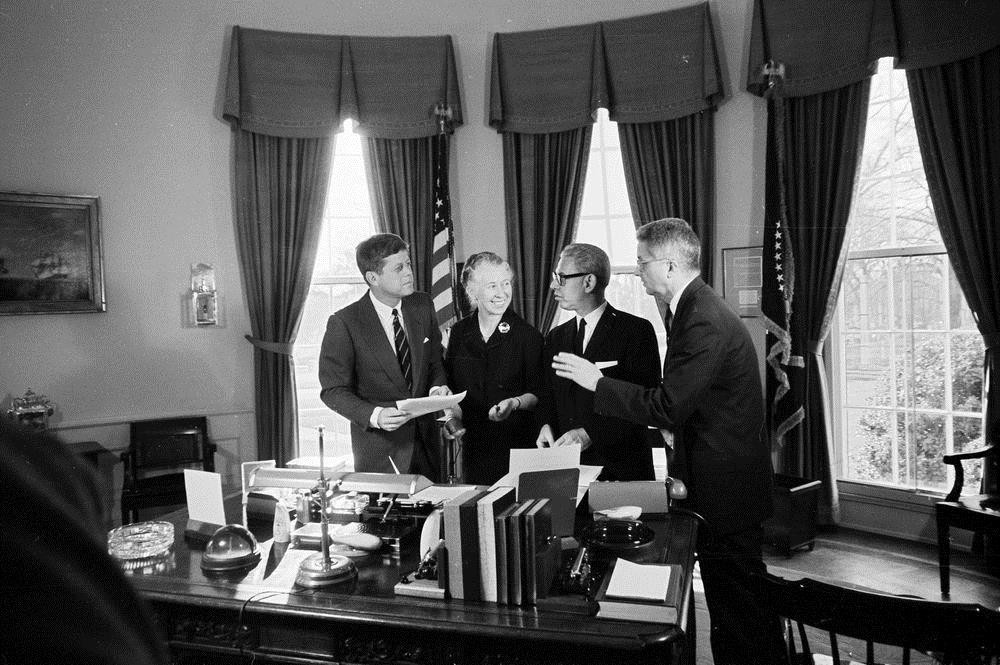 Don't mess with Esther: The daughter of Danish immigrants, she stood 5'10." Credit: JFK Library.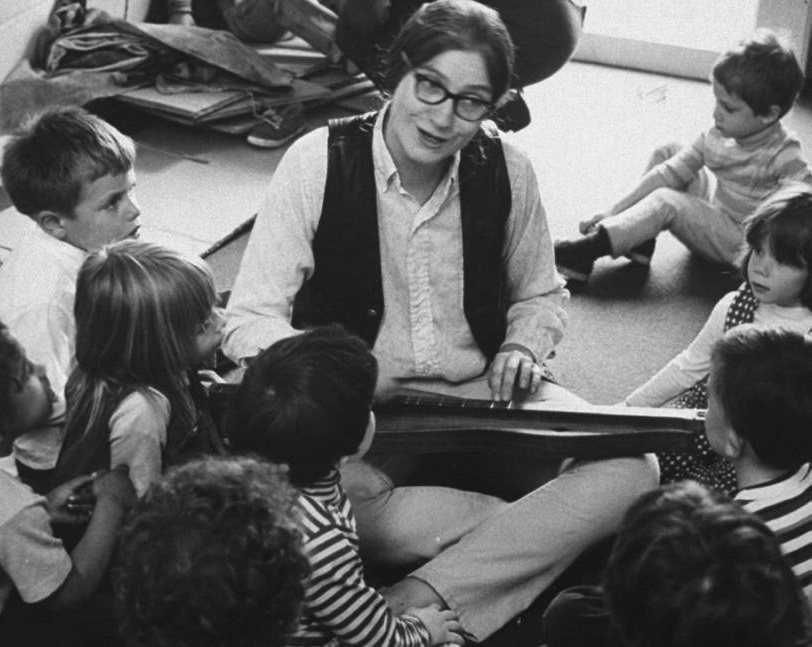 Here is a Massachusetts day care in 1970 that looks pretty groovy. Credit: Life magazine.
7. After Martin Luther King Jr. was assassinated on April 4, 1968, in Memphis – there to support striking sanitation workers – President Johnson dispatched Assistant Secretary for Labor-Management Relations James Reynolds to deliver justice to the workers and help resolve the crisis.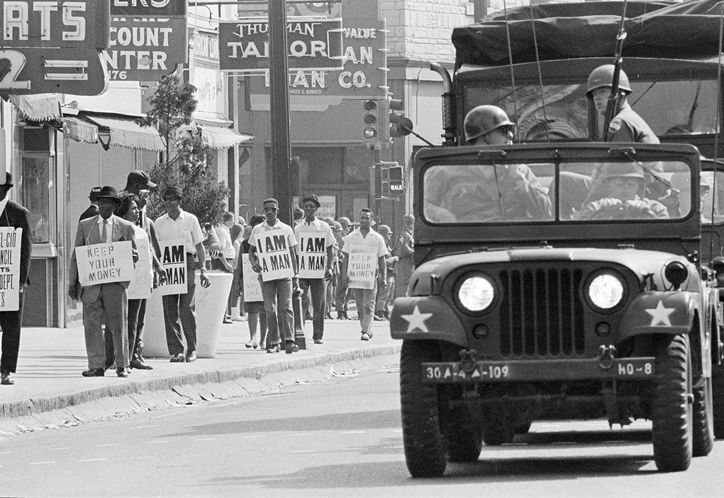 Two weeks after King's death, the conflict was over – with the city promising to recognize the strikers' union and offering wage increases. Credit: Associated Press.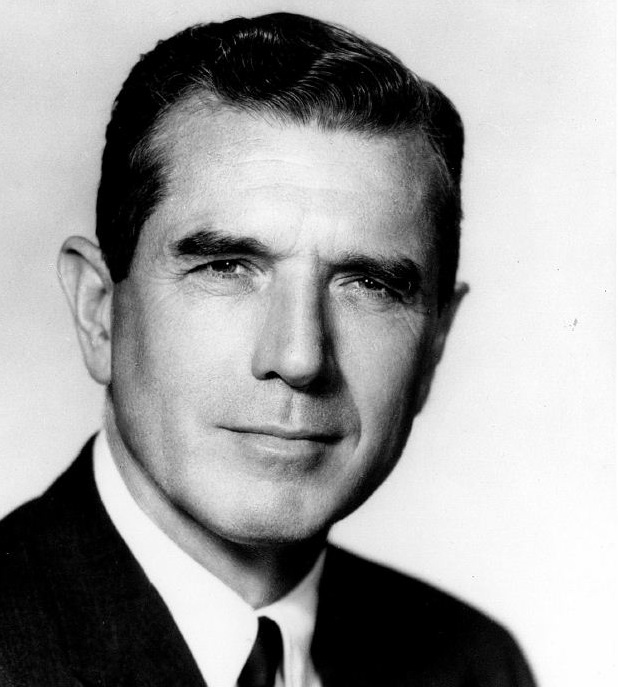 Reynolds had a face that could persuade anyone. His clever solution? Use a federally administered credit union as an intermediary, allowing the city to save some face while expanding the workers' freedom to collectively bargain. 
8. In the 70s, the Labor Department − not exactly a hotbed of women's lib − was ahead of other federal agencies in officially allowing female workers to dress in pants thanks to Elizabeth Duncan Koontz, the director of the Women's Bureau and an advocate for women's rights. The trend quickly caught on.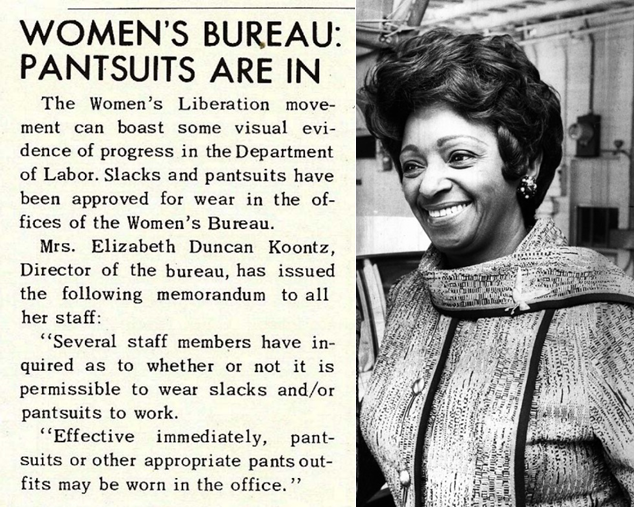 The origin of this article is unclear, but we love the lead.
9. After it was revealed that Kathy Lee Gifford's clothing line was being produced under sweatshop conditions in 1996, then-Labor Secretary Robert Reich helped spearhead the "No Sweat" initiative with her, targeting the garment industry. Many major retailers took a closer look at their supply chains.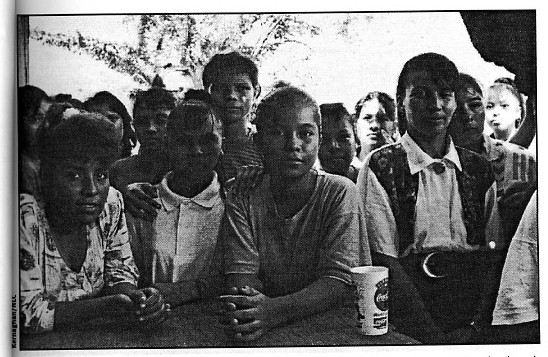 Fifteen-year-old Wendy Diaz (center) and other teens worked at a Honduran factory where Kathie Lee brand pants were made. These kids look cool, but child labor sure isn't. Credit: Institute for Global Labour and Human Rights.
10. Today, the laws enforced by the Labor Department cover about 10 million employers and 125 million workers. What does this mean? Here's just one example: Since 2009, our investigations have uncovered labor violations resulting in nearly $1.6 billion in back wages for 1.7 million workers.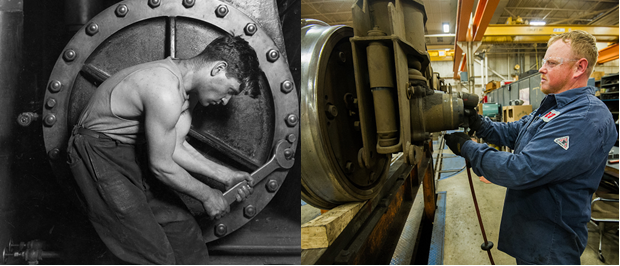 Left: 1920 art by Lewis Hine shows a power house mechanic working on steam pump. Right: Equipment maintainer Don Myers works on a train wheel at the Greater Cleveland Area Regional Transit Authority in 2015.
Learn more about our history and mission at dol.gov.