Training Program Heats Up Tennessean's Future

Lee este artículo en español.
Thirty-eight-year-old Jayson Pendergrass doesn't take opportunity for granted these days. As a Bledsoe County high school basketball star who won defensive player of the year, Jayson dreamed of fame and adventure far from his rural hometown of Pikeville, Tennessee. But those dreams were derailed when he became involved with drugs after high school and spent eight years in prison. After serving his time, he struggled to find employment because of his criminal record. "Going to jail was not the lowest point of my life; seeing the look of hurt and disappointment on my mother's face was," he recalls sorrowfully.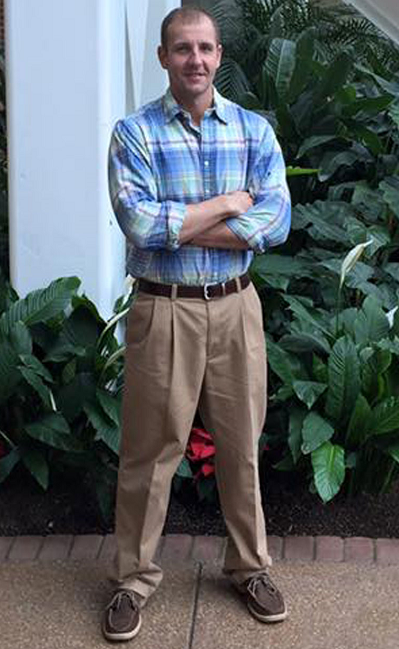 While working odd jobs on farms, Jayson learned about the
National Farmworkers Jobs Program
being offered by Tennessee Opportunity Programs Inc., which helps workers go behind their high school education to access employment opportunities in a chosen field of study or work. TOPS is funded by a
Workforce Innovation Opportunity Act
grant from the Labor Department. The program's counselors encouraged him to attend a pre-enrollment session at
Tennessee College of Applied Technology
that sparked his interest, leading him to enroll in the school's Heating Ventilation and Air Conditioning program. Jayson excelled in the 20-month course and finished several months ahead of schedule. His dedication and willingness to help his classmates was recognized during the program's graduation ceremony. But Jayson's struggle to find a good job wasn't over yet. After the course, he discovered that he could not get his license because of his record and no one could hire him without it. Upon learning about his situation, his instructors, friends and program administrators wrote letters of recommendation to the licensure board. Their support made the difference and the board granted Jayson his license. He also was able to join a local union and has been hired by federal contractor Flour Federal Solutions. Thankful to be employed in his new field, Jayson continues to excel and recently completed his level two building operator certification in Fort Wayne, Indiana. "I'm happy to say that the look of disappointment on my mother's face has been replaced with joy and pride," he says. "All she ever wanted was to see me happy and successful."
Editor's note:
 If you are interested in job training opportunities or need help changing careers, visit
CareerOneStop.org
 to learn more about resources available in your community. 
The "DOL Working for You" series highlights the Labor Department's programs in action. View other blog posts in the series 
here
.
Lindsay Williams is a public affairs specialist for the department in Atlanta.
Entrenamiento Laboral Le Propulsó Al Futuro
Jayson Pendergrass fue elegido 'mejor defensa del año' mientras jugaba en el equipo de baloncesto de su escuela del Condado de Bledsoe. En aquellos años, Jayson soñaba con lograr fama y aventuras lejos de su pueblo natal de Pikeville, en Tennessee. Pero sus sueños pasaron a ser una pesadilla. Al acabar el colegio se involucró con drogas y pasó ocho años en prisión. Tras cumplir condena, a Jayson le fue bien difícil encontrar empleo debido sus antecedentes penales. "Ir a la cárcel no fue el punto más bajo de mi vida", recuerda con tristeza. "Sí lo fue ver la expresión de dolor y decepción en el rostro de mi madre" Tras diferentes trabajos en agricultura, Jayson supo de un
Programa Nacional de Empleo para Trabajadores Agrícolas
que ofrecían en Tennessee Opportunity Inc. (TOPS), una organización que ayuda a trabajadores a aprovechar su educación secundaria para acceder a oportunidades de empleo en un campo definido de estudio o trabajo. TOPS es apoyado por el Departamento de Trabajo de EE.UU. con fondos provenientes del
Workforce Innovation Opportunity Act
. Los consejeros del programa de TOPS le animaron a que acudiera a una sesión informativa al
Tennessee College of Applied Technology
. Esa sesión despertó su curiosidad, y terminó inscribiéndose en el curso de Calefacción, Ventilación y Aire Acondicionado. Jayson se destacó en ese curso de 20 meses de duración, e incluso lo terminó varios meses antes de lo previsto. Su dedicación y voluntad de ayudar a sus compañeros de clase recibió una mención durante la ceremonia de graduación. Pero la lucha de Jayson por encontrar un buen trabajo aún no había concluido. Al terminar el curso, Jayson se enteró que no podía obtener su licencia profesional debido a sus antecedentes. Y nadie lo iba a contratar sin esa licencia. Al enterarse de la situación, sus instructores, amigos y administradores del programa escribieron cartas de recomendación al ente emisor de licencias. Este apoyo marcó diferencia y la entidad acabó otorgándole la licencia. Jayson también logró unirse a un sindicato local y le ha dado empleo el contratista federal Flour Federal Solutions. Jayson sigue destacándose y no deja de mostrar su agradecimiento por haber sido contratado en su nueva profesión. Recientemente completó su certificación de operador de edificio, a nivel dos, en Fort Wayne, Indiana. "Me encanta poder decir que la mirada de decepción en el rostro de mi madre ha sido sustituida por otra de orgullo y alegría", dijo. "Lo único que ella quiso fue verme feliz y realizado". Nota del editor: Si usted está interesado en oportunidades de capacitación laboral o necesita ayuda para cambiar de carrera, visite CareerOneStop.org para aprender más acerca de los recursos disponibles en su comunidad.
Lindsay Williams es especialista de información pública del departamento en Atlanta.