Honoring Every Woman Veteran for Her Service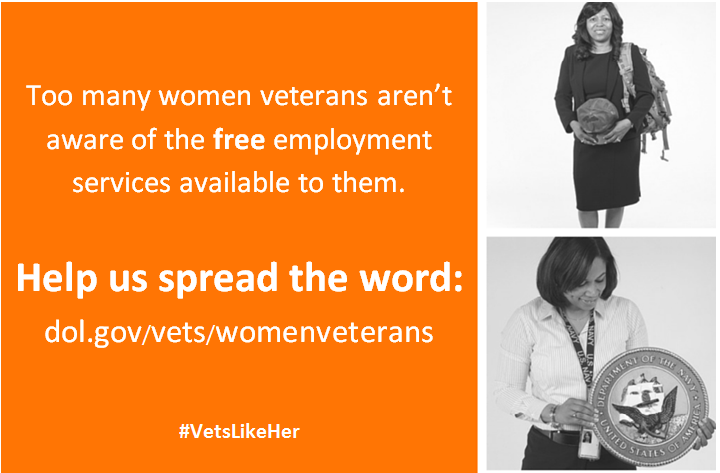 Every year, the
National Women's History Project
selects a unifying theme to be shared with all who want to promote women's history. This year's theme is "Working to form a more perfect union: honoring women in public service and government." As an Army veteran and the women veteran program manager in the Labor Department's
Veterans' Employment and Training Service
, I can't think of a theme more fitting to honor women veterans. As a nation, we really have come a long way in recognizing and honoring women veterans as a population for their public service. Yet, I continue to hear from individual women veterans that they feel overlooked or forgotten, and that assumptions about them are still being made. For example, that she is a spouse or caregiver to a male veteran, but probably not an actual veteran herself. How can this still be happening in 2016? Perhaps it's because assumptions are largely based on personal memories and experiences. Nearly everyone has interacted with a male veteran. Sixteen percent of the male adult population in America is a veteran. That's one in every six men. While women are half of the adult American population, less than 2 percent are veterans. To interact with just one woman veteran, you will typically interact with 62 women non-veterans. She will look just like her nonveteran sisters, and women are less likely than men to tell stories about their previously held occupations − so even when you do interact with a woman veteran, you may never know. It's time for each and every one of us to take action. The intentional personal memories and experiences we create today will form the assumptions we make tomorrow. What can you do? If you are a
woman veteran
, tell your story about your time in uniform service. Every person with a memory of interacting with you – a woman veteran – is one more person who is less likely to make outdated assumptions about who a "veteran" is. For those who haven't served and for the men who have, I challenge you to begin asking the women you meet, "Have you ever served in the military?" and continue to do so until you have personal memories and experiences interacting with women veterans.
As we work to form a more perfect union, the next step is to make sure each
individual
woman veteran feels recognized and honored for her public service. For myself and my colleagues at the Labor Department, that means making sure they are connected with critical employment services and other supports they need to have successful civilian careers.
Help us spread the word
today
about
free employment services
available to women veterans by sharing the information with both the women veterans and the employers in your network.
Dr. Nancy A. Glowacki is a women veteran program manager in the department's Veterans' Employment and Training Service.