Back Pay for Nursing Mother Forced to Quit

Lee este artículo en español.
When new mom Crystia Light returned to work after the birth of her son, she asked her employer for unpaid break time to express breastmilk for her baby – and was turned down. Crystia knew that federal law requires employers to provide reasonable break time for mothers to express milk for one year after a child's birth, so she filed a complaint with the Labor Department's
Wage and Hour Division
. Our investigators found that her employer, Capitol Loans Inc., doing business as Republic Loans Altus, had violated the Fair Labor Standards Act's
provisions for nursing mothers
. After our investigation, Crystia's situation at work deteriorated. Unhappy with the findings, the employer – among other things – threatened to fire her if she took break time under the FLSA. Republic Loans made her work life so difficult that, rather than put up with the situation, she quit.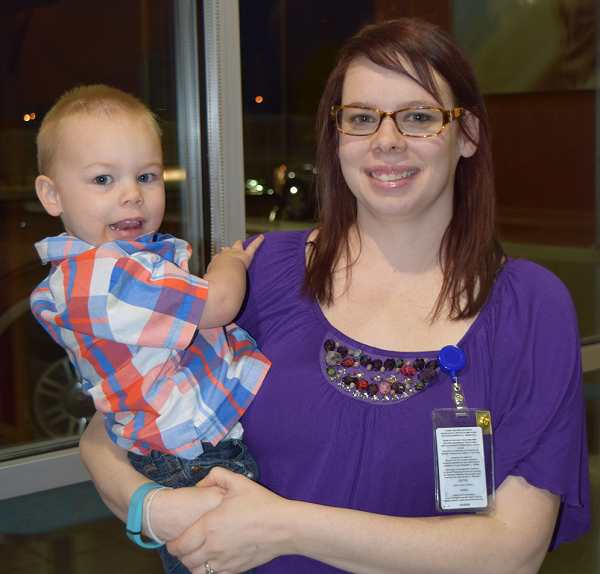 Crystia Light and her son
The employer's willful disregard for the law and human dignity set off an unfortunate chain of events for Crystia. She found work with a different employer but had to take a $300-a-week pay cut. Because of this drop in income, her family could no longer afford a home of their own. To make up the difference, her husband took a better paying job in Tulsa. Crystia and the baby stayed behind in Altus, OK, living with family, while her husband moved four hours away – a sad situation for a new family. But then things took a turn for the better because, before Crystia quit, she again reported her employer to the division. Our investigation found Republic Loans had again violated federal law, this time by retaliating against Crystia for exercising her rights. We also found she was owed more than $3,000 in back wages. The company has agreed to comply with the Fair Labor Standards Act going forward. Crystia wasn't expecting any money out of the case: she just wanted to make sure that her former employer won't treat other employees this way. But with the back pay owed her, she is paying the first month's rent and the security deposit for a new apartment in Tulsa so the Light family can be reunited.
Editor's note:
The Patient Protection and Affordable Care Act amended 
section 7 of the Fair Labor Standards Act
  to require employers to provide reasonable break time for an employee to express breast milk for her nursing child. Employers are also required to provide a place, other than a bathroom, that is shielded from view and free from intrusion from coworkers and the public, which may be used by an employee to express breast milk. For more information, visit
dol.gov/whd/nursingmothers.
And if you're concerned about your company's pay practices, or you are an employer who wants to be sure you are complying with the law, learn more on the Wage and Hour Division's 
website
 or by calling 1-866-4-US-WAGE (1-866-487-9243).
The DOL Working for You series highlights the Labor Department's programs in action. View other posts in the series
here
.
Juan Rodriguez is a public affairs specialist for the department in Dallas.
Rechazaron a mamá lactante tiempo para producir leche
Por Juan Jose Rodríguez Una vez reincorporada a su trabajo tras dar a luz a su bebé, Crystia Light pidió que le dieran descansos no pagados para poder producir leche materna para su hijo recién nacido. Su empleador, sin embargo, le negó la solicitud. Crystia sabía que por ley federal los empleadores están obligados a dar a las trabajadoras que acaban de tener hijos periodos razonables de descanso durante el primer año tras el nacimiento del bebé para que puedan obtener leche materna, y por eso presentó una queja ante la
División de Horas y Salarios
del  Departamento de Trabajo. Nuestros investigadores comprobaron que Capitol Loans Inc., su empleador más conocido como  Republic Loans Altus, había violado las disposiciones de la Ley de Normas Razonables de Trabajo relativas a
madres lactantes
. La situación laboral de Crystia deterioró después de nuestra investigación. Descontentos con los resultados, el empleador -entre otras cosas- la amenazó con despedirla caso que dispusiera del tiempo de descanso amparado por la ley. Republic Loans Altus le hizo la vida tan difícil que terminó renunciando antes que seguir aguantando la situación. El intencional menosprecio a la ley y a la dignidad humana por parte del empleador puso en marcha una desafortunada cadena de acontecimientos para Crystia. Aunque encontró trabajo con otro empleador, tuvo que sobrellevar una reducción salarial de hasta $300 por semana. Debido a esta caída en sus ingresos, su familia ya no pudo permitirse tener casa propia. Su marido tomó un trabajo mejor pagado en Tulsa para poder compensar la diferencia mientras que Crystia y el bebé permanecieron en Altus, Oklahoma, viviendo con familia, mientras que su esposo estaba a cuatro horas de distancia, una triste situación para una nueva familia. Pero las cosas dieron un giro a mejor ya que antes de renunciar, Crystia reportó de nuevo a su empleador ante la División de Horas y Salarios. Nuestra investigación halló que Republic Loans violó nuevamente la ley federal, esta vez por haber tomado represalias contra Crystia por haber ejercitado sus derechos. También determinamos que se le debían más de $3000 en salarios atrasados. La empresa se ha comprometido a cumplir con la Ley de Normas Razonables de Trabajo de cara al futuro. Crystia no esperaba ningún dinero como resultado del caso. Lo único que quería era asegurarse que su antiguo empleador no iba a tratar a otros empleados de la manera como a ella la trataron. No obstante, con el pago retroactivo de los salarios que le debían, ella está pagando el primer mes de alquiler y el depósito de seguridad para un nuevo apartamento en Tulsa. La familia Light volverá a estar junta.
Nota del editor:
La Ley Para la Protección del Paciente y la Atención a Precio Módico enmendó
la sección 7 de la ley FLSA
para exigir que los empleadores provean tiempos razonables de descanso para que una empleada puedan extraerse leche de los senos para su
bebé lactante
. También requiere que los empleadores proporcionen un lugar, que no sea un cuarto de baño, bloqueado de la vista de otros, y libre de la intrusión de compañeros de trabajo y del público, que pueda ser utilizado por una trabajadora para obtener leche materna. Para más información visite
www.dol.gov/whd/nursingmothers
Y si te preocupan las prácticas de pago de su empresa, o eres un empleador que quieres estar seguro de que estás cumpliendo con la ley, conoce más visitando
el sitio
de la División de Horas o llamando al 1-866-4-US-SALARIO (1-866-487-9243).
La serie
DOL Working for You
destaca programas en acción del Departamento de Trabajo. Mire otras historias de la serie
aquí
.
Juan Jose Rodríguez es especialista en información pública del departamento en Dallas.