Firing a Whistleblower is an Ugly Business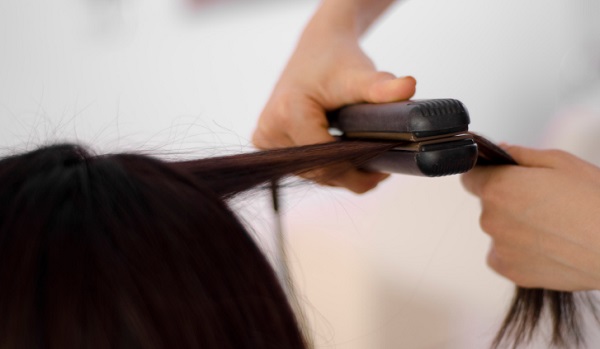 A beauty salon should be a place you go to look good and feel good. But when a receptionist at Salon Zoe, a Bronx hair salon, started talking about the hazards of the salon's formaldehyde-containing straightening products, things got very ugly. Days after the receptionist gave her co-workers an Occupational Safety and Health Administration fact sheet about formaldehyde hazards, she was fired.
It's OSHA's job to keep workplaces safe and healthy, and OSHA also protects the workers who raise concerns about safety and health hazards. In fact, OSHA enforces the whistleblower provisions of the OSH Act and 21 other statutes protecting workers who report violations of numerous types.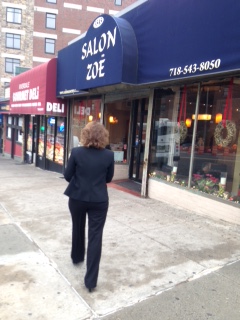 OSHA's Teri Wigger visits Salon Zoe to investigate the firing of a whistleblower.
So when this illegal firing took place at Salon Zoe, our lawyers in the department's Solicitor's Office, working with OSHA investigators, brought a lawsuit in federal court to fight against the unlawful retaliation. The evidence was clear and we were able to bring justice for this worker, securing a settlement with Salon Zoe and owner Kristina Veljovic before trial. Not only did the defendants pay their former receptionist $65,000 in lost wages, they also agreed to pay $100,000 in compensatory damages for emotional pain and suffering. They also removed references to the termination from her personnel records.
The beauty in this settlement is that we didn't just help this worker. We made sure that the salon won't do this again to someone else. Salon Zoe agreed to permanently post an OSHA poster in a prominent spot in the workplace and to distribute an OSHA whistleblower fact sheet to current employees and new hires. OSHA even went out to the salon during work hours so that a statement of whistleblower rights could be read, including a notice that the salon was under an injunction from the court to follow the law. It feels good when we're able to protect whistleblowers.
Editor's note: If you believe you've been retaliated against for raising safety concerns at your workplace, you can file a complaint or request an investigation by OSHA at www.whistleblowers.gov.
Darren Cohen is the deputy regional solicitor in the department's Office of the Solicitor in New York. Elena Goldstein is a senior trial attorney in the same office who conducted the litigation in the federal district court.
Despedir a un Informante es un Asunto Sucio
Por Darren Cohen y Elena Goldstein Un salón de belleza debería ser un lugar a donde ir para lucir bien y sentirse a gusto. Pero la cosa se puso bien sucia cuando una recepcionista del Salón Zoe, una peluquería en el Bronx, empezó a hablar de los peligros de los productos alisadores del cabello que contenían formaldehído.
Pocos días después de dar a sus compañeros de trabajo una hoja informativa de la Administración de Seguridad y Salud Ocupacional sobre los peligros de formaldehído, la recepcionista fue despedida. La misión de OSHA es garantizar que los lugares de trabajo sean seguros y saludables. A OSHA también le compete proteger a los trabajadores que expresan su preocupación por los peligros a la seguridad e higiene. De hecho, OSHA se encarga de que se cumplan las disposiciones de la Ley OSH sobre informantes y de otros 21 estatutos que protegen a trabajadores que reportan numerosos tipos de violaciones.
Es por eso que cuando ocurrió ese despido ilegal en el Salón de Zoe nuestros abogados de la Oficina del Procurador del departamento en colaboración con investigadores de OSHA interpusieron una demanda en la corte federal para luchar contra esa represalia. No había duda alguna en la evidencia presentada y logramos hacerle justicia a esa trabajadora al llegar antes del juicio a un acuerdo con Salón Zoe y con su propietaria Kristina Veljovic. Los demandados no sólo le pagaron a la antigua recepcionista $65.000 en concepto de salarios perdidos sino que también concertaron pagarle $100.000 en compensación por dolor y sufrimiento emocional. También eliminaron en los registros de personal cualquier referencia a su despido.
Lo bello de este acuerdo está en que no sólo ayudamos a esta trabajadora. También nos aseguramos que el salón no vuelva a hacer nada de esto con ninguno de sus empleados. Salón Zoe estuvo de acuerdo en tener permanentemente visible un afiche de OSHA en un lugar prominente  y repartir entre empleados actuales y futuros la hoja informativa de OSHA sobre informantes. OSHA incluso fue al salón durante horas de trabajo para poder leer una declaración sobre los derechos de los informantes, incluyendo un aviso de que el salón estaba bajo orden judicial por parte de la corte para que cumpliera la ley. Se siente chévere cuando podemos ayudar a los informantes.
Nota del editor: Si crees que has sido objeto de represalias por plantear problemas de seguridad en tu lugar de trabajo, puedes presentar una queja o solicitar una investigación a OSHA acudiendo a www.whistleblowers.gov
Darren Cohen es el procurador regional adjunto en la Oficina del Procurador del departamento en Nueva York del departamento. Elena Goldstein es abogada especialista en litigios en la misma oficina, quien llevó a cabo el litigio en la corte federal de distrito.