I Always Tell Them: Hora Trabajada, Hora Pagada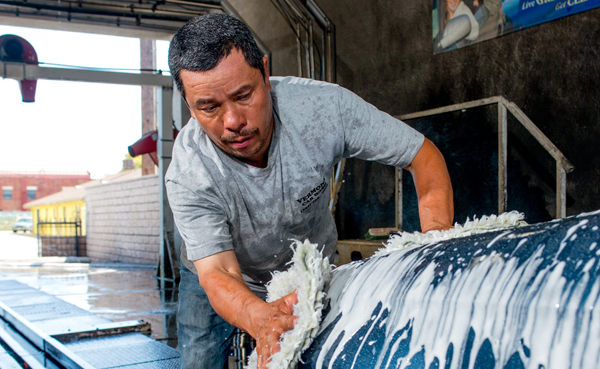 Lee este artículo en español.
An hour worked should be an hour paid. Carwash workers are some of most vulnerable workers here in Los Angeles County. For years, they have been subject to a host of labor abuses. This includes severe cases of wage theft, such as being compensated only by tips and not being paid an hourly wage as the law requires. Juan Hernandez is just one example. He was a leader at his workplace organizing for a voice on the job. He stood up to the owner of his carwash when one of his coworkers was unfairly fired and as a result, was then fired himself with seven others. By sticking together and speaking up with one voice, these workers were able to get their jobs back. Because many carwash workers do not speak English as their first language, unscrupulous employers take advantage of the fact that they may not know or understand wage and hour laws, or those designed to keep them safe on the job. As a leader of the CLEAN Carwash Campaign, I support safer and fairer working conditions for carwash workers in Los Angeles County. I've worked for years with day laborers and other low-wage workers here in LA, and I know what it takes to bring about change:
the power of organizing to find your voice at work.
CLEAN – the Community Labor Environment Action Network – began in 2008 as a coalition effort of labor unions and nonprofits that help carwash workers improve their workplaces, communities and their lives. Following a number of lawsuits, community boycotts and worker actions across LA County, the United Steelworkers Union signed a collective bargaining agreement at Bonus Carwash in 2011 in Santa Monica that made Bonus the first union carwash in the nation. Today, more than 200 workers at 35 carwashes in LA County are covered under union contract. These union members make above the minimum wage, can bargain over the use of optional health and safety protections like shade or gear for heat stress, and have access to a grievance and arbitration procedure to resolve any problems with inadequate protection or wage issues. CLEAN members also organize to build power in other ways beyond collective bargaining. For example, members created a worker center in South Los Angeles in 2015 so they could have a safe space to access needed resources and learn from one another. Other CLEAN members took it upon themselves to create a vocational training program to teach higher skilled detail work – which helps members move beyond entry level jobs with entry level wages. The training also includes health and safety courses to ensure a safe working environment. Finally, CLEAN members and other workers have harnessed power by engaging key decision makers in Los Angeles during the discussions around raising the minimum wage. The bill that passed includes provisions to ensure workers are actually paid what they are owed, since far too many have had the experience of being illegally denied even the minimum wage. This is a great start. Juan and I are excited to participate in today's Los Angeles Worker Voice Summit to encourage others to #StartTheConvo in their workplaces. We're proud of what we've been able to accomplish, but the reality is that workers at many other carwashes and at workplaces across the nation continue to experience wage theft, injury and intimidation. We gather today in LA to build on the national movement lifted up by President Obama last October at the White House
Summit on Worker Voice
and by
Secretary Perez across the country
these past six months. We will continue to harness this momentum, and encourage other workers and community organizers to join us in the movement for #WorkerVoice.
Flor Rodriguez is a leader of the CLEAN Carwash Campaign.
Yo Siempre Les Digo: Por Hora Trabajada, Hora Pagada
Por Flor Rodríguez Los limpiadores de carros son parte de los trabajadores más vulnerables aquí en el Condado de Los Ángeles. Por muchos años, estos trabajadores han sido objeto de innumerables abusos laborales, incluyendo casos severos de robo de salario, como recibir en pago solamente propinas o no ser pagados por hora trabajada, tal como requiere la ley. Juan Hernández es apenas un ejemplo. Él lideró las actividades para que se organizaran en su lugar trabajo y poder tener una voz. Terminó plantándole cara al propietario del lavadero de carros cuando uno de sus compañeros fue despedido injustamente. Y como resultado le corrieron a él y a otros siete trabajadores. Pero estos trabajadores lograron recuperar sus empleos gracias a que se unieron y hablaron con una sola voz. Muchos
carwasheros
no hablan inglés como primer idioma y hay empleadores sin escrúpulos que se aprovechan de que quizás no entiendan las leyes de horas y salarios o las destinadas a que tengan seguridad en el trabajo. Como una de las líderes de la CLEAN Carwash Campaign, yo lucho por condiciones de trabajo más justas y seguras para los
carwasheros
en el Condado de Los Ángeles. Aquí en Los Ángeles he trabajado muchos años con jornaleros y con otros trabajadores de bajos ingresos, y sé lo que se necesita para lograr un cambio: el poder de la organización para que se nos escuche. CLEAN, que por sus siglas en inglés significa Community Labor Environment Action Network, comenzó en el 2008 como un esfuerzo conjunto de sindicatos y organizaciones no lucrativas para ayudar a los
carwasheros
a mejorar sus lugares de trabajo, sus comunidades y sus vidas. Después de una serie de demandas en corte, boicots comunitarios y acciones laborales en todo el Condado de Los Ángeles, la United Steelworkers Union firmó en el 2011 un convenio de negociación colectiva con Bonus Carwash, en Santa Mónica, haciendo de Bonus el primer lavadero de carros en todo el país en tener unión. En estos momentos, más de 200 trabajadores en 35 lavaderos en el Condado de Los Ángeles están cubiertos bajo contrato sindical. Estos trabajadores con unión ganan por encima del salario mínimo, pueden negociar sobre el uso de protecciones opcionales de salud y seguridad ocupacional como sombra o dispositivos para combatir el estrés por calor, y pueden tener acceso a un procedimiento de quejas y arbitraje para resolver cualquier problema que se presente en materia de protección inadecuada o sobre asuntos salariales. Los miembros de CLEAN también se organizan para empoderarse de otras formas más allá de la negociación colectiva. Por ejemplo, en el 2015 los miembros crearon un centro de trabajadores en el sur de Los Ángeles para tener un espacio seguro donde obtener los recursos necesarios y poder aprender unos otros. Otros miembros de CLEAN se encargaron por sí mismos de crear un programa de formación vocacional para enseñar habilidades más cualificadas de trabajo detallista, lo que les permite a los miembros ir más allá de puestos y salarios de principiante. Este entrenamiento también incluye cursos sobre seguridad y salud ocupacional para garantizar con ello condiciones de trabajo seguras. Por último, los miembros de CLEAN y otros trabajadores se han empoderado al haberse relacionado con tomadores de decisiones en Los Ángeles durante las discusiones sobre incremento del salario mínimo. La ley aprobada incluye provisiones para asegurar que a los trabajadores se les page efectivamente lo que se les debe pagar, ya que demasiados han tenido la experiencia de que se les negara ilegalmente incluso el salario mínimo. Este es un gran comienzo. A Juan y a mí nos encantará  participar hoy en Los Ángeles en la Cumbre de la Voz de los Trabajadores para animar a otros a #StartTheConvo en sus lugares de trabajo. Nos sentimos orgullosos de lo que hemos sido capaces de lograr pero la realidad es que  trabajadores en muchos otros lavaderos de carros y en lugares de trabajo por todo el país siguen sufriendo robo de salarios, lesiones e intimidación. Nos convocamos hoy en Los Ángeles para seguir construyendo sobre el movimiento nacional impulsado por el presidente Obama en octubre pasado durante la
Cumbre de la Casa Blanca de la Voz de los Trabajadores
, y por el
Secretario Pérez
en todo el país estos últimos seis meses. Seguiremos aprovechando este impulso, y animamos a otros trabajadores y organizadores comunitarios a que se unan al movimiento por #WorkerVoice.
Flor Rodríguez es una líder de la CLEAN Carwash Campaign.