Dear Mr. Secretary: Paternity Leave is an Investment
Editor's note: Danny Contreras is a dad who wrote to Secretary Tom Perez about the need for

paid leave

. Here is his letter. Read letters from other dads here. Lee este artículo en español.
Dear Mr. Secretary,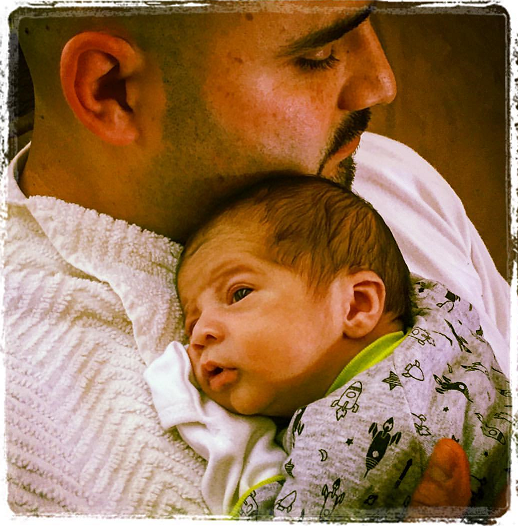 I have two jobs: I am a counselor at a Sobriety Works substance abuse treatment center and an employment specialist at Homeless Services Center in Santa Cruz, California. Helping people is very important to me, and being a good husband and father is a huge part of that. My wife and I have three children at home. Two months ago, we were happy to welcome our youngest son into the family. For years, people have thought that it's the mother's job to take care of a new baby. But for me, and for many other men today, it's important that the father be part of those first milestones. Both parents can help change our culture's expectations. With our youngest son, my wife had a C-section. Here in California, I was able to use paid family leave, which meant that I could stay home and take care of my wife and our baby. If I had to go to work during those first six weeks, I wouldn't have been there to help my wife as she recovered from her C-section. I would have worried about child care and my wife's health, and extra stress would have been piling up. I also would have missed those first doctor's appointments and check-ups, and I wouldn't have been there to hold my son as he got his first shots. One of my goals is to help people realize how important paid family leave is and that it's available to them. My own brother-in-law didn't realize he could take paternity leave without risking his job, and as a result missed out on a lot of moments with his child. This time is an investment. It's a time to connect and bond with your family – to create a positive, healthy relationship that you carry for the rest of your life. With AB 908 and the expansion of paid leave in California, the lives of so many families – with little ones like mine – will be changed for the better. Sincerely, Danny Contreras
We want to hear from other dads (and moms): How would having paid family leave make a difference for your family? If you have paid leave already, how does it help you now? Share your story at
dol.gov/PaidLeave
.
Querido Sr. Secretario: El Permiso por Paternidad es una Inversión
Por Danny Contreras
Nota del editor:
Danny Contreras es un papá que escribió al Secretario Tom Pérez sobre la necesidad del permiso familiar pagado. Aquí está su carta. Lee
aquí
las cartas de otros papás.
Querido Sr. Secretario, Tengo dos trabajos: soy consejero de un centro de tratamiento de abuso de sustancias Sobriety Works, y también soy especialista laboral en el Homeless Service Center en Santa Cruz, California. Ayudar a la gente es bien importante para mí, y una parte enorme de eso incluye ser un buen marido y un buen padre. Mi esposa y yo tenemos tres hijos en casa. Hace dos meses estuvimos felices dándole la bienvenida al más pequeñín de la familia. Durante años se ha pensado que cuidar a un nuevo bebé es responsabilidad de la madre. Pero para mí y para muchos otros hombres de hoy, es importante que el padre haga parte de esos primeros momentos. Los dos padres pueden ayudar a que cambien nuestras expectativas culturales. Con nuestro hijo más joven mi mujer tuvo un parto por cesárea. Aquí en California pude usar permiso familiar pagado, lo que significa que pude quedarme en casa y cuidar de mi esposa y de nuestro hijo. Si hubiera tenido que ir a trabajar durante esas primeras seis semanas no habría podido estar ahí cuidando de mi esposa mientras se recuperaba de la cesárea. De lo contrario, me hubiera estado preocupando por el cuidado infantil y por la salud de mi esposa, y se habría acumulado el estrés. Y además me hubiera perdido esas visitas y chequeos médicos, y no hubiera podido sostener a mi hijo mientras le ponían sus primeras vacunas. Una de mis metas es ayudar a que la gente entienda lo importante que es el permiso familiar pagado y que lo tengan disponible. Mi propio cuñado no sabía que podía tener permiso por paternidad sin riesgo de perder el trabajo, y por no saber eso se perdió muchos momentos con su hijo. Ahora es una inversión. Es un tiempo para conectar y establecer lazos con tu familia, para crear así una relación saludable y positiva que te acompañará durante toda la vida. Con la AB 908 y la expansión del permiso pagado en California, la vida de tantas familias -con pequeñines como la mía, cambiarán a mejor. Sinceramente, Danny Contreras
Queremos saber de otros papás (y mamás): ¿Qué diferencia haría en su familia si tuviera permiso familiar pagado?  Si usted ya tiene el permiso pagado, ¿cómo le puede ayudar ahora? Comparta su historia en
www.dol.gov/PaidLeave