Cutting Corners in Construction Costs Lives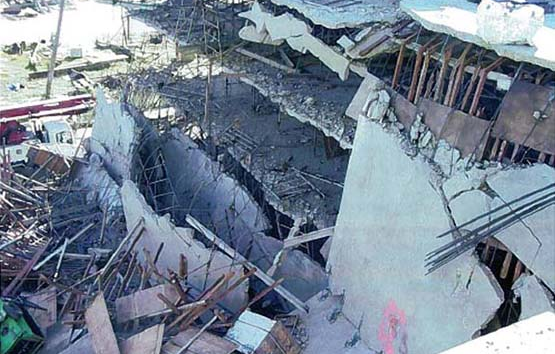 In the construction industry, precision matters – corners need to be square, lines have to be level and plans must be followed. Following the rules keeps buildings and people safe. But when construction companies cut corners, workers often pay the price. That is exactly what happened in Jacksonville, Florida, in December 2007. A construction company called Southern Pan thought eliminating basic safety procedures would save time and money. The result? A six-story parking garage came crashing down, killing one worker and injuring 20 others. The worker who was killed, Willie Edwards, was only there that day because he decided to pick up an extra shift to buy Christmas presents for his children. This horrific tragedy could have been easily avoided. The Occupational Safety and Health Administration enforces construction standards designed to keep workers safe from building collapses like this. To keep a building from collapsing during construction, a process called "
shoring
" is used, which involves wood or steel beams to help support the weight of concrete and other construction loads. In violation of OSHA's construction standards, Southern Pan chose to remove most of the shores from the first two floors of the parking garage, ignoring blueprints that required all shoring to remain from top to bottom until the building was completed. The company then knowingly permitted workers, including Edwards, to work in the building while heavy, wet concrete was poured for the top level of the parking garage without determining that the building could withstand the weight and would not collapse. Without the supportive shores, the weight of the uncured concrete was too much and the entire parking garage collapsed on top of the workers. After this terrible catastrophe occurred, OSHA investigated and
cited
Southern Pan for two violations of the Occupational Safety and Health Act, assessing $125,000 in penalties. After an eight-day hearing, in which we − the lawyers for the Labor Department − presented evidence that Southern Pan had willfully violated two provisions of the OSH Act, an administrative law judge affirmed one willful citation but dismissed the other. Not satisfied with what we felt was an unjust outcome, we appealed the decision to the Occupational Safety and Health Review Commission. The commission agreed with us that the administrative law judge erred in dismissing the second citation which meant we could argue, again, that Southern Pan had violated
two
OSHA standards – not just one. It took eight years, but on March 21, 2016, an administrative law judge affirmed OSHA's citations and ordered the company to pay the full penalty of $125,000. We can't bring back Willie Edwards, but this case does bring some measure of justice to his family and to the injured workers. It also sends a powerful message to the construction industry: The Department of Labor remains steadfast in its commitment to protecting workers and will not allow companies to cut corners and endanger workers' lives.
Editor's Note:
If you believe there is a serious hazard at your job site or if your employer is not following OSHA standards, you can file a complaint
here
.
Melanie Stratton and Dane Steffenson are attorneys in the department's Office of the Solicitor in Atlanta.