How a Legacy of Injustice Inspired My Career in Law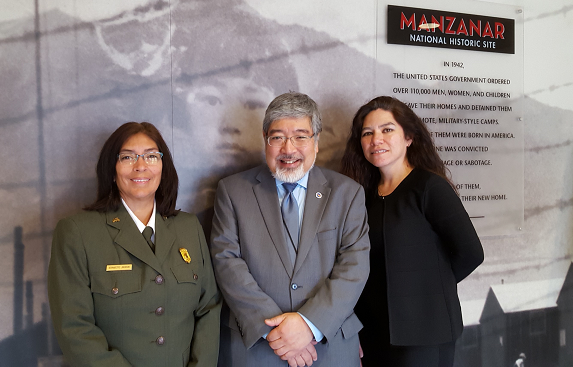 Judge Igasaki with Superintendent Bernadette Johnson of Manzanar National Historic Site (left) and U.S. Citizenship and Immigration Services District 22 Director Monica Toro.
It was an honor during this Asian-American and Pacific Islander Heritage Month to be able to attend a naturalization ceremony at Manzanar National Historic Site, the location of one of 10 camps where more than 110,000 Japanese-Americans were incarcerated during World War II. When you drive out to these relocation camps, you gain an appreciation for just how remote they really were, especially in a time before superhighways. Located hours from urban centers like Los Angeles or Las Vegas, the area is sparsely populated, surrounded by mountains and desert. My parents met at the assembly center in Santa Anita, living in horse stalls, waiting for the concentration camps to be completed. Eventually, my mother and her large, all-girl farm family were sent to the biggest camp in Poston, Arizona. My father and his Los Angeles city family went to Amache in Colorado. They came from different places but their situations were similar. They shared harsh conditions, a lack of privacy and the looming presence of barbed wire and armed guards. They witnessed the draft, because even while the government may have viewed these Americans as disloyal, their lives were still of use during the war. But both families stayed strong. Things like swing music, my Dad's passion, gave him reason for hope. This was my first trip to Manzanar, the most developed of the sites. While my parents were never here, this remains an emotional moment for me. 
How far have we come as a nation? How far have we to go?  
It was an honor to represent the Department of Labor at this event.
My decision to become a lawyer was due in large part to what I learned during the World War II relocation,
as I witnessed firsthand that our most fundamental rights to freedom, equality and due process don't come automatically. My position as chair and chief judge of the Administrative Review Board at the department gives me an opportunity to provide due process that is sometimes lacking. Today, in my work, I represent the same government that put my grandparents and parents in camps. I've been appointed by two presidents since countless Japanese-Americans were ordered here by an earlier president. I swore in new citizens at a place where my parents' rights were diminished because of their race and where my grandparents were not allowed to naturalize, again, because of their race.
I view this not as irony, but progress. 
We have recognized our mistakes and taken steps to fix them. I've worked to win redress for the survivors of these camps and secure funds to memorialize these wrongs, these years of experience. This was a momentous experience for me, yet much more so for these citizens-to-be. They're choosing a new place for their futures and their children's futures, and assuming the rights and responsibilities that come with that choice. They're adding their stories to the ever-changing American tapestry. What could be more powerful?
Paul Igasaki is the chair and chief judge of the Labor Department's Administrative Review Board.
Cómo un legado de injusticia inspiró mi carrera en leyes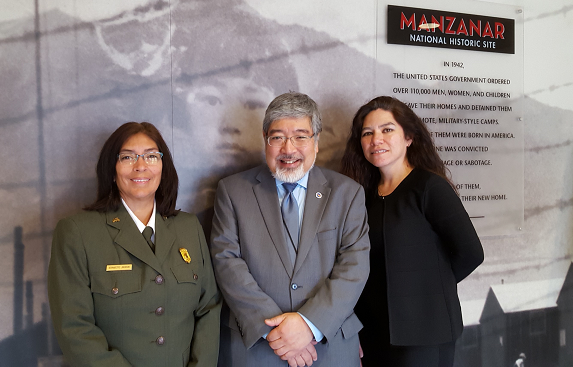 Judge Igasaki con Bernadette Johnson del Manzanar National Historic Site (izquierda) y directora del U.S. Citizenship and Immigration Services District 22 Monica Toro.
Durante este mes de la Herencia Asiática y de las Islas del Pacifico fue un honor poder asistir a una ceremonia de naturalización en Manzanar National Historic Site, ubicación de uno de los 10 campos en los que más de 110.000 japoneses-americanos fueron encarcelados durante la Segunda Guerra Mundial. Cuando vas manejando hacia uno de estos campos de reasentamiento te das cuenta de lo tan remotos que realmente estaban, especialmente en una época anterior a las autopistas. Situado a horas de  centros urbanos como Los Ángeles o Las Vegas, el área está escasamente poblada, y rodeada de montañas y desierto. Mis padres se conocieron en el punto de congregación de Santa Anita, viviendo en establos de caballos, a la espera de que se terminaran los campos de concentración. Eventualmente, a mi madre y a su amplia familia de mujeres agrícolas las llevaron al campo más grande en Poston, Arizona. Mi padre y su familia urbana de Los Ángeles fueron a Amache, en Colorado. Provenían de lugares distintos pero sus situaciones fueron similares. Compartieron condiciones duras, falta de privacidad, y la presencia amenazante de alambres de púas y guardias armados. Fueron testigos del proyecto de reclutamiento al servicio militar porque sus vidas se usaron durante la guerra incluso mientras el gobierno podía considerar a estos americanos como desleales. Pero ambas familias se mantuvieron fuertes. Cosas como la música
swing
, su pasión, le dio a mi padre motivo de esperanza. Este fue mi primer viaje a Manzanar, el más desarrollado de los sitios. Fue un momento muy emotivo para mí, ya sea que mis padres nunca estuvieron aquí. ¿
Hasta dónde hemos llegado como nación
? ¿
Hasta dónde habremos de ir
? Fue un honor representar al Departamento de Trabajo en este evento.
Mi decisión de convertirme en abogado se debió en gran medida a lo que aprendí sobre la reubicación de la Segunda Guerra Mundial,
al ser testigo de primera mano de que nuestros derechos más fundamentales a la libertad, igualdad y a los debidos derechos jurídicos no vienen automáticamente. Mi posición como presidente y juez jefe de la Junta de Revisión Administrativa en el departamento me da la oportunidad de proveer las debidas garantías jurídicas que a veces faltan. Hoy en mi trabajo represento al mismo gobierno que puso en campos a mis abuelos y padres. He sido nombrado por dos presidentes desde que un sinnúmero de japoneses-americanos fueron traídos aquí por orden de otro presidente anterior. Juré a nuevos ciudadanos en un lugar donde se mermaron los derechos de mis padres debido a su raza, y donde a mis abuelos no se les permitió la naturalización, por su raza también.
Veo esto no como ironía sino como progreso
. Hemos reconocido nuestros errores y tomado medidas para corregirlos. He trabajado para lograr reparaciones para los supervivientes de estos campos y para asegurar fondos con los que recordar estos males y años de experiencia. Esta fue una experiencia memorable para mí, aunque más aún para estos nuevos ciudadanos.  Están eligiendo un nuevo lugar para construir su futuro y el de sus hijos, y asumiendo los derechos y responsabilidades que conlleva esa elección. Están sumando sus historias al tapiz siempre cambiante de América. ¿Qué podría ser más fuerte?
Paul Igasaki es el presidente y juez jefe de la Junta de Revisión Administrativa del Departamento de Trabajo.
Siga el departamento a Twitter @USDOL_Latino y Facebook @USDOLLatino.