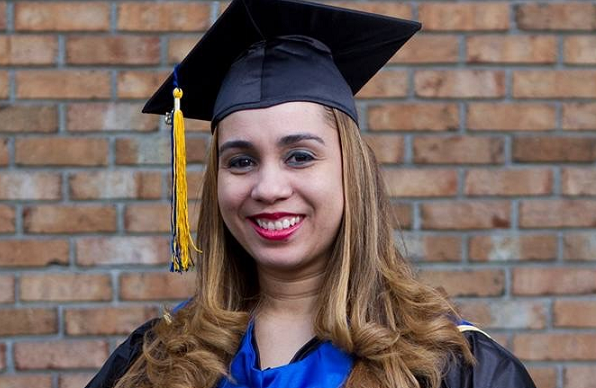 After seven years of work with a company in Wilmington, Massachusetts, Fanggit Matias was laid off through no fault of her own. Searching for a way to support herself and her three children, Matias clung to the mantra, "The first thing you have to do is believe in yourself; then anything is possible." Thanks to support from a Labor Department
National Dislocated Worker Grant
as well as being a member of a Trade Adjustment Assistance certified worker group, she was able to take advantage of an opportunity to gain new skills. First, staff from the Valley Works Career Center in South Lawrence provided her with a comprehensive assessment and labor market review. The results pointed her in the direction of an associate degree in accounting and bookkeeping, which aligned with her prior education and work history, and would provide the certifications she needed for a new job. Fanggit received her degree in accounting from Northern Essex Community College in May 2015. Throughout her training − thanks to her determination as well as supportive services provided through the program − she was able to attend school full time, provide and care for her children and still achieve an impressive grade point average of 3.5 out of 4.0. Impressed with Fanggit's work ethic and abilities, Northern Essex offered her a full-time position in its accounting and finance department after she graduated. A native of the Dominican Republic, Fanggit came to the U.S. over 10 years ago in search of employment and a better future for her family. She worked as an electro-mechanical assembler for three years and as a customer service representative an additional four years before experiencing the layoff that ultimately led to her new career. Her story is one of many nationwide made possible with the help of the Trade Adjustment Assistance program. In the past five years (April 1, 2011, to March 31, 2016), 186,882 workers like Fanggit have been served.
Editor's note: Interested in job training opportunities or need help changing careers? Visit CareerOneStop.org to learn more about resources available in your community. More information about the Trade Adjustment Assistance program – including group eligibility, and individual benefits and services – can be found here.
The "DOL Working for You" series highlights the Labor Department's programs in action. View other blog posts in the series.
Erica Hermann and Dominica Donovan are public liaisons in the Office of Trade Adjustment Assistance within the department's Employment and Training Administration. 
Contable del Éxito
Por
Erica Hermann y Dominica Donovan Tras siete años trabajando para una empresa en Wilmington, Massachusetts, a Fanggit Matias la dieron de baja por razones ajenas a ella. Y mientras buscaba la forma para mantener a sus tres hijos, ella se acerró fuertemente al mantra de que "la primera cosa que debes hacer es creer en ti misma; ya luego todo es posible". Gracias a un 
National Dislocated Worker Grant
 del Departamento de Trabajo (fondo nacional para trabajadores dislocados), Fanggit aprovechó una oportunidad para adquirir nuevas enseñanzas ofrecidas por el programa Trade Adjustment Assistance, del departamento. Primeramente, el personal del Valley Works Career Center de South Lawrence le facilitó una completa valoración y análisis del mercado de trabajo. Los resultados la orientaron hacia la posibilidad de obtener una graduación en registro y contabilidad, lo cual se ajustaba además a su educación previa e historia laboral, y le daría las certificaciones necesarias para un nuevo trabajo. Fanggit recibió su grado en Contabilidad por el Northern Essex Community College en mayo del 2015. Durante su entrenamiento, y gracias a su determinación y a los servicios de apoyo ofrecidos durante el programa, pudo ir a la escuela a tiempo completo, proveer y cuidar de sus hijos, y lograr una impresionante media académica de 3.5 sobre 4.0. Impresionado por sus habilidades de trabajo y ética, el Northern Essex la ofreció luego de graduarse una posición a tiempo completo en su departamento financiero y de contabilidad. Natural de la República Dominicana, Fanggit llegó a Estados Unidos hace más de 10 años en busca de empleo y un mejor futuro para su familia. Durante tres años trabajó en una línea de ensamblaje electromecánica y cuatro años más como representante de atención al cliente antes de experimentar la baja laboral que finalmente la puso en la senda de su nueva carrera. Su historia es una de muchas a través de toda la nación que han sido posibles gracias a la ayuda del programa Trade Adjustment Assistance. En los últimos cinco años (del 1 de abril del 2011 al 31 de marzo del 2016, se han servido a 186.882 trabajadores como Fanggit.
Nota del editor:
 ¿Tienes interés en oportunidades de aprendizaje laboral o necesitas ayuda para cambiar de profesión? Visita
CareerOneStop.org
 para aprender más sobre los recursos disponibles en tu comunidad. Más información sobre el programa Trade Adjustment Assistance, incluyendo elegibilidad, beneficios y servicios individuales, se pueden ver
aquí.
La serie "DOL Working for You" muestra programas en acción del Departamento de Trabajo. Lee otros blogs de la serie.
Erica Hermann y Dominica Donovan son enlaces de acercamiento al público en la Office of Trade Adjustment Assistance de la Employment and Training Administration del departamento.