Keeping Waste and Recycling Workers Safe When Things Heat Up

Every day, regardless of the weather, waste and recycling workers start their trucks and make the rounds. They run constantly, lifting heavy containers and jumping on and off moving vehicles. You've got to be in tremendous shape to do this job. That's why many of us in the business call them "work athletes." As safety director for the
National Waste and Recycling Association
, I worry about these workers the way a coach might worry about his team. I know they can't be expected to deliver peak performance for hours on end when temperatures are soaring. In a heat wave such as the one that's gripped many states lately, they need to build up endurance, drink plenty of water and take rest breaks, preferably in a cool or shady spot.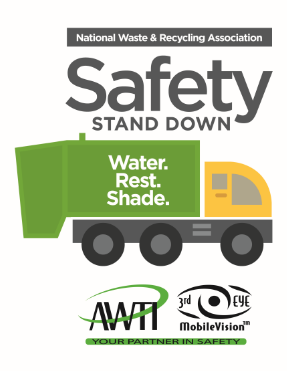 Water, rest and shade: That's the Occupational Safety and Health Administration's 
recipe
for keeping workers safe in the heat, and our association, which represents most of the private waste and recycling companies in the nation, has embraced it. Last month, the NWRA launched a
weeklong training and awareness campaign
to remind our members to pay close attention to worker safety during hot weather, built largely on the Water. Rest. Shade. campaign created for employers by OSHA. After sifting through some industry data, we knew this was an issue we needed to address: There were 1,160 injury and illness cases with lost workdays in 2014 that involved exposure to environmental heat in services-providing industries, which includes waste and recycling. As a safety professional, I realize those numbers don't tell the whole story. Fatigue brought on by working in the heat can lead to other injuries that may never be identified as heat-related. If we want to bring down injury rates in our industry, we have to address heat. Our members agreed. In terms of participation, our Heat Safety Stand Down was a big success. Not only did the majority of our member companies participate, but we also collaborated with smaller private associations and public waste and recycling groups to reach 70 percent of the entire industry across the country. Work was paused for safety meetings and hydration events, as workers received tips and materials on how to stay safe on the job. The most important message delivered at these events was that worker safety matters, and is a priority for employers – a message we shared with tens of thousands online. This was our first year delivering the heat safety message to our members, and we view this as the beginning of a long-running campaign that helps our industry stay safe and treats our workers as the athletes we know they are.
NWRA resources to keep workers safe in the heat are available here.
Anthony Hargis is the safety director for the National Waste and Recycling Association.