Student Takes a Right Turn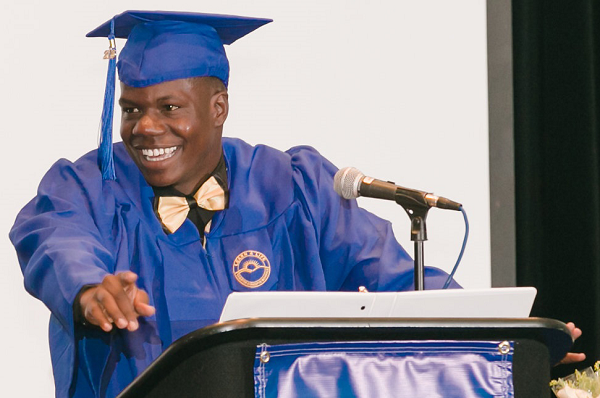 For Armonte Patton, the joyful May graduation day stood in stark contrast to a somber August day that set his life on a spiral four years ago. "My grandma passed away," he told the graduating class of Mission View Charter School during his commencement speech. "It happened when I was at football practice. The pain really brought me down." Armonte's grandmother had been his guardian, raising him for years. Since his mother was addicted to drugs, Armonte moved in with his father, who was often in and out of jail. Depressed, Armonte started hanging out with the wrong crowd, and he even lost interest in the varsity football team, where his talents had helped lead Westminister High School to two championships. "I became accustomed to a lifestyle of crime," he told his classmates and guests at graduation. "I started smoking, hanging out late, and ducking and dodging the police. It was like walking through the gates of hell and I didn't seem to notice, but everyone else did." To complete his high school education, Armonte attended Mission View Charter School, which is housed in the offices of Playa Vista Job Opportunities and Business Services in South Los Angeles. Mission View staff in turn connected him with the PVJOBS Right Turn program for coaching and career services. PVJOBS has operated two consecutive U.S. Department of Labor-funded programs since 2012, including the Right Turn program, which addresses employment barriers of court-involved youth while helping them attain in-demand skills they need for career success. The program serves young people 14 to 25, like Armonte, by providing case management, academic coaching, occupational training, career pathway planning and mentoring. Youth are viewed as active participants throughout the entire process; their input, needs and desires are the driving force to developing their individualized career development plans, which provide an outline of what the participant will accomplish throughout the program. These plans list areas of interest, network links, career exploration recommendations, goals, steps and a timeline for completion. The Right Turn program made all the difference for Armonte, who rediscovered his motivation to excel and who also encouraged other young people in the program to stay in school. He's also looking forward to working out this summer with the football team at El Camino Community College, where he's enrolled for school this fall. Ultimately he would like to transfer to a four-year university and pursue a career as a probation officer, in order to help other young people get their lives back on track. Armonte shared his plans during his graduation speech and smiled with pride. "So as you leave out those doors today," he told his classmates. "Just remember: pain is temporary, but accomplishment is forever."
Editor's note:
If you are interested in job training opportunities or need help changing careers, visit
CareerOneStop.org
to learn more about resources that are available in your community. 
The "DOL Working for You" series highlights the Labor Department's programs in action. View other blog posts in the series here.
This story has been shared with permission from 
Playa Vista Job Opportunities and Business Services
. Lisa Fitch is an executive assistant for PVJOBS.