Working for a Second Chance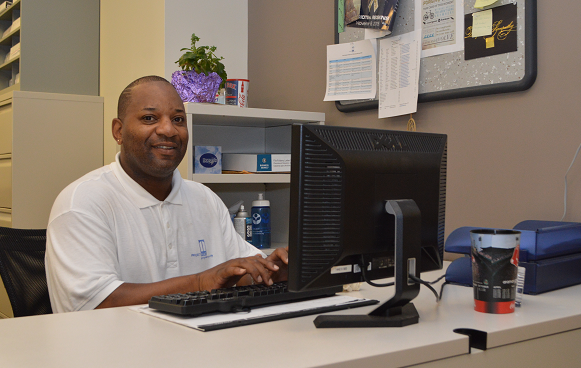 Omar at his job at Project Place in Boston, June 2016.
Looking for a sense of purpose and some structure for his life, Omoteji "Omar" Davis joined the U.S. Navy as a seaman upon graduating from high school in 1988. After three years of service, he went back home to Providence, Rhode Island, and worked various odd jobs.
One that he loved was collecting garbage. He was paid well and was done by noon every day, but then the owner sold the company and all but two of the employees were let go. Without the routines and structure provided by the Navy of where to be, what to do and how to do it, Omar struggled to manage his life. A series of poor decisions landed him in trouble a few years ago and he went to jail.
"When I was released from prison, I was scared that society wasn't going to take me back," said Omar. "I was doing things my own way all my life and that wasn't working. It was getting me into trouble, and I knew I had to do something different."
After being released from jail in 2013, Omar started looking for a chance to change his future. Then at the halfway house where he was staying, he learned about Project Place in Boston, Massachusetts − a program that helps clients find employment, shelter, and hope for the future.
The U.S. Department of Labor provides Jobs for Veterans State Grants through the Homeless Veteran Reintegration Program for community-based organizations like Project Place to help veterans who may be at risk of becoming homeless and want to find meaningful work. Polly Hanson, director of Client Services at Project Place, met with Omar and discussed how the organization could help him get back to work. During their talk Omar said he had some doubts because he was out of work for so long, and was honest about what obstacles he might face. Despite his concerns, Polly assured him that he deserved a second chance and could have a better life with some help and a lot of hard work.
"It wasn't until I came to Project Place that I found a new way of doing things that is better for me, and that will keep me from going back to jail," said Omar.
The staff at Project Place helped Omar learn new skills to be a successful worker, including how to set goals and having the confidence to achieve them. They said that Omar worked hard every day, maintained an optimistic attitude and took every opportunity that was presented to him. Through the program, Omar was able to start working for janitorial and building maintenance companies, which allowed him to improve his work skills, gain a paycheck and build a resume. Omar impressed his supervisors at one company and was hired on a permanent basis.
Over time, Omar ventured beyond the program to work with other companies and prove he could succeed on his own, building a successful work history. Omar's new track record did not go unnoticed by the staff at Project Place, and when they needed to hire an on-the-job trainer for the very program that helped him, he was the unanimous choice.
Now Omar is living in Boston and helping others to get a second chance of their own. "I could work somewhere else, but I love helping people who are in the same situation I was in, and that's why I love my job," said Omar. "Helping someone who has been in institutions find a job is a powerful thing that can change their life."
Editor's note: Learn more about services available to veterans.
The "DOL Working for You" series highlights the Labor Department's programs in action. View other blog posts in the series here.
James Lally is a public affairs specialist for the department in Boston.