A Winning Formula for Nursing Mothers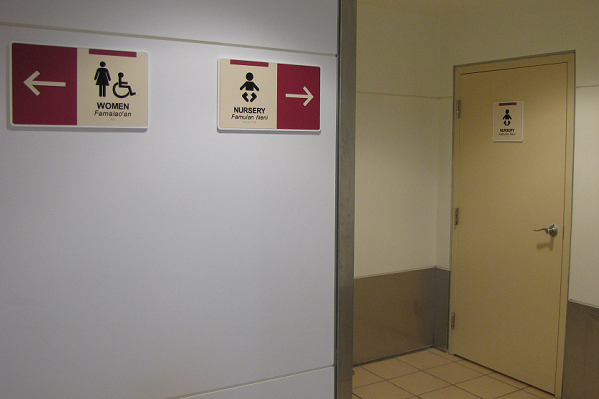 Antonio B. Won Pat International Airport in Guam now has a room just for nursing mothers.
Would you eat a meal prepared in a restroom? No? Well, neither would most Americans. But too many mothers are forced to express milk in the restroom at work because their employers fail to provide an appropriate space, one that is shielded from view and free from intrusion from co-workers and the public. Others encounter discrimination from employers who refuse to allow such needed breaks. This is a serious problem because when feedings are infrequent or restricted, milk production declines. A mother needs to breastfeed her baby an average of 10 to 12 times a day during the first weeks after birth, and doctors recommend moms to breastfeed their babies for at least the first six months. For example, when
Crystia Light
returned to work after giving birth, she asked her employer for the time she needed to express breastmilk for her baby. The employer refused and even threatened to fire her. Crystia ultimately quit but also filed a complaint with the department's Wage and Hour Division. We found that the employer had indeed violated the Fair Labor Standards Act's
provisions for nursing mothers
and then retaliated against Crystia for exercising her rights. It doesn't need to be this way. Last year, an employee working for a private transportation company at Hawaii's Kahului International Airport in Maui voiced her concerns about not having a space other than a bathroom. Without hesitation, her employer talked to the airport management and the worker was immediately allowed to use the nursing room already available for airport employees. The Maui airport is a great example of how employers can be proactive, and the Hawaii District Office of the department's Wage and Hour Division has actively been reaching out to employers to educate them about their responsibilities. We have also spoken to workers about their rights, making a significant impact across the Pacific to date. Until recently, nursing travelers and workers only had a common restroom they could use to pump milk at Guam's Antonio B. Won Pat International Airport. In the nearby Commonwealth of the Northern Mariana Islands, the Saipan International Airport and two smaller airports in Rota and Tinian didn't have adequate rooms for nursing mothers, either. We are now glad to report that managers at these four airports have exceeded our own expectations. First, they agreed to help us coordinate educational sessions with us for airport employees on the FLSA's requirements for nursing mothers. Airport authorities in Guam have now built and furnished a suitable room for both nursing workers and airport passengers, and plans are underway to construct similar rooms in the airports of Saipan, Tinian and Rota. And it is not just airports: authorities at the Port of Saipan are following suit. Securing the workplace protections that nursing mothers vitally need and must have is not just a matter of law – it has a direct impact on the health and well-being of working moms and their children. We also know the return on investment for businesses is substantial: greater employee retention, reduced sick time taken by both moms and dads for children's illnesses, and lower health care and insurance costs. We encourage all employers to follow the example of these airports in the Pacific and
to explore our guides and resources
.
Jose A. Carnevali is a public affairs specialist for the department in San Francisco
.