Making Sure Hard Work Pays Off


For eight years, German Gomez says virtually all he did was work and sleep. As a manager at Grill Kabob, he worked grueling 12-hour shifts six to seven days a week at three restaurants in the District of Columbia, Maryland and Virginia. The kabob chain grew quickly across the region, with Gomez helping to open two locations. But this growth did not extend to his wages. German took home a measly $450 a week, and never received overtime pay.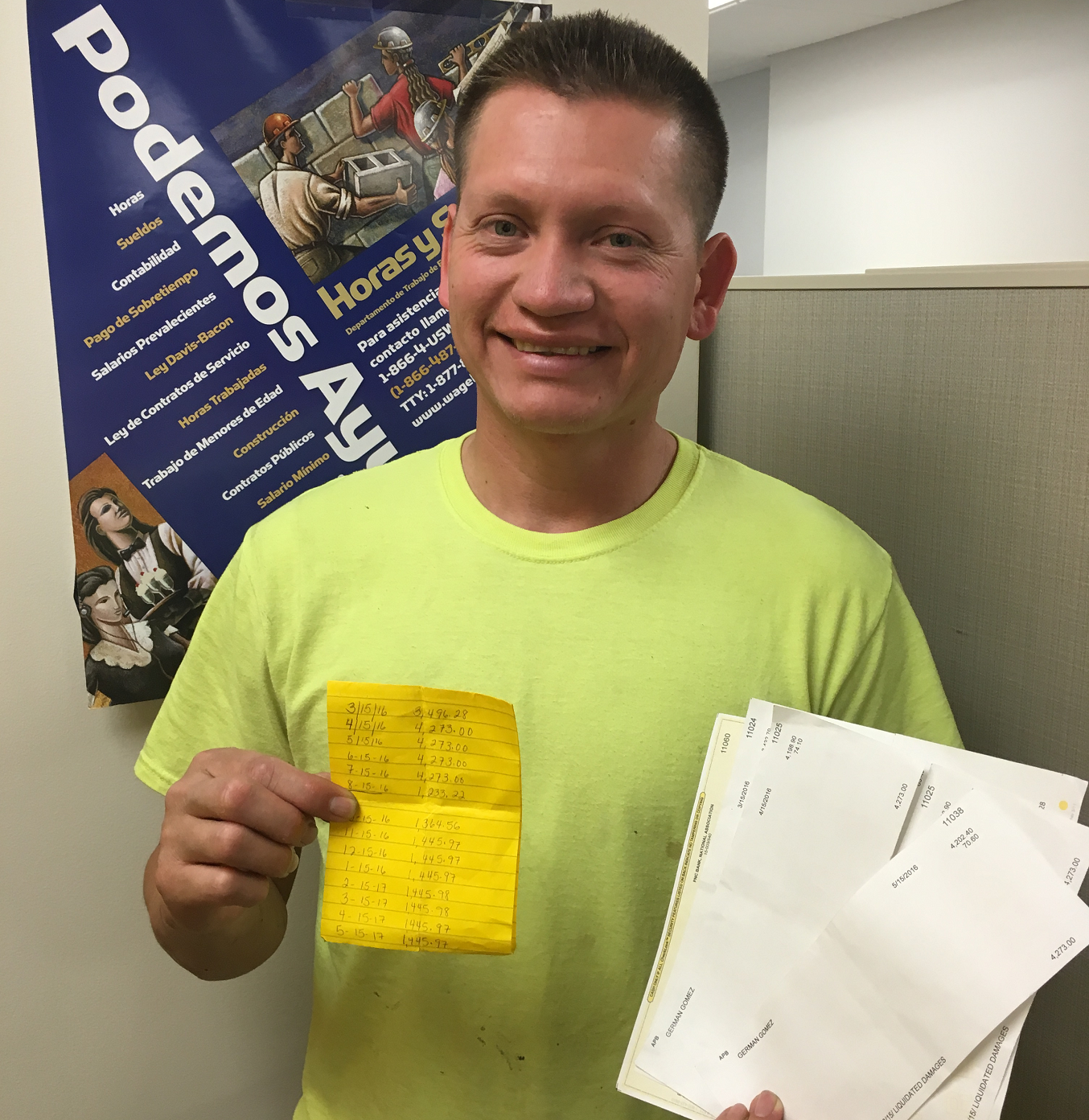 German Gomez with back wage payments and schedule.
"There was so much stress and pressure because of the long hours. I felt like I did not have a life," he said. "I was not able to have kids because I did not make enough money to support a child." One day, his co-workers informed him that the department's Wage and Hour Division was conducting an investigation of Grill Kabob establishments. They encouraged him to speak with the investigator, but he was afraid to because he did not want to jeopardize his job.
Despite his initial hesitation, he eventually shared his story with the support of his fellow workers. The agency determined that German's employer violated the minimum wage and overtime provisions of the Fair Labor Standards Act, and owed back pay to a number of employees. He was elated to learn he had more than $42,000 coming his way in back wages and damages.
Today German is a welder, a profession he acquired two years ago. He still doesn't get much rest; however, this time, it's due to the birth of his daughter a little over a year ago. Financial stability enabled him to finally have a child and take care of his family. He plans to buy a home soon and is looking forward to providing his daughter with a good education. For other workers in similar situations, Gomez encourages them not to let fear keep them from seeking help.
If you are concerned about your company's pay practices, or you are an employer who wants to be sure you are complying with the law, learn more on the Wage and Hour Division's website or by calling 1-866-4-US-WAGE (1-866-487-9243). You also can check to see if back wages are being held for you as the result of an investigation by using the online tool, Workers Owed Wages.
Editor's note: The DOL Working for You series highlights the Labor Department's programs in action. View other posts in the series here.
Joanna Hawkins is the deputy regional director of public affairs for the department in Philadelphia.
Asegurando que el Trabajo Duro se Paga
Germán Gómez dice que pasó ocho años prácticamente trabajando sin parar y, el resto, durmiendo. En su trabajo como manager en el restaurante Grill Kabob, Germán dedicaba agotadores turnos de hasta 12 horas, entre seis y siete días a la semana, trabajando en tres sucursales de ese restaurante en el Distrito de Columbia, en Maryland y también en Virginia. La cadena Kabob creció rápidamente en la región, con Gómez ayudando a abrir dos de sus nuevos restaurantes. Pero este crecimiento no fue paralelo al de sus salarios. Germán se llevaba a la casa apenas $450 por semana, y nunca recibió pago por las horas extra trabajadas. "Había tanta tensión y presión debido a las largas horas… Me sentía como si no tuviera vida", dijo. "No podía tener hijos porque no tenía suficiente dinero para apoyar a un bebé".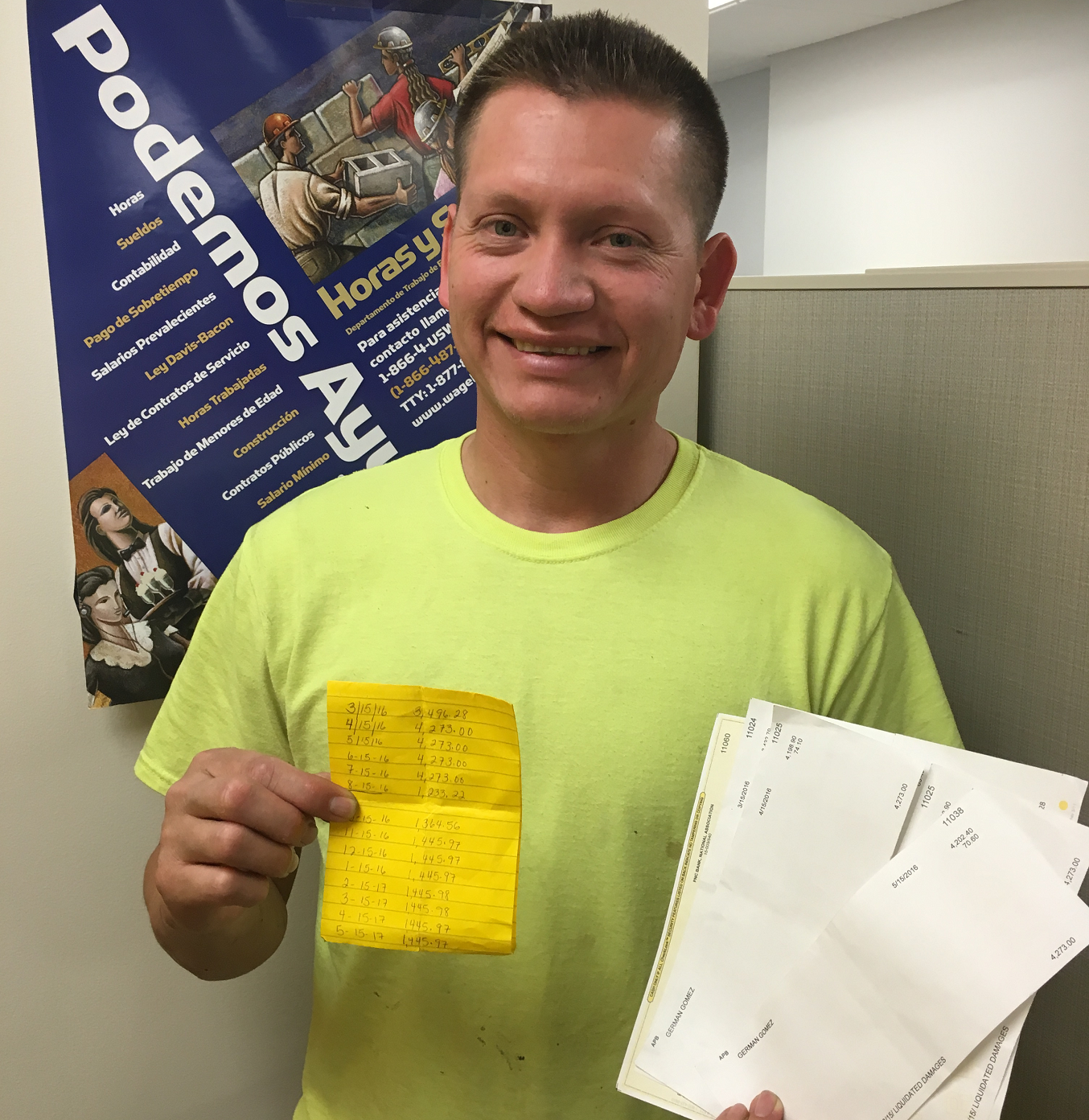 German Gomez
Sus compañeros de trabajo le dijeron un día que la División de Horas y Salarios del departamento estaba investigando los establecimientos Grill Kabob. Ellos le animaron a hablar con el investigador, pero Germán tuvo miedo porque pensaba que hacerlo iba a poner en peligro su puesto de trabajo. No obstante, a pesar de las dudas, y con el apoyo de sus compañeros de trabajo, terminó compartiendo su historia. La división determinó que el empleador de Gómez violó las disposiciones sobre salario mínimo y horas extras de la Ley de Normas Razonables de Trabajo. Él se mostró eufórico al enterarse de que le iban a pagar más de $42.000 en salarios atrasados y en concepto de compensación por daños. Germán ahora es soldador, una nueva profesión que adquirió hace dos años. Aún sigue sin poder descansar mucho, pero esta vez es debido al nacimiento de su hija hace poco más de un año. Su estabilidad financiera le permitió finalmente tener una hija y cuidar de su familia. Él planea comprarse una casa pronto y dar a su hija con una buena educación. Gómez ahora anima a otros trabajadores en situaciones similares a no dejar que el miedo les impida buscar ayuda.
Si estás preocupado por las prácticas de pago de tu empresa, o eres un empleador que quiere estar seguro de que está cumpliendo con la ley, aprende más en el sitio web de la División de Horas y Salarios o llamando al 1-866-4-US-WAGE (1 -866-487-9243). También puedes comprobar si hoy salarios atrasados para ti como el resultado de una investigación, haciendo uso de la herramienta en línea Salarios Adeudados a los Trabajadores.
Joanna Hawkins es directora regional adjunta de información pública del departamento en Filadelfia. Siga el departamento a Twitter @USDOL_Latino y Facebook @USDOLLatino.