We Know How to Prevent Lead Poisoning. So Why Weren't These Workers Protected?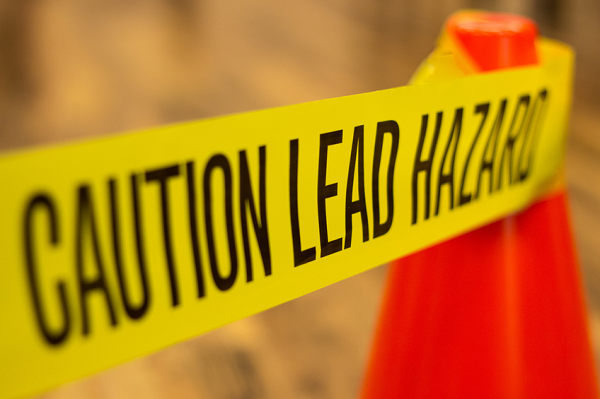 As a nation, we've known about the dangers of lead poisoning for many years – and how to prevent exposure. Overexposure to lead is associated with brain damage, gastrointestinal complications, anemia and kidney disease. Anyone who has worked in manufacturing, shipbuilding, construction and various other industries knows lead paint was commonly used until the mid-1970s.
So when Fraser Shipyards in Superior, Wisconsin, took on the job of retrofitting the engine room of a Great Lakes iron ore vessel built in 1959, the company knew it needed a safety and health program to protect workers from lead and other known hazards. They even discussed lead abatement with the ship's owner prior to starting the $10 million retrofitting project in December 2015. Yet when health officers from the department's Occupational Safety and Health Administration conducted personal and bulk sampling of workers blood levels in February and March 2016 after receiving complaints of unsafe working conditions, they found that all 14 employees sampled were overexposed to lead. These workers had been torching, cutting and removing material known to be contaminated with lead paint. One worker's test sampling showed lead exposure up to 20 times the permissible exposure limit. Others were 13 and 14 times the limit.
Fraser Shipyards subsequently conducted blood lead level testing of more than 120 employees. The results 75 percent of those tested  had elevated blood lead levels. OSHA responded by citing the Wisconsin shipyard operator for 14 willful egregious health violations – one for each instance of overexposing a worker to lead. OSHA also issued five additional willful violations for failing to implement engineering controls, work practices, a respiratory protection program, and to conduct training related to lead hazards. Other hazards were found, as well. The company agreed to a completion deadline they couldn't meet without endangering workers, and OSHA wants to ensure the shipyard is held accountable for its unlawful behavior. In total, we have proposed $1,395,000 in penalties for the Wisconsin shipyard operator.
Monetary penalties don't save lives or protect worker's health, and they can't restore the health of workers who have been exposed to dangerous hazards like lead. But health and safety programs make a critical difference. Companies can protect workers from lead exposure with simple safety measures like respirators, engineering controls such as ventilators, protective clothing, and changing facilities that provide showers and storage for contaminated clothing so it doesn't go home with workers and potentially exposure family members. And it is vital that employers provide medical testing and monitor workers' exposure so that if they exceed limits, changes can be made to minimize further exposure and protect their long-term health.
All these requirements are part of OSHA's lead protection regulations. In exposing its workers to lead, Fraser Shipyards ignored federal regulations, its own corporate safety manuals and worker concerns. When companies prioritize deadlines and dollars over the health and safety of their workforce, too often it is the worker that pays the price. OSHA is committed to changing that mindset and ensuring employers own up to their legal responsibility to keep workers safe on the job.
Learn more about lead poisoning and workplace protections at osha.gov.
Mark Hysell is OSHA's area director in Eau Claire, Wisconsin. A health and safety professional for more than 20 years, his office conducted the investigation at Fraser Shipyards.  
Si sabemos cómo prevenir el envenenamiento por plomo, ¿por qué estos trabajadores no estaban protegidos?
Por Mark Hysell Durante muchos años hemos sabido de los peligros del envenenamiento por plomo y cómo prevenirlo. La exposición excesiva al plomo está asociada con daño cerebral, complicaciones gastrointestinales, anemia y enfermedad renal. Cualquiera que haya trabajado en fábricas, astilleros, construcción y en otras industrias sabe que la pintura con plomo se usaba comúnmente hasta mediados de la década de 1970.
Es por eso que cuando Fraser Shipyards (Astilleros Fraser) en Superior, Wisconsin, se puso a la tarea de remozar la sala de máquinas de un buque construido en 1959, la empresa sabía que necesitaba un programa de seguridad y salud para proteger a los trabajadores del plomo y otros peligros conocidos. Incluso discutieron con el propietario de la nave la reducción del plomo antes de iniciar el proyecto de reequipamiento por valor de $10 millones en diciembre del 2015. Sin embargo, cuando realizaron muestreos de sangre a trabajadores de manera individual y en bloque en febrero y marzo del 2016 luego de recibir quejas de condiciones de trabajo inseguras, inspectores de la Administración de Seguridad y Salud Ocupacional del departamento encontraron que 14 empleados habían sido sobreexpuestos al plomo. Estos trabajadores habían estado usando soplete, cortando y retirando material que se sabe estaba contaminado con pintura con plomo. Una de las pruebas del muestreo a un trabajador mostró un nivel de exposición al plomo de hasta 20 veces el límite de exposición permisible.
Y otros fueron niveles de 13 y 14 veces superiores al límite. Posteriormente, Fraser Shipyards llevó a cabo pruebas de nivel de plomo en la sangre a más de 120 empleados. El 75 por ciento de los evaluados dieron positivo con niveles elevados. OSHA respondió multando al operador del astillero de Wisconsin por 14 violaciones de salud graves e intencionales, una por cada instancia de sobreexposición. OSHA también presentó cinco violaciones intencionales adicionales contra el astillero por no aplicar controles de ingeniería, prácticas laborales, un programa de protección respiratoria, y por no llevar a cabo entrenamientos relacionados con los riesgos del plomo. Las inspecciones revelaron también otros peligros ocupacionales. Esta empresa acordó un plazo de ejecución de la obra que era imposible de cumplir sin poner en peligro a los trabajadores, y OSHA quiere garantizar que el astillero rinda cuentas por su conducta ilícita. En total, hemos propuesto $1.395.000 en multas contra el operador del astillero de Wisconsin.
Las sanciones monetarias no salvan vidas ni protegen la salud de los trabajadores, y tampoco pueden restaurar la salud de trabajadores que han estado expuestos a peligrosos riesgos. Pero los programas de salud y seguridad hacen una diferencia crítica. Las empresas pueden proteger a los trabajadores contra la exposición al plomo con simples medidas de seguridad como respiradores, controles de ingeniería como ventiladores, ropa de protección y vestuarios provistos de duchas y almacenamiento para ropa contaminada de manera que no acabe en la casa de los trabajadores y que potencialmente termine contaminando a miembros de la familia. Y es vital que los empleadores realicen exámenes médicos y monitoreos regulares a los trabajadores de forma que si se superan los límites, se puedan realizar cambios para minimizar la exposición adicional y proteger la salud a largo plazo.
Todos estos requisitos son parte de la normativa de OSHA para la protección contra el plomo. Al haber expuesto a sus trabajadores al plomo, Fraser Shipyards ignoró las regulaciones federales, sus propios manuales de seguridad corporativa, y también las preocupaciones de los trabajadores. Cuando las empresas dan prioridad a los plazos y a los dólares por encima de la salud y seguridad de sus empleados, con demasiada frecuencia son los trabajadores los que pagan el precio. OSHA está comprometida a cambiar esa forma de pensar y a garantizar que los empleadores se hagan cargo de su responsabilidad de mantener seguros a los trabajadores en el lugar de trabajo.
Aprenda más sobre en envenenamiento por plomo y sobre protecciones laborales en www.osha.gov.
Mark Hysell es director de área de OSHA en Eau Claire, Wisconsin. Profesional de la salud y la seguridad durante más de 20 años, su oficina llevó a cabo la investigación en Fraser Shipyards.