MIND/GAME: My Unquiet Journey with a Mental Health Condition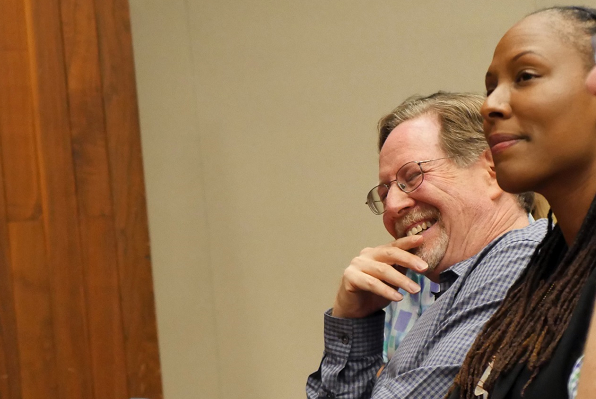 Chamique Holdsclaw and Rick Goldsmith at the Labor Department, Aug. 10, 2016.
Yesterday, I celebrated the 26th anniversary of the Americans with Disabilities Act at the Labor Department. The gathering was a special one, drawing scores of government officials, advocates and others who care about disability, human rights and equality. Why was I among them? Because I am a person with a disability.
Until 2004, few would have known this, because my disability is a mental health condition not visible to the eye. Approximately one in five adults in the U.S. experiences a mental health issue in a given year, and today I openly discuss my own experiences in hopes of educating others. But I'm the first to confess that upon my initial diagnoses — first with clinical depression and later with bipolar disorder — I did not immediately associate myself with the disability community. Because of my achievements on the basketball court, I identified as a National Collegiate Athletic Association champion, an all-time winning scorer and rebounder, and the Women's National Basketball Association Rookie of the Year. Some even called me "the female Michael Jordan."
However, off the court, I was dealing with the ups and downs of mental illness in a field where weakness and vulnerability were looked down upon. Fortunately, there has been a cultural shift since that time when it comes to understanding mental illness. And since taking my mental health condition public, I've come to understand that mine are common disabilities governed by the same rights, policies and practices as other, more apparent disabilities — particularly in the workplace.
After a screening of the documentary "MIND/GAME: The Unquiet Journey of Chamique Holdsclaw," at the Labor Department yesterday, I joined a panel discussion with Rick Goldsmith, the director of the film, and Jennifer Sheehy, deputy assistant secretary of labor for disability employment policy. The department's Office of Disability Employment Policy works to increase employment opportunities for people with disabilities, whether they're looking for work or already employed, by seeking the supports they need to be productive employees.
Through the lens of my own personal story, we talked about key issues impacting the employment of people with disabilities, from the benefits of self-identifying as someone with a disability, to workplace practices that can help people with disabilities succeed on the job. For someone with bipolar disorder like me, such practices can include offering flexible leave to accommodate medical appointments, maintaining open channels of communication and more.
Another key theme we discussed was the important role that work actually plays in the recovery of people with mental health conditions. That has certainly been the case for me. During my days as a professional athlete, it was basketball and the adrenaline of competition that kept me centered and looking forward. Today, it's the purpose and satisfaction that come with speaking out about mental health and educating others.
Whether your work environment is a basketball court or a more traditional setting, chances are you know someone with a disability. What's more, you could face an acquired illness or disability at any given time. That's why it's critical that all of us open our hearts and minds to disability employment issues. It was my college coach — the late, great Pat Summitt — who first referred me to our team psychologist when my symptoms emerged. If more employers, colleagues, family and friends played a supporting role for workers facing mental health conditions, I know America would be on the road to a healthier, happier, more productive workforce.
Chamique Holdsclaw is a retired WNBA basketball player and an educator and advocate for people with mental health conditions. Her story is the subject of the award-winning documentary film "MIND/GAME: The Unquiet Journey of Chamique Holdsclaw," produced and directed by two-time Academy-Award-nominated filmmaker Rick Goldsmith. For more information about resources to assist employers in fostering mental health-friendly workplaces, visit ODEP's mental health topic webpage.