Pursuing a Degree While Working, Thanks to Flexible Options
After a grueling 22-month master's degree program, I was relieved and excited when I stepped onto the stage to receive my diploma on May 13. The announcer called my name, and a few nervous steps and a couple of handshakes later, the degree was mine!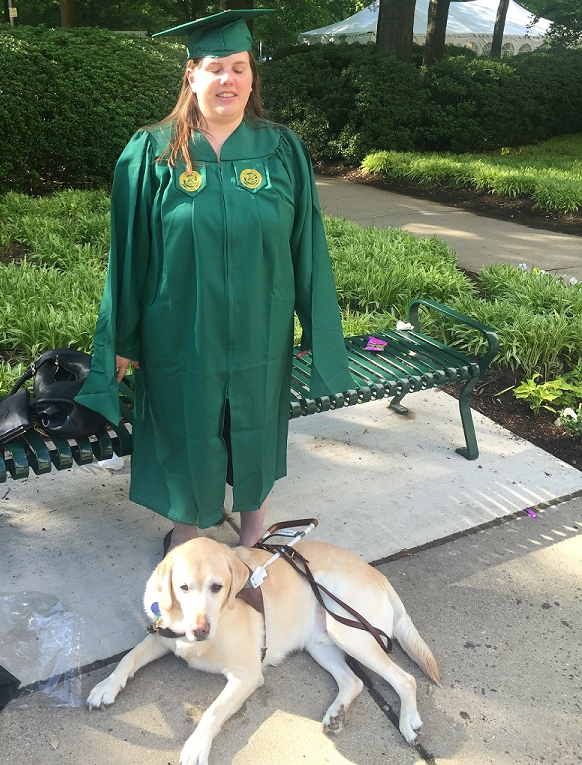 Tiffany Jolliff and Railey at graduation
During the rigorous program, there were moments I doubted I would make it to graduation. However, the one thing I never needed to worry about while pursuing my degree was a lack of support from my employer.
In November of 2014, I left my previous place of employment and joined the U.S. Department of Labor as a full-time employee. I had begun the Organization Development and Knowledge Management program at George Mason University a few months earlier. Classes were designed with full-time employees in mind, and were held on Friday nights and Saturdays.
Juggling a new job and a fairly new class schedule could have been a nightmare; however, thanks to the efforts of Labor Secretary Tom Perez, I ended up in one of the best workplaces for working full-time and completing my education. That's because shortly after I arrived, the Labor Department implemented a new workplace flexibilities pilot that encouraged telework where possible and allowed for alternative work schedules.  I chose to telework on Fridays since classes were on Friday nights. This let me get more of my assigned duties done during the day and not spend additional time commuting between work, school and home.
I also worked with my supervisor to establish a flexible work schedule that enabled me to work when needed on some school group projects during the day, and make up work time in the evenings to fully complete my job tasks, contribute to my office's mission and meet departmental requirements for a 40-hour week.
In April 2016, the Labor Department made these workplace flexibilities permanent. This move ensures that fellow employees who wish to further their education, start a family, or maybe compress hours to balance work and life have the freedom to do so, knowing that they work for an employer who supports them. In the department's Office of Disability Employment Policy, we strongly encourage employers to explore flexibility options for all of their employees.
Research shows workplace flexibilities have a positive effect on productivity, retention and morale, in addition to helping employees be their best selves – at work and at home. Both employers and employees can find helpful resources in ODEP's Workplace Flexibility Toolkit. We'd also love to hear what flexibilities have helped you or your business succeed – share your story in the comments below, or mention @USDOL on Twitter or Instagram.
P.S. My guide dog, Railey, received a diploma, too!
Tiffany Jolliff is a program specialist in the department's Office of Disability Employment Policy.