Lessons from Rosie and Brunhilde
"When I find something I like to do, I like to keep doing it." In the post-World War II MGM musical, On the Town, that's the snappy reply New York cab driver Brunhilde Esterhazy gives when asked why she still drives a cab.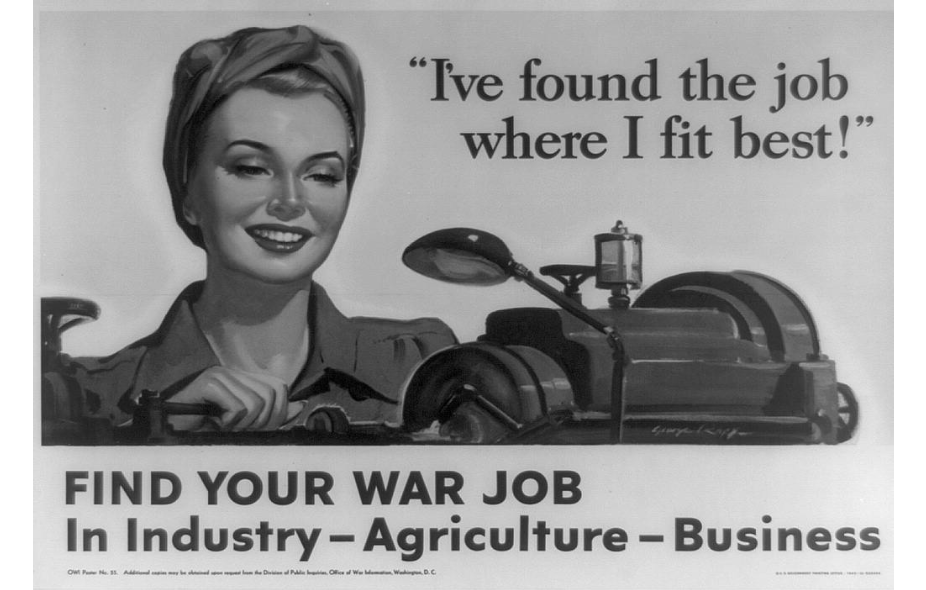 Source: Library of Congress #90707072
Her response was also a little radical for the time – a moment in history when most women were quietly returning home, displaced from jobs they had taken on by the men who came back from the war. A showing of On the Town was part of the National Park Service's centennial on Aug. 26 and 27 in the Charlestown, Massachusetts, Navy Yard. The program, which coincided with Women's Equality Day on Aug. 26, celebrated the role of women workers during World War II.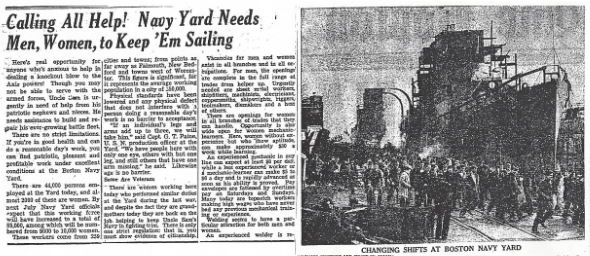 Daily Boston Globe article from Jan. 17, 1943
Although the iconic Rosie the Riveter may have originated in California, Charlestown had its wartime share of women painters, welders, riveters and sheet metal workers. The United States Civil Service promised qualified applicants between the ages of 18 and 50 who were not otherwise engaged in war work a salary of over $30 a week for 48 hours, and training in various skilled trades. Approximately 8,000, or over 15 percent, of civilian employees at the yard in 1943 were women. Like their male counterparts, these women were building, converting and repairing ships to serve wartime needs.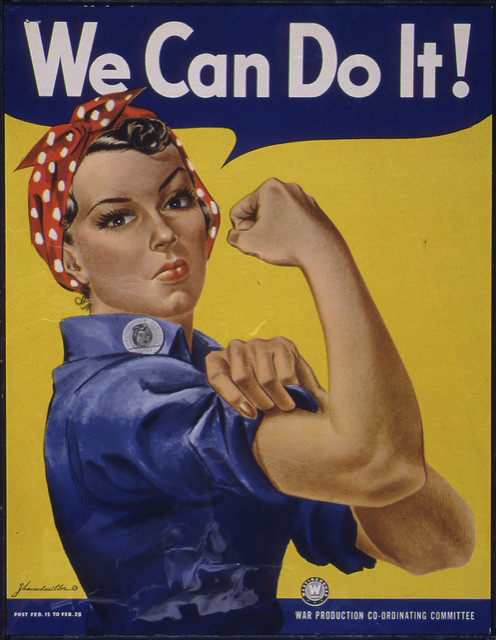 When the war ended and the men returned, the Navy Yard's Rosies returned to the traditional household sphere – though not always by choice. The post-war Navy Yard was eventually closed in 1974 and designated a national historical park. Which brings me back to the fictional New York cabbie who liked driving a cab and wanted to keep doing it. How many Navy Yard Rosies, like Brunhilde, enjoyed the challenging work and steady paycheck?
Since that time, the American workforce has changed drastically. Women were about a quarter of the labor force just prior to WWII; today, they make up approximately 47 percent. At that time, the majority of women with children stayed at home; now, almost 70 percent of women with children under 18 are employed. While we've made great gains toward equality in the workplace, we also have a long way to go. Women and minorities are still underrepresented in the skilled trades and in apprenticeships, which create a pathway to middle-class jobs that can support a family.  That's why we're investing in programs to support women like Jen, a modern-day Rosie the Riveter who is on track to be a highly skilled welder at a shipyard in Portsmouth.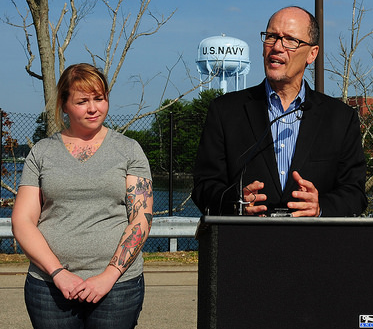 Jen with Secretary Perez
And while cultural expectations and gender roles have shifted, equal pay for equal work remains a significant issue with women earning 79 cents, on average, for every dollar made by men. A lack of family-friendly policies – like paid family leave and affordable child care – also make it difficult for many women to support their families financially.
At the Labor Department, we're working to cultivate a culture of respect in our workplaces, help all women develop their gifts and talents to their fullest potential, encourage flexibility policies that adapt with the changing workforce, and ensure employers are hiring and promoting women based solely on talent. We think Rosie and Brunhilde would be proud. Learn more at www.dol.gov/wb.
Christine Eskilson is the deputy regional solicitor and OSHA counsel for the department in Boston.