From a Dark Past to a Dream Come True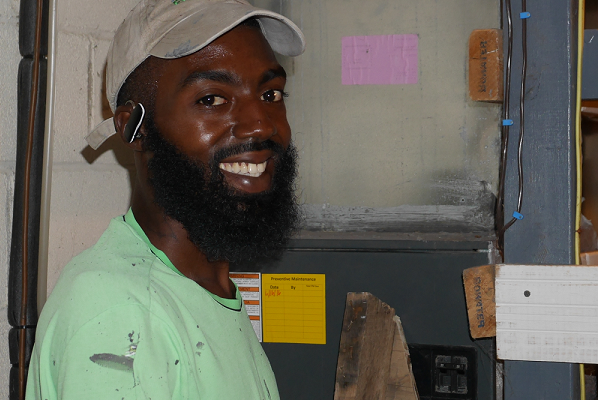 Vernon E. Smith III knows all too well how a difficult past can impact someone's future. Like many other ex-offenders, the Baltimore native faced many barriers in establishing a career due to a prior criminal record.
"I was turned down for at least 50 or more jobs because of my record," Vernon said. "I'd receive several calls telling me I have the job and they were just waiting for the background check to come back. But once that happened, I was denied."
Refusing to give up, Vernon worked hard to better himself and his life. He graduated from trade school and became a certified carpenter. For several years he worked dead-end jobs earning next to nothing. It wasn't enough to take care of his young son, much less get ahead.
In the fall of 2015, he enrolled in the energy retrofit installer training program at Civic Works' Baltimore Center for Green Careers, which has received funding through a Labor Department grant to the state of Maryland administered by the Baltimore City Mayor's Office of Employment Development.
The program provided Vernon with comprehensive occupational and essential skills training in energy efficiency. He earned industry-recognized certifications, completed on-the-job training and received case management support that included job placement services.
It was the right move. After completing the program in 19 weeks, Vernon began work as a salaried residential energy installation technician at a starting wage of $17.30 per hour with a growing regional home performance company, Efficient Home LLC.
"Once I was placed with my company, the heartache and pain went away. It was a dream come true," he said.
Vernon's employer saw in him potential for advancement after only a few months on the job, and enrolled him in Civic Works' energy analyst incumbent worker training. This gave Vernon an additional certification that has opened up doors of opportunity for him to work independently on installation jobs and take on more responsibilities, resulting in a $2,000 annual raise.
With the support of his Civic Works "family" and a company that believes in him, Vernon said he plans to continue furthering his career and being an example for his son and those around him. "The sky is the limit. Life is beautiful. It's on you to choose your outcome," he concluded.
Connect with local job and training resources at CareerOneStop.org.
Editor's note: The "DOL Working for You" series highlights the Labor Department's programs in action. View other blog posts in the series here.
Katelyn English is an intern in the department's Office of Public Affairs in Philadelphia.