My Story Shows How Sticking Together Works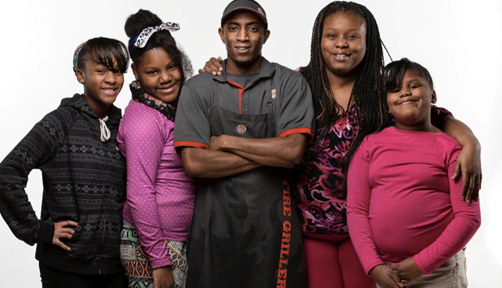 Terrence Wise, his fiancee and his three daughters.
Almost a year ago, I was given a nearly unbelievable opportunity. I was asked to introduce President Obama when he spoke at the White House Summit On Worker Voice. Meeting the president at the White House was a place I did not expect to get to. I work for McDonald's. Many people like me who do this work often feel like we are overlooked by powerful people. I started working when I was 16. Now, after doing food service work for almost twenty years, I am paid $9 per hour. I get no benefits, no vacation, no paid time off for anything. I have three daughters. My fiancee works as a home health care worker, another job that does not pay much. Every bill is a challenge. We put this much towards our light bill, a little bit more towards our gas bill, and then we pray a disconnect notice doesn't come. For people who do this kind of work, one little thing, like a flu or an injury, means you can fall behind quickly. Twice, we've been homeless. I remember one time when we were living in our minivan and my fiancee and I were putting on our uniforms to go to work. My daughters were getting their backpacks and school clothes ready. That hit me hard, because I realized that we live in the richest country in the world, we are both working parents, and yet we didn't have a place to live.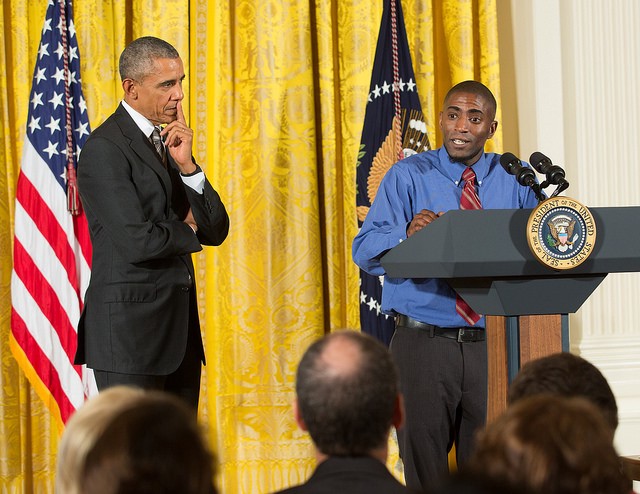 Terrence shares his story at the White House Summit on Worker Voice in 2015.
But things are changing. A few years ago, I got involved in the Fight for $15 movement. We are a movement of Americans who work in jobs that pay wages so low that we are blocked into poverty. We were invisible, but now we are standing together for a $15 per hour wage floor and for the freedom to join together in unions. We have learned that by using our strength in numbers and by sticking together, we can actually be heard. When we went on strike at restaurants around the country, people started to notice and listen. And when home care workers, child care teachers, airport baggage handlers and wheelchair attendants, and higher education faculty joined us, we got even more powerful. We're getting results and we're winning raises. In response to our movement, elected officials in California, New York, and other places have moved to lift minimum wage floors to $15 per hour. This will mean more families getting a shot at getting ahead. Fewer working moms and dads will have to worry about their kids going hungry. Meeting President Obama was a highlight of my life so far. But I always tell people that moment wasn't about me. It was a milestone for a movement that is powered by the the contributions and hopes of so many working Americans who want something better for our future. Our hope — our goal — is to create an economy that works for all of our families, not just people who are wealthy and powerful. Editor's note: Share your worker voice story with us, and join the conversation online using #StartTheConvo to say why #WorkerVoice is important to you. Terrence Wise is a leader of the Fight for $15 movement.