Spending Habits by Generation
Move over, baby boomers: millennials are now America's largest generation.* Over the past few years, my colleagues and I at the Bureau of Labor Statistics have gotten a lot of questions about millennials' spending habits. As more millennials enter the workforce, the purchasing power of this generation increases, and both marketers and researchers are interested in how millennials choose to spend their paychecks.
So we decided to start sorting our data on American spending habits by generation two years ago. We now have a much better idea of household spending for millennials, Gen X, baby boomers, the Silent Generation and Greatest Generation.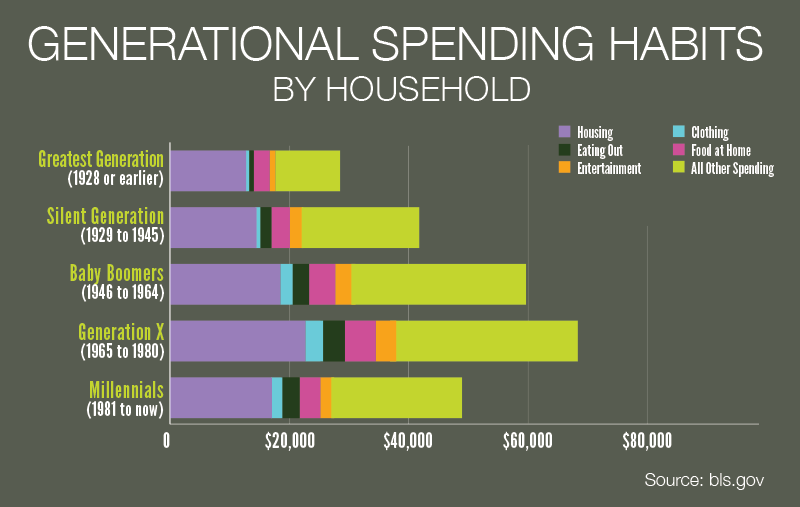 The research tables we produced show that generational spending habits differ in ways both expected and surprising. (See below for a text version of the chart). Here's what we found: https://www.facebook.com/departmentoflabor/videos/vb.190226429055/10155388405864056/?type=3&theater (Transcript of the video.)
*Editor's note: The Consumer Expenditure Survey is a household survey. While millennials outnumber other generations in number, they come in third behind Gen X and baby boomers with regards to independent households. Why's that?  Not all millennials are out living on their own just yet, so they're not counted as separate households.
Steve Henderson is an economist with the Bureau of Labor Statistics.  
| Annual Household Average | Millennials (1981-now) | Generation X (1965 to 1980) | Baby boomers (1946 to 1964) | Silent generation (1929 to 1945) | Greatest Generation (1928 or Earlier) |
| --- | --- | --- | --- | --- | --- |
| Housing | $16,505 | $21,954 | $18,320 | $15,107 | $13,717 |
| Clothing | $1,708 | $2,442 | $1,937 | $848 | $221 |
| Eating Out | $2,891 | $3,864 | $2,900 | $1,964 | $1,087 |
| Food at Home | $3,264 | $4,882 | $4,243 | $3,164 | $2,505 |
| Entertainment | $2,186 | $3,231 | $3,286 | $2,276 | $885 |
| All Other Spending | $20,559 | $30,608 | $28,960 | $18,988 | $10,626 |
| Total Spending | $47,113 | $66,981 | $59,646 | $42,347 | $29,040 |
Video Transcript
How do millennials spend their money? Unlike older generations, the majority of millennials (2 out of 3) rent. Millennials have the fewest vehicles (1.5) of any generation, except those born before 1929. Gen Xers spend the most money overall, but millennials spend the largest share of their budget (over 6 percent) eating out. Millennials spend less on entertainment ($2,186) than baby boomers and Gen Xers. Millennials also spend less ($1,708) on apparel than baby boomers and Gen Xers, but spend the most on motorcycles. They also spend the most ($169) on clothing for children under 2. #BabyShowers Learn more: bls.gov/generations