#ApprenticeshipWorks for Inclusion

    In honor of
National Apprenticeship Week
, the Labor Department is exploring the many ways "Apprenticeship Works" — for workers, employers, businesses and new opportunities. Two new videos released today explore how it also works for
inclusion
— by providing a career pathway for individuals from diverse backgrounds, including those with disabilities. One of the individuals featured in these videos is Derek Schwartz, a computer support specialist at Central High School in Philadelphia. Derek, who is hard of hearing, works at the school through an information technology apprenticeship program run by the
Urban Technology Project
. The project is a joint initiative between Communities In Schools of Philadelphia Inc. and the School District of Philadelphia
.
Derek's employer, Central High School President Timothy McKenna, also appears, sharing how apprenticeship helps his organization fill its workforce needs. Watch the videos, and learn more about Derek and Timothy:
Derek Schwartz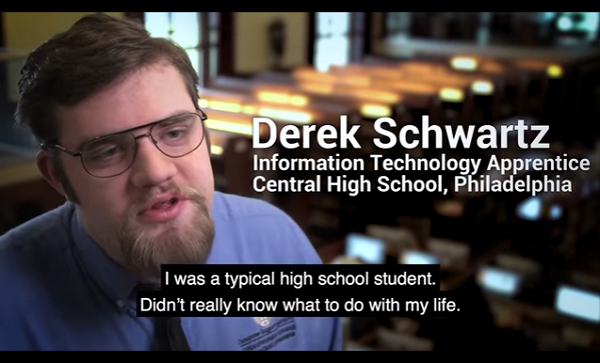 Timothy McKenna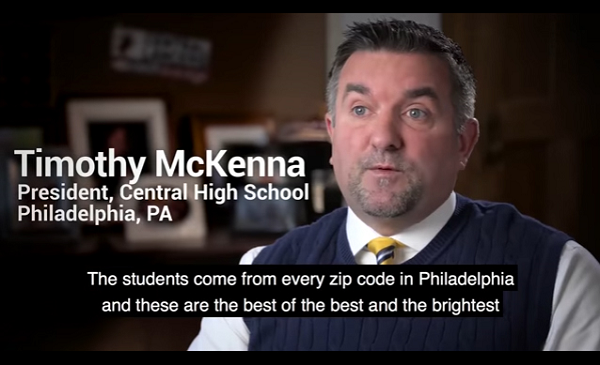 Editor's note: Founded in 1836, Central High School is a four-year college preparatory magnet high school and the second-oldest continuously run public high school in the U.S. Join the conversation on apprenticeship during National Apprenticeship Week, Nov. 14-20, using the hashtag #ApprenticeshipWorks.
Nathan Cunningham is a policy adviser in the department's Office of Disability Employment Policy, where he focuses on youth issues.
#ApprenticeshipWorks para Inclusión
Por
Timothy McKenna, Derek Schwartz and Nathan Cunningham En conmemoración de la
Semana Nacional del Aprendizaje
, el Departamento de Trabajo está explorando las muchas maneras en las que los "aprendizajes funcionan": para trabajadores, empleadores, empresas y nuevas oportunidades. Dos nuevos videos publicados hoy exploran cómo también los aprendizajes funcionan para la
inclusión
al proporcionar una trayectoria ocupacional para personas de tipologías diversas, incluyendo aquellas con discapacidades. Una de las personas destacadas en estos videos es Derek Schwartz, un especialista en apoyo informático en la Central High School de Filadelfia. Derek, que tiene problemas auditivos, trabaja en la escuela a través de un programa de aprendizaje de tecnología de la información dirigido por el
Proyecto de Tecnología Urbana
. El proyecto es una iniciativa conjunta entre Communities In Schools of Philadelphia Inc. y el Distrito Escolar de Filadelfia. En el video también aparece el empleador de Derek, el presidente de la Escuela Central, Timothy McKenna, quien habla sobre cómo el aprendizaje ayuda a su organización a cubrir sus necesidades de mano de obra. Mira los videos y aprende más sobre Derek y Timothy:
Derek Schwartz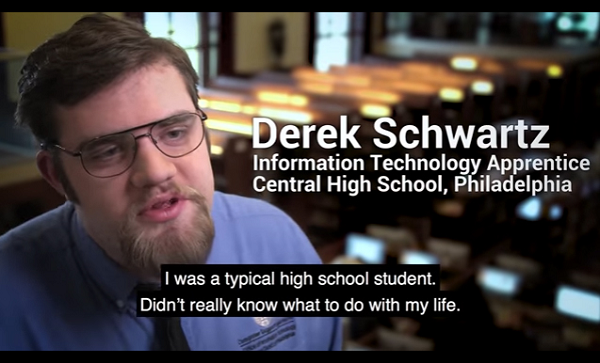 Timothy McKenna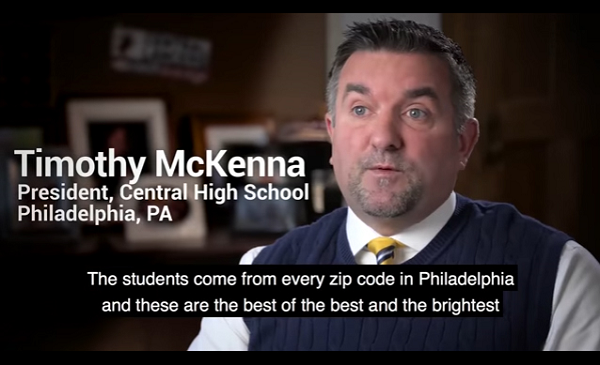 Nota de los editores:
Fundada en 1836, la Central High School es una escuela secundaria de cuatro años preparatoria a la universidad, y la segunda escuela secundaria pública más antigua de Estados Unidos. Sigue la conversación sobre aprendizaje durante la Semana Nacional del Aprendizaje del 14 al 20 de noviembre, usando el hashtag #ApprenticeshipWorks.
Nathan Cunningham es asesor de políticas en la Oficina de Políticas sobre Discapacidades en el Empleo del departamento, donde él se enfoca en temas de juventud.