Single Mom Forges Her American Dream as Precision Machinist

Michelle Goodrum, a 40-year-old single mom of three boys, had worked a variety of jobs over the years to make ends meet, including as an account executive and in home health care.  One day while searching for "something different to do" with greater earning potential, she stumbled on an ad for a machinist apprentice at F.N. Smith Corp. in Oregon, Illinois. With the encouragement of her family, she decided to apply.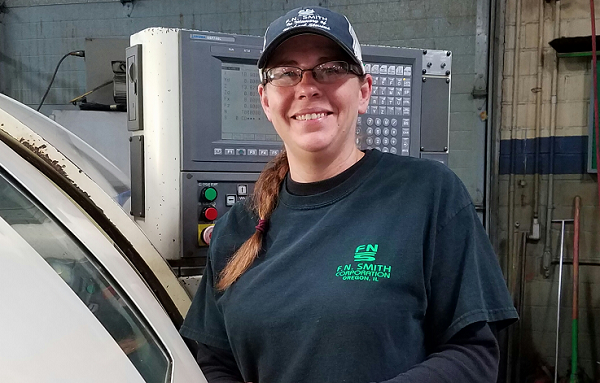 Today, Michelle is a 3rd year apprentice at the company operating computer numerical controlled (or CNC) lathes and mills to produce custom machinery used in the food service industry, and she is excelling in a field she had never considered. "This was a huge change. The only tool I knew how to use before starting the program was a tape measure," Michelle said. "I didn't think I was good at math or working with my hands and I found out that I am. It is a great feeling to see the finished product and know you have created that."
Michelle is one of only two female employees in the shop, as only one other woman has completed the company's registered apprenticeship program to date. While she says balancing school, work, motherhood and running a household can be demanding, Michelle said she would encourage women and men alike to consider the field.
"As a single mother to three boys, I think I have surprised them with what I've accomplished so far, and I hope I am a good role model for them," Michelle said. "The greatest thing I have earned in this job is confidence. I can accomplish more than I ever thought possible. Now, I have a skill, stability and a job with great earning potential. My boys and I can stop living paycheck to paycheck and I can start saving for a future."
In addition to her 8,000 hours of on-the-job training, Michelle is completing 64 credit hours of instructional learning at Rock Valley Community College and will soon receive a certificate of completion as well as an industry-issued, nationally recognized certificate from the Rock River Valley Tooling and Machining Association. RRVTMA, a local chapter of the National Tooling and Machining Association, is a group of tool machine shops and custom manufacturers in the Northern Illinois and Southern Wisconsin area.
There are more than 500,000 apprentices across the country, with more apprenticeship opportunities added every day. And new investments are helping expand apprenticeships into high-growth industries like health care, IT and cybersecurity. These earn-while-you-learn training programs provide a clear career path forward through new skills, higher wages and opportunities for advancement. Learn more about how #ApprenticeshipWorks during National Apprenticeship Week 2016, Nov. 14-20, at dol.gov/apprenticeship.
Editor's note: The "DOL Working for You" series highlights the Labor Department's programs in action. View other blog posts in the series here.
Rhonda Burke is a public affairs specialist for the department in Chicago.  
Madre Soltera Forja Su Sueño Americano Como Maquinista
Por Rhonda Burke A lo largo de los años, Michelle Goodrum, mujer de 40 años y madre soltera de tres hijos, había laborado en varios trabajos para poder llegar a fin de mes, incluyendo ejecutiva de cuenta y cuidadora de la salud en el hogar. Un día, mientras buscaba "algo diferente para hacer" con mayor potencial de ingresos, se encontró con un anuncio para aprendiz de maquinista en F.N. Smith Corp., en Oregon, Illinois. Y con el estímulo de su familia, se decidió a presentar su aplicación.
En la actualidad, Michelle lleva trabajando en la empresa tres años como aprendiz, manejando tornos y molinos computarizados para producir maquinaria hecha a medida y utilizada en la industria de servicios de alimentación, y sobresaliendo en un campo que nunca antes había considerado. "Fue un cambio enorme. La única herramienta que sabía usar antes de iniciar el programa era una cinta para medir", dijo Michelle. "No pensé que era buena en matemáticas o trabajando con mis manos, y me di cuenta de que si lo era. Es una sensación maravillosa ver el producto terminado y saber que lo has creado tú".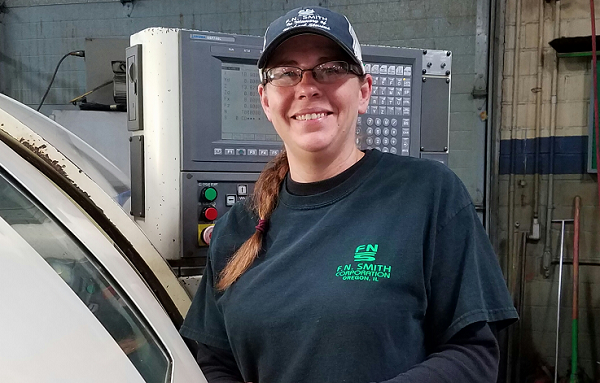 Michelle es una de las dos únicas empleadas en el taller, ya que sólo otra mujer ha completado el programa de aprendizaje certificado de la empresa hasta la fecha. Aunque admite que equilibrar escuela, trabajo, maternidad y manejo de una familia puede ser exigente, Michelle dijo que animaría tanto a mujeres como a hombres a considerar esta opción. "Como madre soltera de tres muchachos, creo que los he sorprendido con lo que he logrado hasta el momento, y espero ser un buen modelo para ellos", dijo Michelle. "Lo mejor que he ganado en este trabajo es confianza. Puedo lograr más de lo que nunca pensé posible. Ahora tengo una habilidad, estabilidad y un trabajo con gran potencial de ingresos. Mis hijos y yo podemos dejar de vivir al día y yo puedo empezar a ahorrar para el futuro".
Además de sus 8.000 horas de entrenamiento en el trabajo, Michelle está completando 64 horas de créditos en instrucción de aprendizaje en el Rock Valley Community College y pronto recibirá un certificado de graduación así como un segundo certificado emitido por la industria y reconocido nacionalmente por parte de la Rock Valley Tooling and Machining Association. La RRVTMA, sucursal local de la National Tooling and Machining Association, es un grupo de talleres de herramientas y fabricantes a medida en el área del norte de Illinois y sur de Wisconsin.
Hay más de 500,000 aprendices en todo el país, con más oportunidades de aprendizaje cada día. Y nuevas inversiones están ayudando a expandir los aprendizajes en industrias de alto crecimiento como cuidado de la salud, informática y seguridad cibernética. Estos programas de ganar mientras aprendes ofrecen un claro camino de avance profesional gracias a la adquisición de nuevas habilidades, salarios más altos y oportunidades de progreso. Busca más información sobre cómo #ApprenticeshipWorks durante la Semana Nacional del Aprendizaje 2016, del 14 al 20 de noviembre, en dol.gov/apprenticeship.
Nota de los editores: La serie "DOL Working for You" pone de relieve los programas del Departamento del Trabajo en acción. Ver otras historias de la serie aquí.
Rhonda Burke es especialista en información pública del departamento en Chicago.