The Role Foreign Investment Plays in Shaping U.S. Workforce Development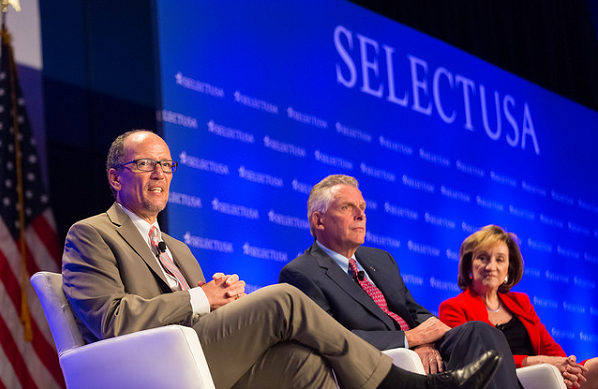 Secretary Perez moderates a June 20, 2016, SelectUSA discussion on workforce development and apprenticeship with Virginia Gov. Terry McAuliffe, and Rolls-Royce North America President and CEO Marion Blakey.
Editor's note: This has been shared from the Department of Commerce's blog.
The U.S. workforce is diverse, skilled, innovative and mobile – and among the most productive in the world. Throughout my 20 years working at the Department of Labor, I am continually amazed by stories of Americans who have unlocked their full potential and reached success in their careers. As the United States works to meet the needs of a 21st-century economy, innovative and collaborative approaches to workforce development are increasingly being interwoven into the American experience. Apprentices and apprenticeship programs – many of which are being introduced by multinational companies – form a large part of those stories. This is why, as part of
National Apprenticeship Week 2016
(Nov. 14-20), I am proud to highlight the important role registered apprenticeships have played in our country's efforts to attract and retain foreign direct investment. Apprenticeships provide opportunities that open doors for Americans from a wide array of industry backgrounds. For workers, apprenticeships are a pathway to earn solid wages while learning the skills necessary to succeed in high-demand careers. For employers, they are a way to attract and retain a skilled workforce and build a fresh line of talent from the bottom up. The apprenticeship model has strong, successful roots in Europe – and is now making its mark on the United States. Siemens, for example, is a Germany-based industrial company with a strong American arm. They initiated their first apprenticeship program in 2011, and have expanded to North Carolina, South Carolina, Texas and other states. Just last month, Swiss company
Nestle
announced the Nestle Waters North America partnership with the Maine Department of Labor and a commitment to place 10 percent of its mechanic hires into apprenticeship roles by 2022. Another Swiss company,
Zurich Insurance
, has also recently launched a U.S. program and aims to have 100 apprentices in it by 2020. The larger, nationwide effort to foster FDI opportunities is supported by organizations like
SelectUSA
, a federal program housed in the International Trade Administration, part of the U.S. Department of Commerce. SelectUSA helps facilitate job-creating business investments into the United States and raises awareness of the critical role that FDI plays in the U.S. economy. Many of these jobs are increasingly being linked to registered apprenticeship programs. I am proud to work alongside my colleagues to help inspire other companies to invest in registered apprenticeship programs in the United States. The long-term benefits are twofold, helping both job seekers and employers. For more information and to get involved,
please visit our website
. You can also join the conversation and share your stories using the hashtag
#ApprenticeshipWorks
.
John Ladd is the administrator of the Office of Apprenticeship within the U.S. Department of Labor's Employment and Training Administration.
Papel de la Inversión Exterior en Conformación de la Fuerza Laboral de EE.UU.
Por
John Ladd
Nota de los editores
: Este artículo es compartido del
blog
del Departamento de Comercio
. La fuerza laboral estadounidense es diversa, experta, innovadora y móvil -y entre las más productivas del mundo. A lo largo de mis 20 años en el Departamento de Trabajo, me han impresionado continuamente las historias de estadounidenses que han liberado todo su potencial y logrado éxito en sus carreras. A medida que Estados Unidos trabaja para satisfacer las necesidades de la economía del siglo 21, los enfoques innovadores y de colaboración para el desarrollo de la fuerza de trabajo están cada vez más entrelazados en la experiencia americana. Los aprendices y los programas de aprendizaje -muchos de los cuales están siendo creados por empresas multinacionales -forman buena parte de esas historias. Es por ello por lo que como parte de la
Semana Nacional del Aprendizaje
2016 del 14 al 20 de noviembre, me enorgullece destacar el importante papel que han desempeñado los aprendizajes en los esfuerzos de nuestro país para atraer y retener inversión directa del exterior. Los aprendizajes ofrecen oportunidades que abren puertas para estadounidenses hacia una amplia variedad de referentes industriales. Para trabajadores, los aprendizajes son una vía para ganar sólidos salarios mientras que al mismo tiempo se aprenden las habilidades necesarias para tener éxito en sectores muy en demanda. Para los empleadores representan una manera de atraer y retener una mano de obra calificada y de construir una nueva fuente de talento. El modelo de aprendizaje tiene fuertes y exitosas raíces en Europa, y ahora está haciendo huella en Estados Unidos. Siemens, por ejemplo, es una empresa industrial basada en Alemania con una fuerte presencia en Estados Unidos. Ellos iniciaron su primer programa de aprendizaje en el 2011, y lo han expandido a Carolina del Norte, Carolina del Sur, Texas y otros estados. Apenas el pasado mes, la compañía suiza
Nestlé
anunció la asociación de Nestlé Waters North America con el Departamento de Trabajo de Maine y el compromiso de colocar el 10 por ciento de sus contrataciones de mecánico de entre puestos de aprendizaje para el 2022. Otra compañía suiza,
Zurich Insurance
, también ha lanzado recientemente un programa en EE.UU. que busca tener 100 aprendices en el 2020. El mayor esfuerzo a nivel nacional para fomentar oportunidades de inversión directa exterior es apoyado por organizaciones como
SelectUSA
, un programa federal ubicado en la Administración de Comercio Internacional, que hace parte del Departamento de Comercio de Estados Unidos. SelectUSA ayuda a facilitar inversiones empresariales creadoras de empleo hacia Estados Unidos y concientiza sobre el papel crítico que desempeña la inversión exterior directa en la economía de Estados Unidos. Muchos de estos empleos están vinculados cada vez más a programas de aprendizaje. Me enorgullece trabajar junto a mis colegas ayudando a inspirar a otras compañías a invertir en programas de aprendizajes certificados en Estados Unidos. Los beneficios a largo plazo son dobles: se ayuda tanto a los solicitantes de empleo como a los empleadores. Para obtener más información y participar, visita
nuestro sitio web
. También puedes unirte a la conversación y compartir tus historias usando la hashtag
#ApprenticeshipWorks
.
John Ladd es el administrador de la Oficina de Aprendizaje de la Administración de Empleo y Capacitación del Departamento de Trabajo de Estados Unidos
.