Heavy Operating Engineer Builds Bridges and Opportunity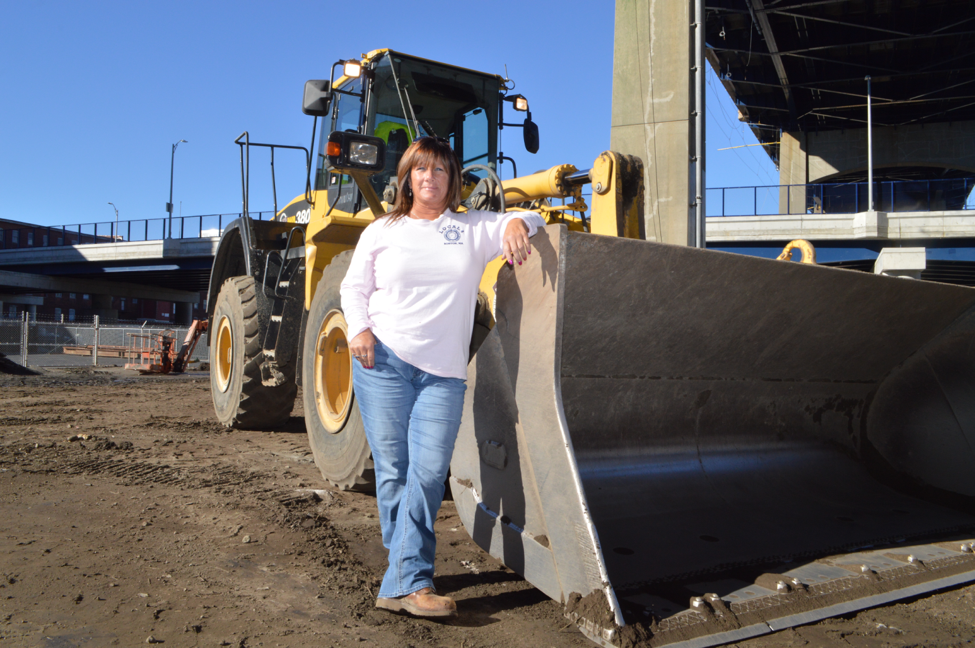 Debbie Currie, a 55-year-old grandmother of five, had worked a variety of retail jobs over the years while raising her three children.
Several years ago, a close friend who was a member of the International Union of Operating Engineers Local 4 invited her to a union function. There Debbie learned about Local 4's apprenticeship program, and looking for a more rewarding career path, she decided to apply.
For the last three and half years Debbie has been working on the Route 79/Braga Bridge Improvements Project in Fall River, Massachusetts. The project is one of the five largest projects of a $3 billion effort to reduce the number of structurally deficient bridges in the state, and is a mega construction project that receives federal funding.
"As an apprentice you are guaranteed work so if you get laid off from one project, you just go to another project," said Debbie. "You get to work for different companies who are hired by the general contractor to complete different phases of the job which creates an opening to not only learn, but to operate the machines when given the chance. Time in the seat is your best teacher."
Debbie graduated her apprenticeship in June 2015 while working for Barletta Heavy Division Inc. The company kept her on and she transferred from an apprentice to a journeywoman on a front-end loader earning the full rate of pay for a fully licensed heavy operating engineer. She has all classes of hoisting licenses and is certified to operate cranes by the National Commission for the Certification of Crane Operators.
"Being a women working in construction I felt as though I had to prove myself and show I could do the job and work with people from all different trades," said Debbie. "I feel like have been trained very well and I have been well-received by my coworkers. I'm very thankful for the opportunity to work for this company. It's amazing to see the landscape here change from the demolition phase to new bridges with better traffic flow. I take pride in seeing something built from beginning to end and I'm sure the people of Fall River will be happy when it's done."
Interested in apprenticeship opportunities? Learn more at dol.gov/apprenticeship.
Editor's note: The "DOL Working for You" series highlights the Labor Department's programs in action. View other blog posts in the series here.
The Office of Federal Contract Compliance Programs' Mega Construction Project Program ensures that federal construction contractors and subcontractors receiving taxpayer dollars to construct buildings, highways, and other projects make job opportunities in the construction trades available to applicants and employees regardless of their race, color, religion, sex, gender identity, sexual orientation, national origin, disability, or protected veteran status.
James Lally is a public affairs specialist for the department in Boston.