Misclassification Affects Everyone

Misclassifying employees as independent contractors is a huge problem for workers, employers who play by the rules and our economy.
To help tackle this issue, the Labor Department has created a user-friendly webpage where workers, employers and government agencies can find information and resources: www.dol.gov/misclassification.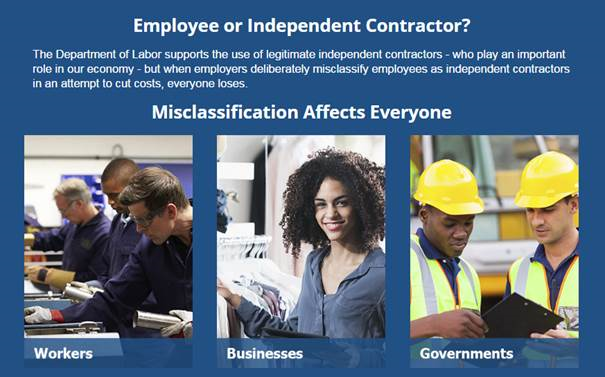 Miguel Chavez, a taxi driver, was a victim of misclassification – and as a result, was underpaid and subjected to terrible working conditions. He stayed with his job not because he thought what was happening was legal or right, but because he felt his job options were limited by his age. "It was just like modern day slavery," he said.
Misclassification also hurts employers like masonry contractor Doug Burton. "Those misclassifying workers are not paying worker's compensation premiums and no federal or state withholding taxes," he told us. "It makes for an unfair playing field and it has to stop."
Learn more about how misclassification affects pay, Unemployment Insurance, safety and health protections, retirement and health benefits, and taxes on our new page.
Can't find an answer to your misclassification question? Contact us toll-free at 1-866-4-USA-DOL (1-866-487-2365).
Tiffany Koebel works in the department's Office of Public Affairs.
La Mis-Clasificación Nos Afecta a Todos
Por Tiffany Koebel
Clasificar a empleados como contratistas independientes es un problema enorme para los trabajadores, para los empleadores que cumplen con las reglas, y para nuestra economía.
Para ayudar a resolver este problema, el Departamento de Trabajo ha creado una página web fácil de navegar donde los trabajadores, empleadores y agencias gubernamentales pueden encontrar recursos e información. La página es www.dol.gov/misclassification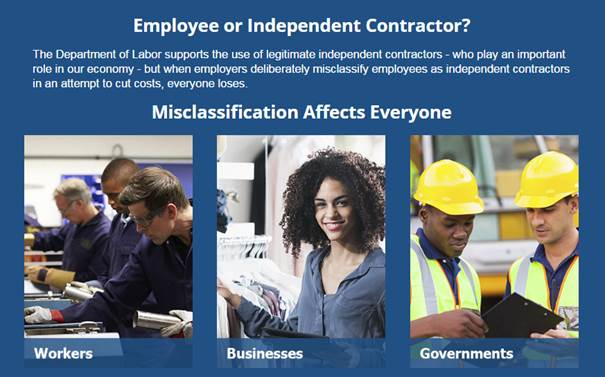 Miguel Chávez, conductor de taxi, fue víctima de mis-clasificación, y como resultado, fue pagado de menos y estuvo sometido a terribles condiciones de trabajo. Permaneció en su trabajo no porque pensara que lo que estaba pasando era legal o correcto, sino porque sentía que sus opciones laborales eran limitadas debido a su edad. "Era como una esclavitud moderna", dijo.
La mis-clasificación también perjudica a empleadores tales como el contratista de albañilería Doug Burton. "Aquellos que clasifican erróneamente a los trabajadores no están pagando primas de compensación laboral ni impuestos federales o estatales", nos dijo. "Eso resulta en algo injusto y es un asunto al que hay que poner fin"
Obtén más información en nuestra nueva página sobre cómo la mis-clasificación afecta la paga, el seguro de desempleo, las protecciones de seguridad y salud, los beneficios de jubilación y salud, y los impuestos.
¿No puedes encontrar respuesta a tus preguntas? Comunícate con nosotros gratuitamente al 1-866-4-USA-DOL (1-866-487-2365).
Tiffany Koebel trabaja en la Oficina de Información Pública del departamento.