The Private Sector: An Essential Partner in Combating Human Trafficking

January is National Slavery and Human Trafficking Prevention Month. The work of the Department's Bureau of International Labor Affairs forms a critical part of a broad interagency effort  to combat these abuses.
It's happening as you read this, in multiple corners of the globe: Somewhere, children are picking cotton in blazing hot fields. Women and men are forced to weave textiles in appalling conditions under an ever-present threat of abuse. Trafficking victims, shuttled far from the lives they once knew into unfamiliar and often hostile surroundings, are putting in 14-hour days sewing garments for little to no compensation.
It goes without saying that these are not jobs. They are forms of exploitation that, in fact, undermine job creation, including here at home. On a level playing field, American workers can compete with anyone. But they cannot compete with people who are essentially slaves. Responsible businesses, just like governments, have a vital role to play in ensuring they never have to.
At the Department of Labor, we are doing our part to ensure that forced labor, human trafficking and modern slavery become barbaric relics of the past – enhancing international reporting, targeting technical assistance and developing innovative tools that have increased engagement and spurred action to address child labor and forced labor around the world.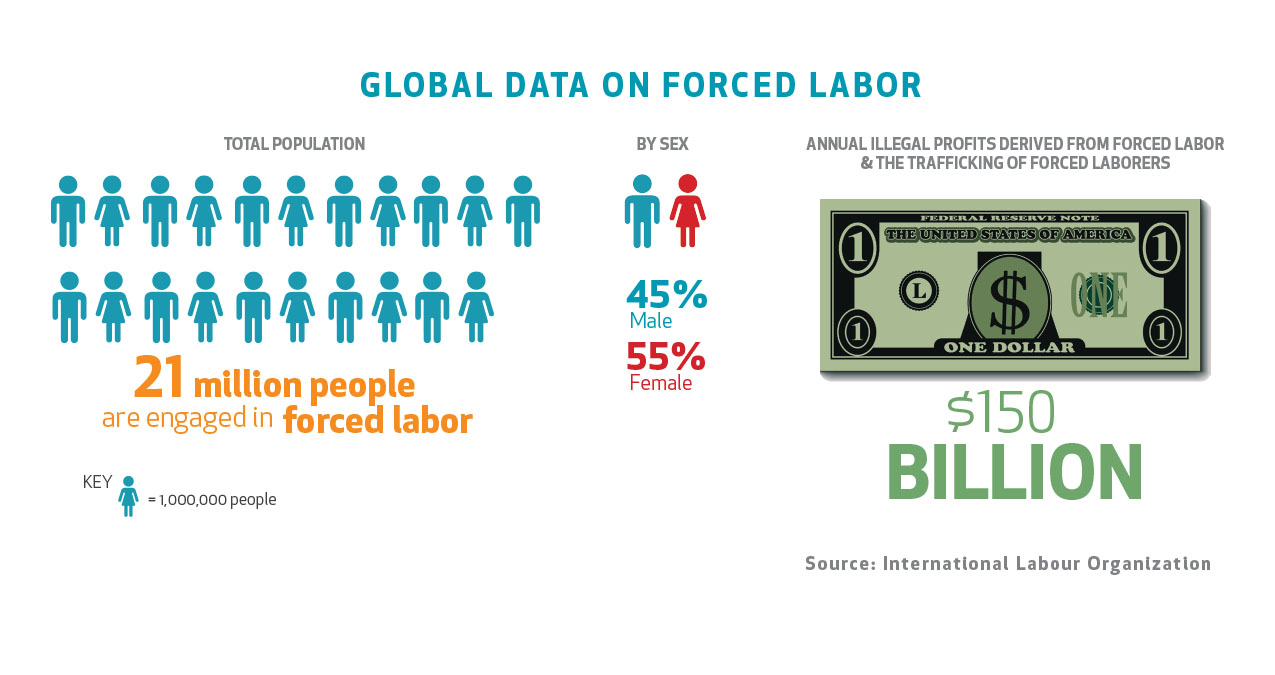 Meanwhile, some companies have long recognized the responsibility they bear – as well as the advantages they gain – by ensuring that national labor laws and fundamental labor rights are respected throughout their supply chains. Many of these companies have instituted robust voluntary standards, ramped up their due diligence, sought remediation in cases where abuses were found, increased transparency along their supply chains and engaged more actively with stakeholders to tackle this problem.
Whether motivated by risk of reputational damage, regulation, building pressure or a sincere desire to do the right thing, more businesses are beginning to acknowledge and address labor abuses in their supply chains.
New laws and regulations in both the United Kingdom and the United States, such as the Tariff Act prohibition on the importation of goods produced by forced labor, put in place new requirements on certain businesses related to combatting these labor abuses. And high-profile exposés in several major media outlets have caused companies in the garment, seafood, and fruit and vegetable sectors to review the adequacy of their responses.
Even with such commitments, even the most vigilant and committed businesses confront a complex set of challenges around efforts to address forced labor in their supply chains. These include deceptive and coercive recruitment, and the widespread practice of debt bondage, in which workers borrow money to pay various fees associated with their recruitment, and are unable to work off those debts in a reasonable amount of time.
Tackling these issues requires downstream supply chain partners – brands, buyers and top-tier suppliers – to look not only at their material suppliers, but also at their labor suppliers, and to hold those suppliers accountable. Some companies and industry groups, such as the Electronics Industry Citizenship Coalition, have addressed abusive worker recruitment practices through strict "no recruitment fees" policies that apply to all members and their suppliers.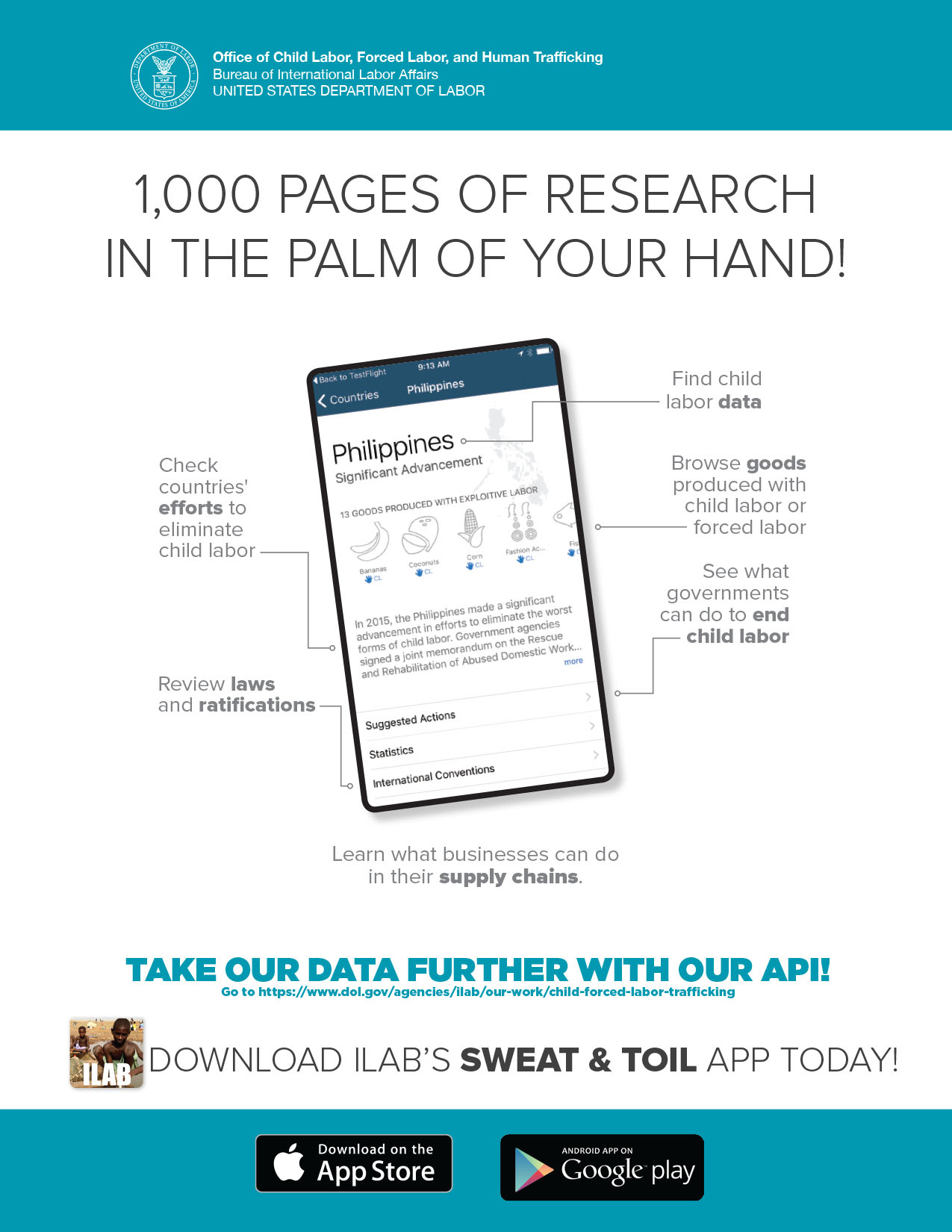 The International Labor Organization in 2015 instituted the multi-stakeholder Fair Recruitment Initiative, which aims to protect the rights of workers, including migrant workers, from abusive and fraudulent practices during the recruitment process, and reduce the cost of labor migration for migrant workers and their families.
In 2016, the Institute for Human Rights and Business launched a Leadership Group for Responsible Recruitment to promote among senior business leaders the "employer pays principle" – a commitment by employers to paying all recruitment-related fees for workers in their supply chains.
For our part, the Labor Department has developed a range of tools to assist businesses in their efforts to address these issues. Since its first edition in 2009, our List of Goods Produced by Child Labor or Forced Labor has played an important role in helping businesses understand the risks of forced labor and child labor in their supply chains. In 2015, we released Sweat and Toil, an application for iPhone and Android that puts the data from all our reports on international child and forced labor into the palm of your hand.
Other resources include Reducing Child Labor and Forced Labor: A Toolkit for Responsible Businesses, which provides practical, step-by-step guidance on eight key elements of comprehensive social compliance programs in English, French, Spanish and Portuguese. And we also developed, in coordination with the Departments of Agriculture and State, a set of Guidelines for Eliminating Child and Forced Labor in Agricultural Supply Chains. We're currently funding an approximately $4.8 million pilot project to implement these guidelines in Turkey's hazelnut sector.
The meaningful prevention and reduction of human trafficking, forced labor and modern slavery cannot be achieved without sustained commitment from the businesses that produce, manufacture, distribute and sell goods around the world. Yet they cannot do so alone. Combating such abuses requires concerted action from government, civil society and consumers as well.
We must all take a moment and ask, "What can I do?"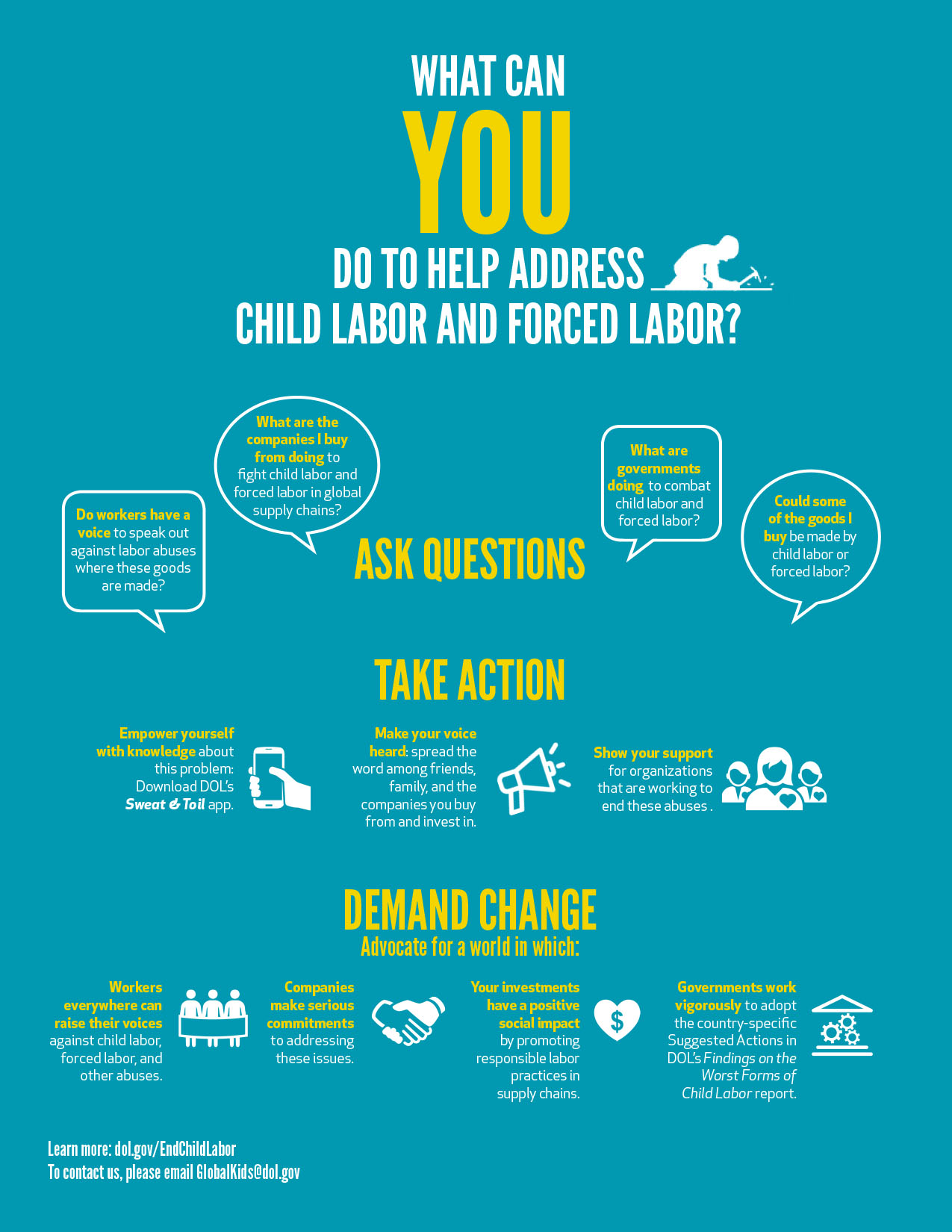 Marcia Eugenio is the director of the Office of Child Labor, Forced Labor, and Human Trafficking in the department's Bureau of International Labor Affairs.
El Sector Privado: Socio Esencial para Combatir la Trata Humana
Por Marcia Eugenio
Enero es el Mes Nacional de la Prevención de la Esclavitud y la Trata Humana. El trabajo de la Oficina de Asuntos Laborales Internacionales del Departamento hace parte crítica de un amplio esfuerzo inter-agencial para combatir estos abusos.
Está sucediendo en varios rincones del mundo mientras usted está leyendo esto: en algún lugar, niños recogiendo algodón en campos agrícolas abrasadores; mujeres y hombres obligados a tejer textiles en terribles condiciones bajo una amenaza siempre presente de abuso; víctimas de trata, llevadas a entornos desconocidos, a menudo hostiles, y lejos de las vidas que una vez conocieron, cosiendo prendas de vestir durante 14 horas al día ganando poco o nada.
De más esta decirlo pero estos no son empleos. Son formas de explotación que, de hecho, socavan la creación de empleo, incluso aquí en casa. En condiciones de igualdad, los trabajadores estadounidenses pueden competir con cualquiera. Pero no pueden competir con personas que esencialmente son esclavos. Las empresas responsables, lo mismo que los gobiernos, tienen un papel vital que desempeñar para garantizar que nunca tengan que competir contra esto.
En el Departamento de Trabajo estamos poniendo de nuestra parte para garantizar que el trabajo forzado, la trata de seres humanos y la esclavitud moderna sean reliquias atroces del pasado - mejorando los mecanismos internacionales para reportar casos, focalizando la asistencia técnica y desarrollando herramientas innovadoras que han aumentado el compromiso y estimulado la acción para abordar el trabajo infantil y el trabajo forzado en todo el mundo.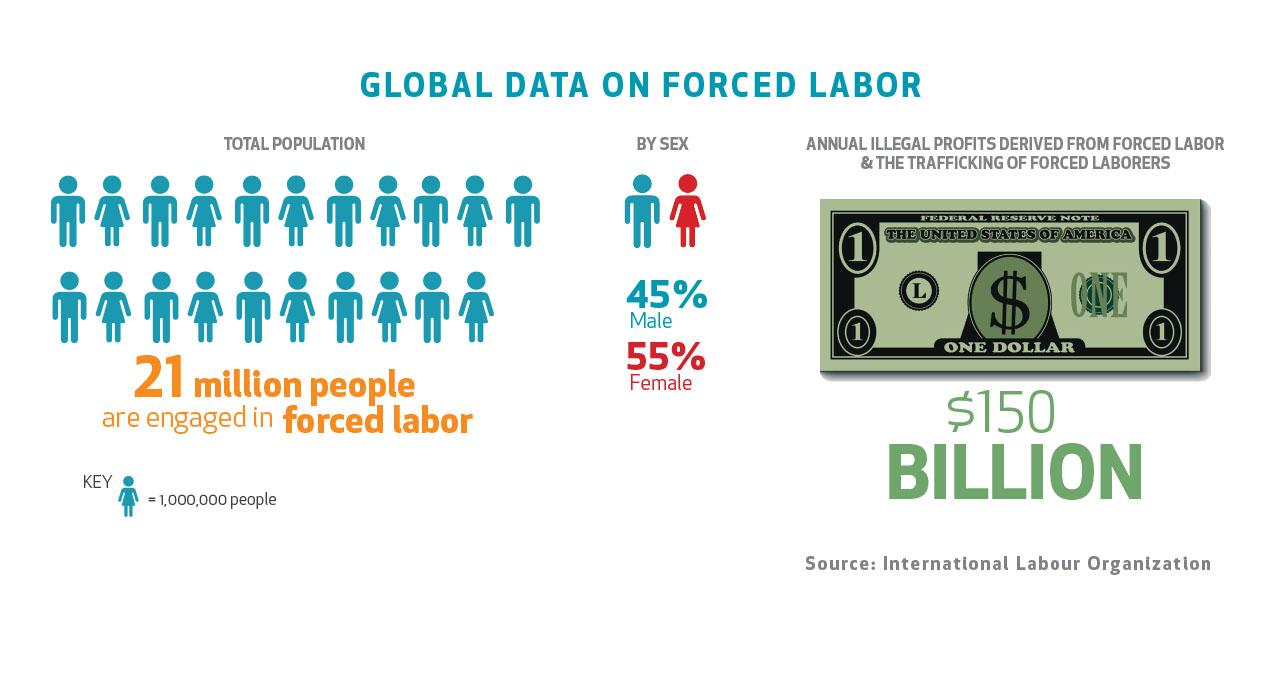 Mientras, algunas empresas han reconocido desde hace tiempo la responsabilidad que tienen, así como lo que ganan, para garantizar que leyes laborales nacionales y derechos laborales fundamentales sean respetados a lo largo de sus cadenas de suministro. Muchas de estas empresas han adoptado voluntariamente fuertes estándares, han aumentado su debida diligencia, han buscado rectificación en casos donde se encontraron abusos, han incrementado la transparencia en sus cadenas de suministro y se han involucrado más activamente con las partes interesadas en abordar de este problema.
Ya sea por motivos de riesgo de daño a sus reputaciones, por regulaciones, por la presión creciente o por un sincero deseo de hacer lo correcto, más empresas están empezando a reconocer y abordar los abusos laborales en sus cadenas de suministro.
Nuevas leyes y reglamentos tanto en Reino Unido como en Estados Unidos, tales como la prohibición, bajo la Ley Arancelaria, a la importación de bienes producidos mediante trabajo forzado, establecen sobre ciertos negocios nuevos requisitos relacionados con la lucha contra estos abusos laborales. Y los reportes de alto impacto en varios medios principales de comunicación han hecho que empresas en sectores de confección, pesca, y de frutas y hortalizas revisen lo adecuado o no de sus respuestas.
Pero incluso con estos compromisos, hasta las empresas más vigilantes y comprometidas enfrentan un complejo conjunto de desafíos en torno a los esfuerzos para abordar el trabajo forzado en sus cadenas de suministro. Estos desafíos incluyen reclutamiento engañoso y coercitivo, y la práctica generalizada de la servidumbre por deudas, de acuerdo a la cual trabajadores piden prestado dinero para pagar varias tasas asociadas a su contratación y luego son incapaces de quitarse de encima esas deudas en un periodo razonable de tiempo.
Abordar estos temas requiere que socios de la cadena de suministro -marcas, compradores y proveedores de primer nivel- se fijen no sólo en sus abastecedores de material sino también en sus proveedores de mano de obra, y se aseguren que esos proveedores sean responsables. Algunas empresas y grupos industriales, como la Coalición de Ciudadanía de la Industria Electrónica, han abordado las prácticas abusivas de reclutamiento de trabajadores a través de estrictas políticas de 'no tasas de reclutamiento' que son aplicadas a todos los miembros y sus proveedores.
La Organización Internacional del Trabajo instituyó en el 2015 la multisectorial Iniciativa de Reclutamiento Justo, que tiene por objeto proteger los derechos de los trabajadores, incluidos los trabajadores migrantes, contra prácticas abusivas y fraudulentas durante el proceso de contratación, así como reducir el costo de la migración laboral para los trabajadores migrantes y sus familias.
El Instituto de Derechos Humanos y Negocios conformó en el 2016 un Grupo de Liderazgo para el Reclutamiento Responsable para promover entre líderes empresariales de alto nivel el 'principio de pago del empleador', un compromiso de empleadores de pagar todos los honorarios relacionados con el reclutamiento de los trabajadores de sus cadenas de suministro.
Por nuestra parte, el Departamento de Trabajo ha desarrollado una serie de herramientas para ayudar a las empresas en sus esfuerzos para afrontar estos temas. Desde su primera edición en el 2009, nuestra Lista de Bienes Producidos por Trabajo Infantil o Trabajo Forzado ha jugado un importante papel en ayudar a empresas a entender los riesgos del trabajo forzado y del trabajo infantil en sus cadenas de suministro.
En el 2015 lanzamos Sweat and Toil, una aplicación para iPhone y Android que pone los datos de todos nuestros informes sobre el trabajo infantil y el trabajo forzado a escala internacional en la palma de su mano.
Otros recursos incluyen Reducción del Trabajo Infantil y Trabajo Forzado: Herramientas para Negocios Responsables, que ofrece guía práctica y por pasos sobre ocho elementos clave de programas integrales de cumplimiento social en inglés, francés, español y portugués. Y también desarrollamos, en coordinación con los Departamentos de Agricultura y Estado, un conjunto de Directrices para la Eliminación del Trabajo Infantil y Forzado en Cadenas de Suministro Agrícolas. En la actualidad estamos financiando un proyecto piloto de aproximadamente $4.8 millones para implementar estas directrices en el sector de la avellana en Turquía.
Una significativa prevención y reducción de la trata de personas, el trabajo forzado y la esclavitud moderna no se pueden lograr sin el compromiso sostenido de las empresas que producen, fabrican, distribuyen y venden bienes alrededor de todo el mundo. Pero estas no lo pueden hacer solos. La lucha contra esos abusos requiere de una acción concertada por parte de gobiernos, sociedad civil y consumidores.
Debemos pausar un momento y preguntarnos: '¿Qué puedo hacer yo?'
Marcia Eugenio es la directora de la Oficina de Trabajo Infantil, Trabajo Forzado y Trata de Personas en la Oficina de Asuntos Laborales Internacionales del departamento.