Texas Hotel Worker Gets $13K in Back Pay

Hotel housekeeper Iris Castro lives on a budget that barely makes ends meet. When her aging parents' ill health required medication, she couldn't afford to send money home to her native Honduras. Unable to return home, she was left to mourn their deaths and saddened by her inability to help pay for their care.
"My dad suffered from a heart condition and was bed ridden for about a year. He passed away two years ago. My mother was also sick and passed away a year ago. I wasn't able to be there for them," explained Iris while in tears.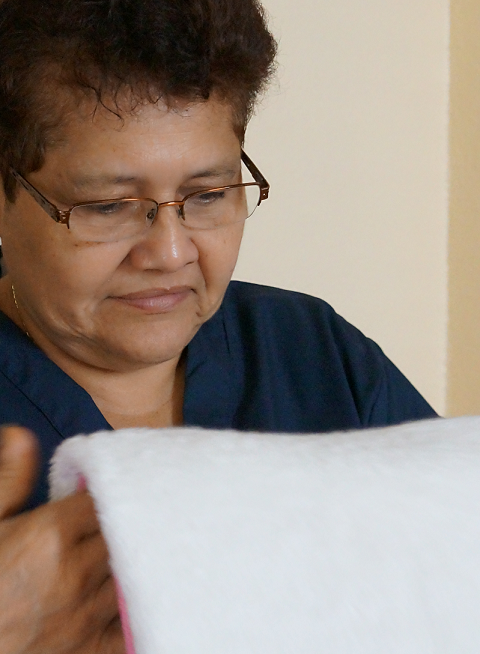 What's worse, Iris is one of hundreds of low-wage workers in Southeast Texas' hotel industry whose hard work doesn't always equal fair pay. An investigation by the Clear Lake District Office of the department's Wage and Hour Division found that Castro's employer – Baymont Inn of Galveston – failed to pay her overtime and, as a result, owes her $13,000 in back wages and liquidated damages. That's more than half her yearly income of roughly $20,000.
While nothing can make up for the emotional pain she has suffered, she is thankful to be receiving the back wages and plans to use them to secure a more stable financial future by paying off debt.
Unfortunately, we've heard similar stories from many workers in the Houston area which, since 2014, has welcomed nearly 15 million tourists. In February 2017, the city will host Super Bowl LI.
In fiscal year 2016, our investigations of area employers in the hotel industry found employees working off the clock, not being paid time-and-one-half for overtime hours and not getting paid for mandatory training time. Investigators also found employers violating child labor regulations that restrict the hours minors may work.
The Baymont Inn was just one of many recognizable hospitality brands that drew our attention. In Galveston, we found violations at Baymont Inn, Super 8 and Travelodge Hotel locations. At the Baymont Inn and Super 8 hotels, 10 housekeepers and maintenance workers received approximately $103,000 in back wages and liquidated damages. At a Galveston Travelodge Hotel, 11 housekeepers, front desk and maintenance workers received nearly $20,000 in back wages and liquidated damages.
In all, 41 investigations will recover back wages and assess liquidated damages totaling $285,000 for 125 workers. Like Iris, the amounts some of them receive will represent more than half a year's wages.
We will continue to expand outreach, education, and enforcement in the industry to more cities and states in the Southwest and beyond to ensure workers like Iris receive the wages they're owed for their hard work.
If you are concerned about your company's pay practices or you are an employer who wants to be sure you are complying with the law, learn more on the Wage and Hour Division's website or by calling 1-866-4-US-WAGE (1-866-487-9243). You also can check to see if back wages are being held for you as the result of an investigation by using the online tool, Workers Owed Wages.
Editor's note: The DOL Working for You series highlights the Labor Department's programs in action. View other posts in the series here.
Betty Campbell is the Wage and Hour Division's administrator in the Southwest.
Empleada de Hotel en Texas Recibe $13.000 en Salarios Atrasados
La empleada de hotel Iris Castro vive con un presupuesto con el que apenas puede llegar a fin de mes. Ella no pudo siquiera enviar dinero a su país natal, Honduras, cuando la precaria salud de sus padres requirió medicamentos. Incapaz de regresar a su hogar, Iris tuvo que permanecer aquí desolada y afligida por no haber podido ayudar a pagar por sus cuidados.
"Mi papá sufría de una enfermedad de corazón y estuvo postrado en cama durante aproximadamente un año. Falleció hace dos años. Mi madre también estaba enferma y falleció el año pasado. No pude estar allí presente para acompañarlos", explicó Iris entre sollozos.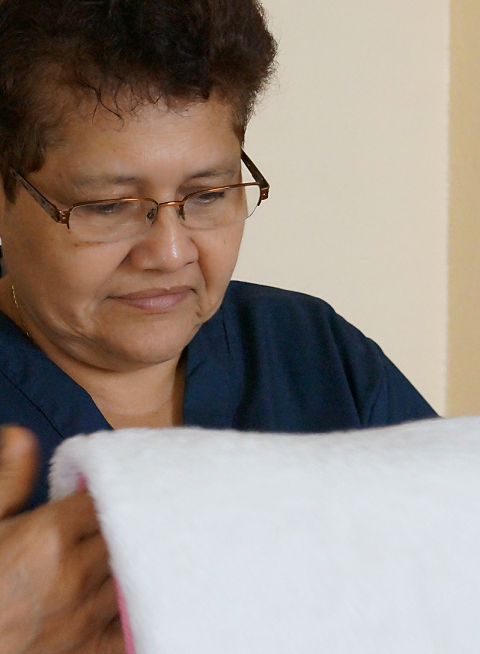 Iris es una de cientos de trabajadores de bajos salarios en la industria hotelera del Sureste de Texas cuyo duro trabajo no siempre se ve compensado con un salario justo. Una investigación realizada por la oficina distrital de la División de Horas y Salarios del departamento en Clear Lake encontró que el empleador de Castro, el hotel Baymont Inn, de Galveston, no le pagó las horas extra y, como resultado, el hotel terminó debiéndole $13.000 en salarios atrasados ​​y compensación por daños, más de la mitad de sus ingresos anuales de aproximadamente $20.000.
Aunque nada puede subsanar el dolor emocional que Iris ha sufrido, ella se muestra agradecida de estar recibiendo los salarios atrasados, que planea usar para pagar una deuda, asegurando con ello un futuro financiero más estable.
Lamentablemente, hemos oído historias similares de muchos trabajadores del área de Houston, una zona que desde el 2014 ha dado la bienvenida a casi 15 millones de turistas. En febrero de este año la ciudad auspiciará la edición número 51 de la Super Bowl.
En el año fiscal 2016, nuestras investigaciones de empleadores hoteleros del área hallaron a empleados trabajando fuera de horario, sin recibir tiempo y medio por sus horas extra trabajadas, y sin ser compensados por tiempo obligatorio de entrenamiento. Los investigadores también encontraron a empleadores violando las normas de trabajo infantil, que restringen las horas y condiciones en las que menores pueden trabajar.
El Baymont Inn fue sólo una de las muchas marcas reconocibles de hoteles en la que nos fijamos. En Galveston, hemos encontrado violaciones en sucursales de Baymont Inn, Super 8 y Travelodge Hotel. En Baymont Inn y Super 8, 10 empleadas domésticas y trabajadores de mantenimiento recibieron aproximadamente $103.000 en salarios no pagados ​​y compensación por daños. En un Travelodge Hotel de Galveston, 11 empleadas y trabajadores de recepción y mantenimiento recibieron casi $20.000 no pagados y como compensación por daños.  
En total, 41 investigaciones resultarán en la recuperación de salarios atrasados ​​e indemnizaciones por daños por un total de $285.000 para 125 trabajadores. Como en el caso de Iris, las cantidades que algunos recibirán equivaldrán a más de la mitad de sus salarios anuales.
Seguiremos ampliando a más ciudades y estados en el suroeste nuestras tareas de alcance comunitario y educación así como las acciones para el cumplimiento en la industria para asegurarnos que trabajadores como Iris reciban los salarios que se han ganado por su duro trabajo.
Si estás preocupado por las prácticas salariales de tu empresa o si eres un empleador que quiere asegurarse de que cumple con la ley, infórmate más en el sitio web de la División de Horas y Salarios o llama al 1-866-4-US-WAGE (1-866-487-9243). También puedes comprobar si hay salarios atrasados que te corresponden como resultado de una investigación mediante el uso de la herramienta en línea, trabajadores debían salarios.
Nota de los editores: La serie 'DOL Working for You' destaca programas del Departamento del Trabajo en acción. Ver otros mensajes de la serie aquí.
Betty Campbell es administradora de la División de Horas y Salarios en el Suroeste.