Make Your Mark in Health Care with a Science or Engineering Job
Doctors and medical professionals aren't the only people with the ability to make a difference in health care. While not directly involved in providing patient care, the work of scientists and engineers makes a tremendous difference in our health and well-being. Take, for example:
Artificial body parts, like dental implants or joint replacements, and the materials used in their construction.
Diagnostic imaging machines and the software needed to run them.
Information on the causes of and risks for diseases, like cancer or Alzheimer's.
Pharmaceutical drugs and medications.
Medical tests used to detect diseases or genetic abnormalities.
What's the primary difference between these two groups? Scientists and engineers frequently work together, but scientists typically conduct research to discover new areas of knowledge while engineers use that research to solve problems.
Here are some of the science and engineering occupations impacting health care. All pay median wages above the median wage for all occupations ($36,200) and are projected to have job openings through 2024. All of these jobs need at least a bachelor's degree for entry.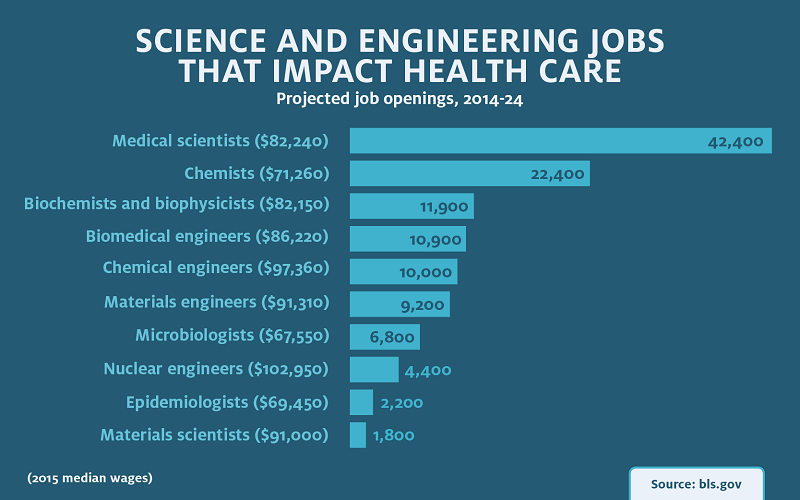 Biochemists and biophysicists study the chemical and physical principles of living organisms. This can include research into designing medical tests or developing new pharmaceutical drugs.
Biomedical engineers design and create equipment, devices, systems, and software used in health care. For example, they may design and create artificial body parts and research new materials to make them from. They may also develop new computer systems or software used in the medical sciences.
Chemists and chemical engineers conduct experiments and research into developing chemical compounds, including those used in pharmaceutical drugs.
Epidemiologists analyze data to investigate patterns, causes, risks, and incidences of injuries and diseases. They oversee public health programs.
Materials scientists and materials engineers work to create new materials or come up with ways to use or strengthen existing ones, such as ceramics that are used in dental implants.
Medical scientists conduct research to investigate diseases and how to prevent and treat them. They may conduct clinical trials in their investigations. They also work to standardize the potency and dosage of pharmaceutical drugs to allow for their manufacturing and distribution.
Microbiologists plan and conduct research projects that study microorganisms like bacteria or viruses. Their work may include developing new vaccines and investigating the outbreak and control of diseases.
Nuclear engineers apply the principles and theory of nuclear science to derive benefits from nuclear power and radiation. This can include developing uses for nuclear material in medical imaging or treatment.
Explore all of these occupations and many more in the Occupational Outlook Handbook.
Teri Morisi is a branch chief at the Bureau of Labor Statistics.
Science and engineering jobs that impact healthcare - projected job openings due to growth and replacements, 2014-24

| Occupation | Projected job openings due to growth and replacements, 2014-24 | Median annual wage, 2015 |
| --- | --- | --- |
| Medical scientists | 42,400 | $82,240 |
| Chemists | 22,400 | $71,260 |
| Biochemists and biophysicists | 11,900 | $82,150 |
| Biomedical engineers | 10,900 | $86,220 |
| Chemical engineers | 10,000 | $97,360 |
| Materials engineers | 9,200 | $91,310 |
| Microbiologists | 6,800 | $67,550 |
| Nuclear engineers | 4,400 | $102,950 |
| Epidemiologists | 2,200 | $69,450 |
| Materials scientists | 1,800 | $91,000 |