Wyoming Man's Call Empowered His Life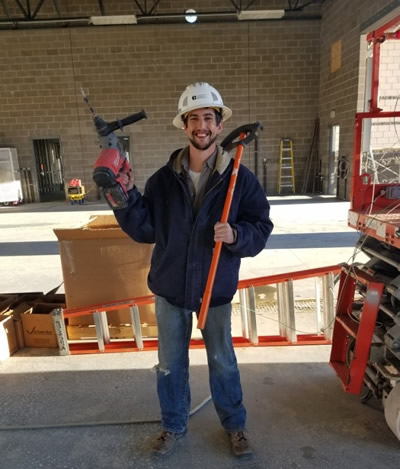 These days, 25-year-old Landyn Medina is a young man looking forward to the future – a view set in motion by a fateful phone call in the spring of 2015.
As a teenager living in a remote area 30 miles from Mountain View, Wyoming, his prospects weren't always so bright. A child of divorce, Landyn relied mostly on his mom, and he learned early that he was going to have to start working to pay his own way. Landyn remembers many times choosing between paying to keep the lights or the heat on, or sometimes doing without.
After high school, he entered Western Wyoming Community College where he earned associate's degrees in Geology and Applied Sciences in hopes of someday owning his own business. He knew a bachelor's degree in Business Management could only improve his chances. Sound as the idea was, it came with an eye-popping discovery.
"When I got my first semester's bill, I could not believe my eyes," Landyn said. "I knew I had to not only improve in school to get better scholarships, but to put in more hours at work to make it. I already knew some of life's realities, but reality then reached a whole new level."
Carrying a full-time course load at the University of Wyoming, he needed to work nearly 40 hours a week to supplement his financial aid while keeping his grades up to qualify for aid.  Somehow, he still found time and energy to volunteer as a youth basketball coach for pre-teens in the community.
In his last semester in college, Landyn received grim news – he no longer qualified for financial aid. "There was no way around it. I was broke. I had to drop out of school."
He and his girlfriend Alexis pulled together their savings, loaded an old pick-up truck and headed to Casper with hopes of starting over. Almost out of options and with little money left, Landyn had heard about an electrician's apprenticeship program. In April 2015, he made a call.
The woman on the other end of the line told him about the program, its requirements and the benefits of a four-year, earn-while-you-learn apprenticeship with the International Brotherhood of Electrical Workers. He soon applied for entry. "I knew nothing about craftsmanship or working with tools, and even less about electricity. I was accepted into the program," Landyn explained.
He appreciated his employer's dedication to its people. Casper-based ITC Electrical Technologies operated with the belief that "you take care of us and we will take care of you."
After just a few months, Landyn saw bright lights on the horizon. "I finally realized I was where I wanted to be," he said.
Life at home also followed suit. With a steady paycheck, he was able to focus on his maturing relationship and his longtime desire to be a father. One evening in September 2015, he returned home from work to find a box of cupcakes waiting in the kitchen. He opened it to find a surprising note Alexis left: "Mommy doesn't want to be the only one with a belly."
Today, his list of blessings starts with nine-month-old Ryleigh, the baby daughter whose smiles touch his soul. It also includes many things his work now makes possible: being a devoted father, owning his own home and having an ability to provide for his family. His blessings and his religious faith are also his inspirations.
In addition to laying the foundation for his family, Landyn's apprenticeship is placing the step stones for a path to a promising future. Along the way, he looks forward to June 2019 when he can become a journeyman electrician.
"I owe everything to this apprenticeship. It helped me finally realize where I wanted to be. I am grateful to the people who have helped me, and to those who continue to help. In my heart I know if I give everything I've got, the rest will take care of itself."
And to think it all started with a phone call.
Jose Carnevali is deputy director in the department's Office of Public Affairs in San Francisco.