His Future Started with Finding Direction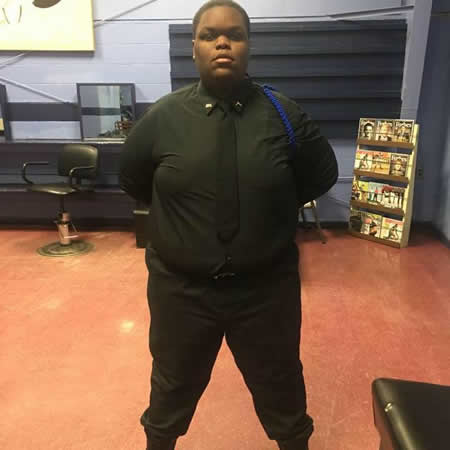 With Job Corps' help, Illinois native DeAngelo Dee has moved beyond teenage mistakes toward realizing his dream of helping others.
As a teenager, Illinois native DeAngelo Dee got a second chance. Little did the 16-year-old know then, but his decision to grab it changed his future for good.
Like many peers in Kankakee, a small city an hour south of Chicago, Dee was a teenager living on the edge and making bad choices to get ahead. Growing up in a city where street crime was routine, he admitted, avoiding trouble was tough.
As fate would have it, a police officer who was also his cousin learned that Dee was in danger of being arrested a second time. His cousin told him flatly that if he didn't change quickly, another arrest and jail time seemed certain. The warning brought Dee to a crossroads at which he decided to turn in the right direction. His cousin's example also inspired him to dream of someday working in law enforcement so he could also make a positive impact on others.
"I did not want to be in jail, and I did not want to let my mom down," he said. "I had to grow up and be a man, and start taking care of myself."
Dee stayed out of trouble and graduated in 2011 from Kankakee High School. After spending the next four years working temporary jobs with no clear direction, he was looking for more stable opportunities. His search led him to Edinburgh, Indiana, and its Atterbury Job Corps center. Atterbury's security vocational program, he thought, offered a great opportunity.
Before Atterbury, Dee explained, he hadn't known much about Job Corps. During his nine-month program there, he learned the skills and gained an understanding needed for working toward his dream of a future law enforcement career.
"I became a better leader because I was a dorm leader. That experience helped mold me into who I am today," he said. "I loved Atterbury, it was one of the best experiences I ever had."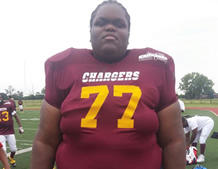 Job Corps graduate DeAngelo Dee's drive serves him as a lineman with the area's semi-pro football team.
Once he completed his studies, Dee headed to another Job Corps location – the Red Rock facility in Lopez, Pennsylvania – for advanced training as a Human Service Worker in May 2016. "I wanted to advance my knowledge in another trade. I was up for any challenge and decided to go," said Dee.
Two months after arriving, his efforts led to a work-based learning tenure as a corrections officer at the Columbia County Prison in nearby Bloomsburg. Dee found his work as a corrections officer rewarding.
"It was hard for me to see 18-year-old kids in jail. I wanted to work with kids trying to better their lives, to take my knowledge from the prison and tell them what they can do better in a sticky situation," said Dee.
In January 2017, Dee returned to Atterbury and accepted an internship as a residential advisor. The six-week program allowed him to work with young people and better understand Job Corps through a staff member's eyes. He remembers one young man who told him he wanted to give up on the program. By sharing his own experiences, Dee was able to help ease the boy's doubts and motivate him to continue.
His internship completed, Dee returned to Kankakee and is now employed as a direct support professional – helping people with disabilities to gain skills and work toward independence. When he's not working, his tireless drive serves him as offensive and defensive lineman with the Kankakee County Chargers, the area's semi-pro football team.
In June, he's headed to Mississippi as a newly accepted member of AmeriCorps. A program of the Corporation for National and Community Service, AmeriCorps currently has more than 2,900 people on national service assignments at 450 locations in the state to help meet local needs and strengthen communities.
After AmeriCorps, Dee hopes to get to college and eventually earn a master's degree. One day, he'd like to teach physical education and coach football.
Now 24, DeAngelo Dee has certainly found a way to use his talents to benefit and inspire others. While his career journey has just begun, his cousin's intervention and his Job Corps experience seem to have prepared him to go in any direction his heart and mind leads him.
Editor's note: The "DOL Working for You" series highlights the department's programs in action. View other blog posts in the series here.
Devlynn Deitrick is an intern in the department's Office of Public Affairs in Philadelphia.